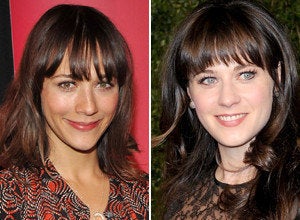 To nail down her conservative lawyer/lesbian look, Jones relied on costume designer Chris Peterson, who himself is gay.
"He said, 'If I'm not attracted to you by the end of our fitting, I haven't done my job.' I wear these insane glasses and dress super-ironic preppy, but I didn't want to do anything too cartoonish or stereotypical," Jones explained. "When I first saw myself in the movie, I thought, Ooh, that was a bold choice I'm not so sure about. But then I was OK, because I feel like the actual character wasn't as informed by her sexuality as the look was. For me, it was less about Cindy being in a lesbian couple and more about her being the one in the couple who's the more stable and consistent caretaker."

Deschanel, the other half of the couple, helped Jones into new territory, too: her first same-sex kiss.
"'I was like, "Oh, my God, girls are so pretty and soft. No stubble burn! What am I doing with guys?'" [Laughs] I haven't dipped back since, but I was very appreciative of the experience."
Jones herself is not a lesbian, but growing up in Hollywood and now as a star actress herself, she knows many people who are gay, both in and out of the closet. As time marches forward, she's hoping it's a lifestyle that becomes more accepted by those who denigrate it; when that happens, there will be a lot of news coming out of the entertainment business, she said.
"I'm never shocked [when someone comes out]," Jones said. "If there weren't still such a stigma, half of the acting and music community would come out. Luckily, there's less of a stigma every day."
For so much more from Jones, including her discussion of coming from a mixed race background and her take on political activism, click over to The Advocate.
WATCH: