Rep. Rashida Tlaib (D-Mich.) is pushing back against Republican lawmakers and accusing them of twisting her words to push a "racist and hateful agenda."
Tlaib, who in January became the first Palestinian-American woman in Congress, spoke about the Holocaust and the Palestinian-Israeli conflict during an interview with Yahoo News' "Skullduggery" podcast on Sunday. When asked to elaborate on her support for a one-state solution to the Palestinian-Israeli struggle, Tlaib mentioned the recent commemoration of Holocaust Remembrance Day in the U.S., then explained how and why she felt "humbled" that her ancestors had created "a safe haven" for the Jewish people. 
There's, you know, there's a kind of a calming feeling, I always tell folks, when I think of the Holocaust and the tragedy of the Holocaust, and the fact that it was my ancestors — Palestinians — who lost their land and some lost their lives, their livelihood, their human dignity, their existence, in many ways, had been wiped out … in the name of trying to create a safe haven for Jews, post-the Holocaust, post-the tragedy and the horrific persecution of Jews across the world at that time.

... I love the fact that it was my ancestors that provided that [safe haven] in many ways. But they did it in a way that took their human dignity away and it was forced on them, and so when I think about one-state, I think about the fact that why can't we do it in a better way? ... Why can't we all be free and safe together? 
Tlaib also criticized Israeli Prime Minister Benjamin Netanyahu and his party for "giving up" on the two-state option.
Israeli news outlets like Haaretz covered Tlaib's comments on the one-state issue and highlighted the congresswoman's assertion that Palestinians had created a "safe haven" for Jews. Seth Frantz, editor of The Jerusalem Post, wrote in an op-ed that Tlaib had "turned history on its head" with that claim.
GOP House lawmakers, however, chose to jump on Tlaib's use of the words "calming feeling" and falsely suggested that she had used the phrase to describe how she feels about the Holocaust itself.
Rep. Liz Cheney (R-Wyo.) claimed Tlaib had said "thinking of the Holocaust provides her a 'calming feeling.'"
"All of us, regardless of party, must stand as Americans against the evil of anti-Semitism. If the Democratic leadership continues to stand by in silence, they are enabling the spread of evil," Cheney said in a statement.
House Minority Whip Steve Scalise (R-La.) echoed this sentiment.
"There is no justification for the twisted and disgusting comments made by Rashida Tlaib just days after the annual Day of Holocaust Remembrance," Scalise said in a statement, according to The Washington Post. "More than 6 million Jews were murdered during the Holocaust; there is nothing 'calming' about that fact."
Fox News initially parroted this angle, publishing a story on Sunday with the headline: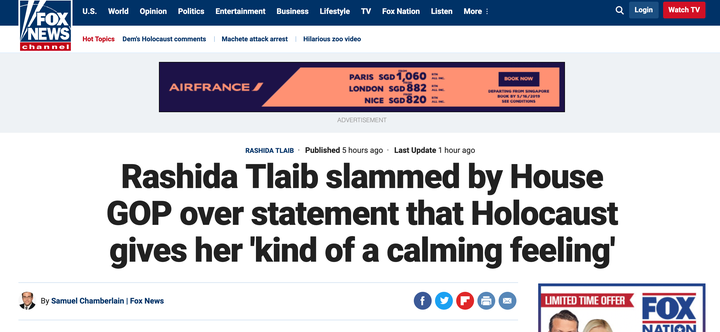 The conservative outlet later removed the reference to the phrase in its headline, saying only that Tlaib was criticized for her "comments on Holocaust, Palestinians."  
In a tweet, Tlaib accused Republicans of twisting her words:
"Republican leaders and right-wing extremists are spreading outright lies to incite hate," Denzel McCampbell, Tlaib's spokesman, told the Post in a statement. "Congresswoman Liz Cheney should be ashamed of herself for using the tragedy of the Holocaust in a transparent attempt to score political points. Her behavior cheapens our public discourse and is an insult to the Jewish community and the millions of Americans who stand opposed to the hatred being spread by Donald Trump's Republican Party."
McCampbell added that Tlaib "did not in any way praise the Holocaust" and had "repeatedly called the Holocaust a tragedy and a horrific persecution of Jewish people."
Calling all HuffPost superfans!
Sign up for membership to become a founding member and help shape HuffPost's next chapter
BEFORE YOU GO