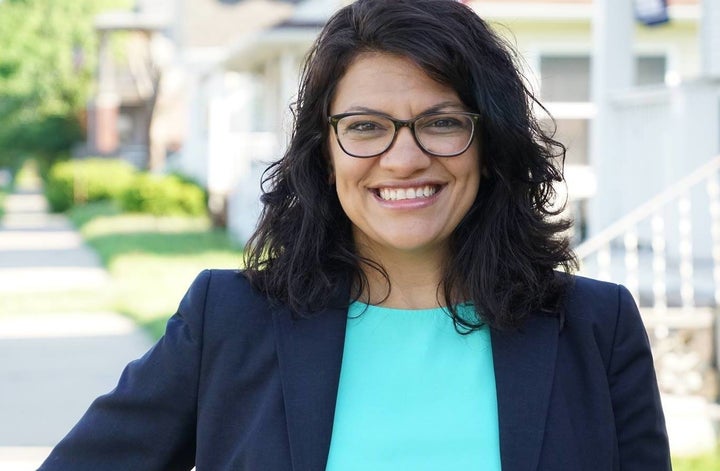 Supporters ululated in celebration, and Tlaib's mother draped her teary-eyed daughter in the Palestinian flag. With no Republican opponent in the general election, Democratic primary voters in Michigan's 13th Congressional District had just elected the country's first Muslim woman to Congress.
After acknowledging her family and the importance of her Palestinian heritage, Tlaib, 42, addressed her constituents. "Every single door I touched, every single person I spoke to ― I will uplift you in so many ways, not only through service but [by] fighting back against every single oppressive, racist structure that needs to be dismantled because you deserve better than what wbe have today in our country," she said.
It was a moment of soaring emotion, fitting for Tlaib's historic bid. But as with any successful campaign, beneath the poetry of victory lay months of gritty hard work.
Tlaib, the most progressive candidate in a race of six, outworked her opponents in the field with a well-oiled canvassing operation. She won her constituents over with a message that she would "fight" for them, just as she had fought billionaire polluters during her time as a representative in the state legislature.
"Rashida raised a ton of money from individuals here in Michigan and across the country."
And perhaps most prosaically of all, Tlaib had the money she needed to get her message out. She raised nearly $1.3 million ― over $700,000 more than her closest competitor.
"Rashida raised a ton of money from individuals here in Michigan and across the country that allowed us to get on TV and on the radio and run digital ads that really helped her," said Andy Goddeeris, Tlaib's campaign manager.
Since the 2016 election, a new wave of progressive insurgent candidates has sought to reshape the Democratic Party by running on ambitious policies and opposing the corrupting influence of corporations and wealthy donors.
This emboldened left has gotten mixed results at the ballot box with far more success in races for state and local offices than higher-profile congressional or gubernatorial contests.
It is hard to know exactly what the winning formula has been for the smaller group of progressive contenders who have prevailed against more moderate rivals in high-stakes races at the top of the ticket. And surely no one factor is ever entirely responsible.
But in a handful of other high-profile progressive upsets, a cash advantage ― or at least, near parity ― has played an important role in at least helping left-leaning candidates to win.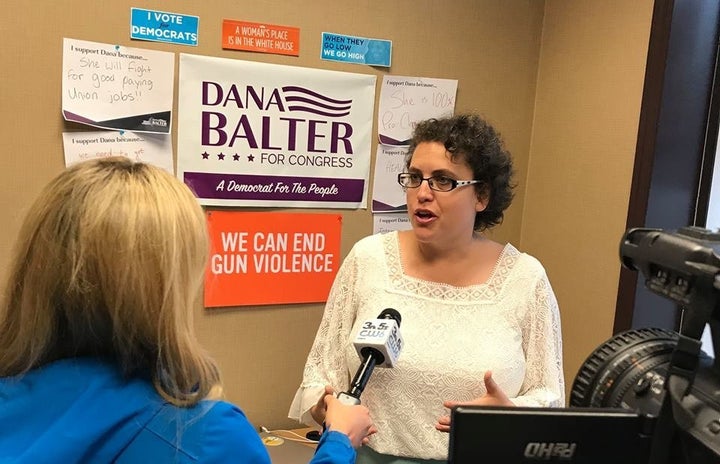 In late June, progressive Dana Balter beat Juanita Perez Williams, a more moderate candidate backed by the Democratic Congressional Campaign Committee, in the Democratic primary for New York's 24th Congressional District.
Perez Williams surely suffered from resentment among primary voters. The national party had sought to install her at the last minute after local party officials had already coalesced behind Balter.
But her failure to match Balter in fundraising is what made that resentment impossible to overcome ― even after the national party had supposedly tapped Perez Williams because of Balter's lackluster fundraising skills.
Balter outraised Perez Williams $302,567 to $178,975. However, the DCCC and VoteVets, a pro-veteran PAC, spent an additional $275,000 on behalf of Perez Williams' bid. But the assistance enabled Balter to claim that Perez Williams was being "propped up by D.C. PACs." Balter would go on to win by more than 25 percentage points.
In the Democratic gubernatorial primaries in Maryland and Georgia, progressive funding advantages were starker.
Ben Jealous, a single-payer health care proponent supported by Sen. Bernie Sanders (I-Vt.), and a union-backed super PAC aligned with him outspent his nearest rival ― Prince George's County Executive Rushern Baker ― by a margin of nearly 3 to 1 on the airwaves. Jealous went on to best Baker by more than 10 points in the late June primary.
"I'm the eldest of 14, and I've been fighting for working families my entire life."
And in Georgia, former state House Democratic Leader Stacey Abrams became the first African-American woman to be nominated for governor by a major party when she defeated former state Rep. Stacey Evans, a more moderate white candidate in the Democratic primary.
Abrams' superior fundraising haul of over $3 million in the primary, as well as $1.5 million in support from Democracy in Color's PowerPAC Georgia, allowed her to outspend Evans, who raised $2.6 million. Abrams defeated Evans by over 50 percentage points in the May 22 contest.
The biggest benefit of a cash advantage for progressive candidates is typically the opportunity to promote the campaign's message in advertisements.
Tlaib ran a sophisticated and meticulous ground game, employing 10 full-time field organizers from March onward who helped knock doors in the district ― from the heart of Detroit to the working-class suburbs in Wayne County. The campaign targeted its canvassing efforts at the roughly 50,000 households who had voted in the 2016 congressional primary ― and it reached every last one of them.
But the electorate that showed up was significantly larger: Over 89,000 people cast ballots in the race.
Although not all of those votes went to Tlaib, Goddeeris, her campaign manager, believes that paid advertising allowed Tlaib to reach the nearly 40,000 voters whose doors she did not knock.
"I'm the eldest of 14, and I've been fighting for working families my entire life," she says in the 30-second spot.
The ads appear to have reached their intended audience. Goddeeris said voters would recognize Tlaib from TV and ask for selfies as she was filling up at the gas station.
And internal polling showed that the thing voters liked most about Tlaib was that she was a "fighter."
Tlaib's advertising blitz, which cost the campaign just under $200,000, was possible because of the deep financial support she received from Muslim Americans, particularly the Palestinian immigrant community and their descendants, according to Goddeeris.
For example, immigrants from Beit Hanina ― the same Palestinian neighborhood in East Jerusalem Tlaib's father came from ― held a big fundraiser for the candidate in March in a suburb of Sacramento, California.
A member of the community, which called itself "the families of Beit Hanina," produced a dramatic two-minute promotional video for the fundraiser complete with a Hans Zimmer-style string soundtrack.
On election night, Tlaib did not shy away from the fact that her campaign had relied heavily on the financial support of Muslim and Arab-Americans. Before the final results came in, Tlaib thanked key figures in her campaign ― Steve Tobocman, a former colleague and political mentor; and her brother Rachid, who got out the vote in a golf cart that he bought. She also expressed gratitude to her donors, who she estimated are mostly from immigrant communities.
Remarking on the immigrant participation that had fueled her win, she declared, "God, that is amazing!"
Before You Go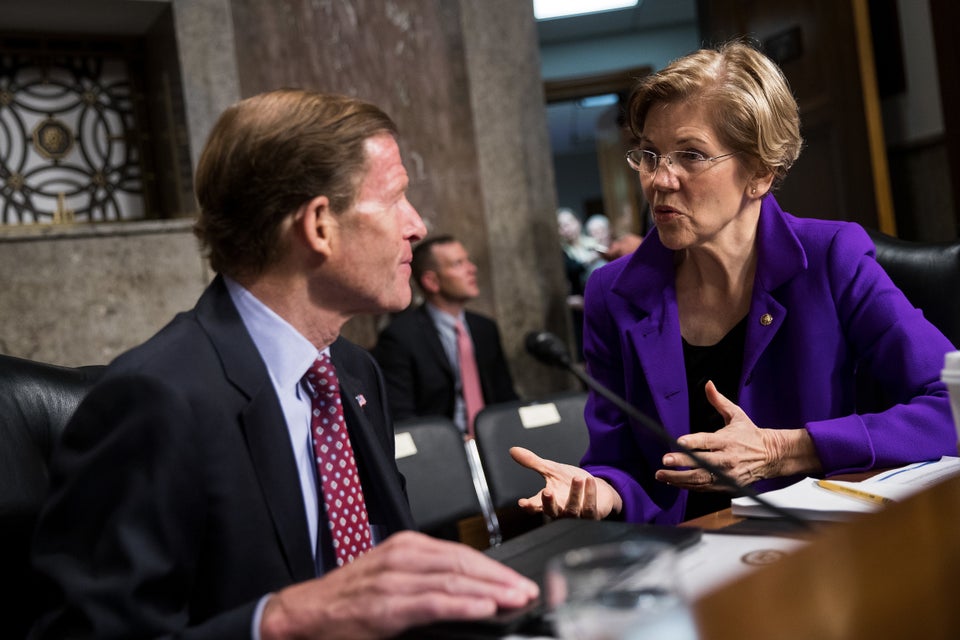 2017 Scenes From Congress & Capitol Hill
Popular in the Community