Rep. Rashida Tlaib (D-Mich.) has been privately urging fellow Democrats to pursue impeachment proceedings against President Donald Trump.
In a letter distributed Monday night, Tlaib asked her colleagues to back a resolution that would open a House Judiciary Committee investigation into whether Trump has committed any impeachable offenses. The committee is one of a number of House panels already leading other investigations into Trump and his administration.
"The most dangerous threat to our democracy is President Trump's actions since taking the oath of office," Tlaib wrote in Monday's letter. "The fact that President Trump has yet to comply with various clauses of our U.S. Constitution sets a dangerous precedent. Much of the allegations have yet to be fully investigated by this body who also took an oath to uphold the U.S. Constitution. It is critical that we protect the American people and our country from any conflicts of interests that directly erodes our democracy."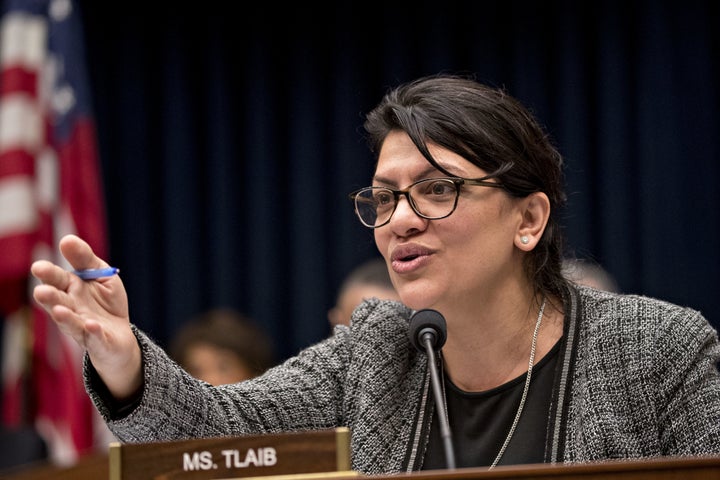 A spokesman for Tlaib confirmed the contents of the letter Tuesday and said that the congresswoman plans to introduce the resolution later this month. The spokesman declined to comment further.
A spokesman for House Judiciary Committee chair Jerry Nadler (D-N.Y.) did not immediately respond to a request for comment about the letter.
Democrats in Congress have regularly debated whether to pursue impeachment proceedings against Trump, with many of the party's more progressive members, like Tlaib, advocating for it.
However, House Speaker Nancy Pelosi (D-Calif.) has repeatedly cautioned against it, and vulnerable Democrats have been reluctant to stake out a position for fear of alienating moderate voters.
Special counsel Robert Mueller's investigation on Trump's campaign concluded that Trump did not collude with Russia in 2016, according to Attorney General William Barr. But the investigation did not reach a conclusion on whether Trump obstructed justice, and according to Barr, the investigation "does not exonerate" the president.
Meanwhile, a slew of congressional investigations into Trump and his administration are still in progress.
According to the letter circulated Monday, Tlaib's resolution would ask the Judiciary Committee to look into whether Trump's business dealings violate the Constitution's so-called "emoluments clause"; whether Trump "committed crimes to defraud the United States" when allegedly directing former lawyer Michael Cohen to violate campaign finance laws in paying off two women who alleged extramarital affairs with Trump; and whether Mueller's "evidence on obstruction of justice pertaining to the President's actions and intents violates federal law."
Read the full letter below.
 This story has been updated with a response from Tlaib's office.
Calling all HuffPost superfans!
Sign up for membership to become a founding member and help shape HuffPost's next chapter