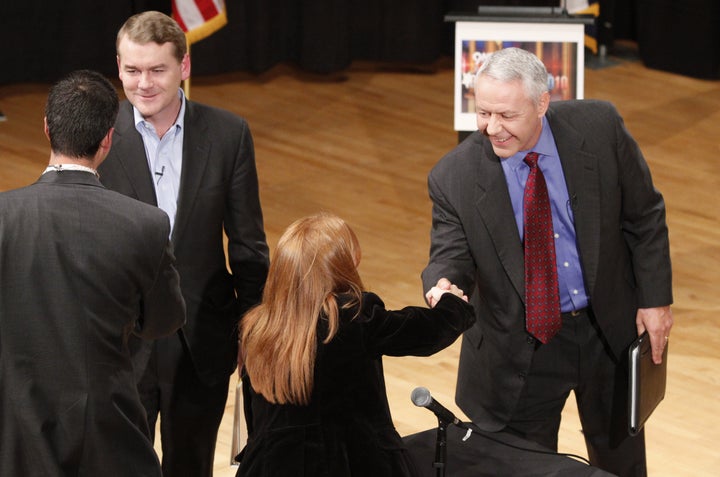 Democrats got some good news over the weekend in the form of a handful of encouraging polls in three Senate battlegrounds: Colorado, Washington and West Virginia. The most notable is a new Rasmussen automated poll in Colorado that finds what the pollster describes as a "virtual tie" between Democratic Sen. Michael Bennet and Republican challenger Ken Buck.
In Colorado, Rasmussen shows Buck's lead over Bennet narrowing to just two percentage points (47% to 45%), the closest margin obtained by Rasmussen in the race so far this year. Although most surveys conducted in September had Buck leading by between 4 and 8 percentage points, a poll from Democratic affiliated Public Policy Polling (PPP) two weeks ago gave Bennet a one-point edge (46% to 45%) and an internal poll released at about the same time by the Bennet campaign showed him with a three-point advantage (44% to 41%).
The new surveys narrow Buck's lead on our standard trend estimate to less than four points (48.1% to 44.5%), just enough to move the race back into the toss-up category.
In Washington, a new Washington Poll of registered voters sponsored by public television and radio stations and conducted over the last two weeks by the University of Washington shows Democratic Sen. Patty Murray leading Republican challenger Dino Rossi by eight percentage points (50% to 42%). That margin is nearly identical to the findings of the most recent CNN/Time poll conducted at about the same time, slightly better than a recent SurveyUSA automated poll and slightly worse than the recent Elway poll, all of which showed Murray with nominal leads.
The Washington Poll is the only survey in the state released since the summer to screen for registered voters rather than a narrower subgroup of "likely voters." Although the results have varied widely, narrowing to likely voters typically produces a more Republican sample. That said, the final University of Washington polls in 2008 and 2006 slightly understated the margins actually won by Democrats Barack Obama, Christine Gregoire and Maria Cantwell.
The new survey brings Murray's lead on our standard trend estimate to just over four points (49.4% to 45.2%) -- enough to shift Washington back into the lean Democrat column.
Update: The Washington Post's Chris Cillizza reports this morning that the National Republican Senatorial Committee (NRSC) has released results of an internal survey, conducted by Moore Information, that shows Rossi leading 47% to 46% among likely voters.
In West Virginia, a poll conducted by Orion Strategies for the Marshall University School of Journalism and Mass Communications released on Friday gave Democrat Joe Manchin a ten-point lead (48% to 38%) over Republican John Raese. The survey is the third in a week (including an internal Democratic poll) to show Manchin with a nominal lead, although it gave Manchin his biggest margin by far and produced the largest undecided percentage (12%). A CNN/Time poll released last week had the race tied (at 44%). Our trend estimate now gives Manchin a margin of just under three percentage points (47.3% to 44.4%), still in the toss-up range.
Republicans complained last week that the owner of Orion Strategies is a Democrat and campaign manager for a West Virginia Democratic congressional candidate. However, as Politico reported, Orion Strategies "has worked for both Democratic and non-partisan clients" in the past, and Marshall University also involved a Republican professor on their poll as a consultant.
Correction: The original version of this story misstated the sponsorship of the Washington Poll.
Calling all HuffPost superfans!
Sign up for membership to become a founding member and help shape HuffPost's next chapter