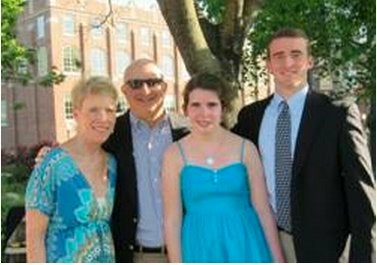 We all devote time to making plans, but the harsh reality of life is that plans get pushed aside without notice by life's vicissitudes. A dramatic turn of events altered my course four years ago, when I had to inform my daughter that her unrelenting seizures could only be "cured" by a radical surgery. It was a blessing that at 10 years of age, she could not fully grasp her own desperate situation; as a last resort, we would be removing half her brain.
Such is the everyday despair and tragedy of dealing with a rare and devastating disease called rasmussen's encephalitis (RE).
As Father's Day approaches, we focus and reflect on family. As a father, I think of my relationship with my dad and then consider my own relationship with my daughter. It is during these times I think about my life's chapters and how they are defined by certain events and occurrences. A few weeks ago one such moment took place that turned a page.
We moved into our house a few years ago and immediately noticed a tall tree with a huge branch in our backyard that called out as the perfect limb from which to hang a swing. You had to crane your neck upward to see where the rope attached to the creaky limb. Soon, my daughter and I were spending endless hours together; the swing was a never-ending source of joy and wonderment. That all ended, of course, when she was struck down by rasmussen's.
Rasmussen's encephalitis is an insidious disease striking children just as they are getting started in life. The disease unfolds in slow motion, causing maximum despair by first causing incurable epilepsy, and then all hell breaks loose when the hemiparesis (paralysis of half of the body) sets in. Cognitive decline ensues.
The swing was Grace's swing. When we had a tree climber initially hang the rope, our son was too old and big to generate the high arcs that Grace easily achieved as a young, lithe girl. There were many types of swinging that we did, the basic back and forth, the spinning top and the large circular orbit swing, to name just a few.
The swing was an instant source of joy for all of the kids that came over to our house. The pure delight that each kid experienced for the 10 seconds or so when they swung back and forth is a childhood memory that we all share in one form or another. That unhinged delight, that fun, ended abruptly in June 2008, when Grace experienced her first seizure and was quickly disabled by the aggressive onset of a vicious disease.
Following her hemispherectomy surgery, we knew that Grace would never experience the feeling of freedom associated with the swing. While the surgery in most cases eliminates the seizures' activity, it does extract a high cost: paralysis of half your body, permanent partial blindness and coping with the emotional and intellectual strain of living and functioning with half a brain.
No one can swing with one hand and the swing, rather than being a source of fun, sat motionless and became a reminder of what was and what could have been. My daughter never said a word; my eyes never left her when the neighborhood families came over for our annual Memorial Day barbecue and the kids lined up for the swing.
This year I decided to take the swing down. Once the swing came down, Grace and I chatted and we agreed the swing represented both good and bad times, but it was now the appropriate time for both Grace and me, as father and daughter, to turn the page, to start a new chapter, and find a new source of joy between us.
Four years from that fateful day and two years from a second surgery after the first surgery failed, rasmussen's encephalitis continues to define me as a father and test my strength as a parent, coach, motivator and a human being.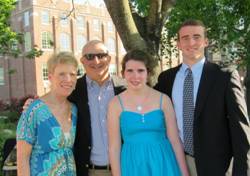 Seth Wohlberg lives in Darien, Conn. with his wife, Debra, son, Michael, and his daughter, Grace. Seth has spent his entire career working on Wall Street and currently works in the hedge fund business for the Far Hills Group, LLC located in New York City. In 2010 he founded the RE Children's Project, Inc. (www.rechildrens.org) to find a cure for RE by increasing awareness and accelerating medical research. Since its founding the RE Children's Project has sponsored two global research symposiums and funded several leading edge research projects around the globe. RE is an extremely rare condition impacting a few hundred people a year. Since the 1950s the only effective treatment is the removal of the half of the brain impacted by the disease.