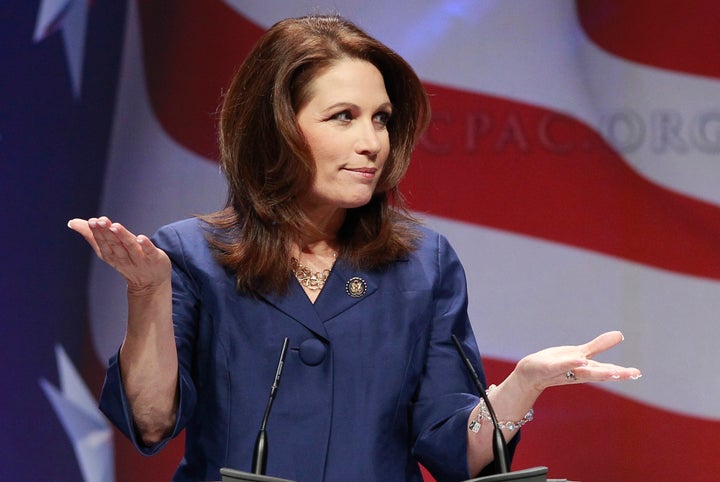 UPDATE at 4:21 PM ET: The House has just passed a two-week funding measure to avert a government shutdown. It includes $4 billion in budget cuts for the rest of the fiscal year -- but continues to fund Obama's healthcare law (for those two weeks). Six Republicans voted against, which means most of the Tea Party Caucus voted in favor. The Tea Partiers will presumably be furious. But there's another, much bigger battle to come -- about the funding measure that covers the rest of the fiscal year.
A boisterous first meeting of the House's Tea Party Caucus on Monday night exposed two potential rifts -- one between its members and state-level Tea Party activists, who have no appetite for compromise, and another between its members and Republican Party leaders, who will soon be asking them to do just that.
Tea Party leaders from Virginia, Florida and Pennsylvania hotly demanded that the members of the caucus not settle for anything less than defunding the Obama health care law, even on a very short-term basis, attendees told the Huffington Post. They also scoffed at the new Republican target of $61 billion in budget cuts from the rest of this fiscal year, calling it insufficient. And they made it clear Republicans who don't stand firm will face primary opponents in 2012.
"The look on the faces of the members was just unbelievable," said one attendee, who didn't want to be identified by name.
"I think those of us from the Tea Party movement were impassioned, but we weren't yelling," said one of the speakers, Jennifer Stefano, co-chair of the Loyal Opposition, a Tea Party group out of Pennsylvania. "We care deeply about what's happening," she explained. "Deeply."
Rep. Allen West (R-Fla.), one of less than a dozen House freshmen to join the caucus, told The Hill that the Tea Party activists pushed members to stand firm on spending cuts and the debt limit.
"They don't want us to get pushed around, which is exactly what I believe in," he told The Hill. "You've got to stand firm or you're going to lose credibility."
But the no-deals ultimatum coming from the activists could throw a serious monkey-wrench into what appear to be fast-moving negotiations between Republican and Democratic leaders to keep the government running past March 4, when the current budget resolution expires.
The short-term compromise currently under discussion, which would last just two weeks, would cut the budget as much as Republicans want, but would do it the way Democrats want.
And despite the fact that Republicans symbolically voted to defund Obama's healthcare law last month, there is no such provision in the short-term budget resolution. That, of course, would be a deal-breaker with the Democrats who control the Senate and the White House.
The Tea Party hard-liners just don't care. "We feel Obamacare is an albatross around the neck of our country. It's going to sink us," Stefano said. "So we continue to go at it in every way possible."
Voting to fund it -- even for two weeks -- "sends the message that it's not dying," she said. "The Republicans need to understand this is a key issue."
"I think in general that the Tea Party believes that the very first thing you should do in terms of tackling the spending problem is defund Obamacare," said fellow speaker Jamie Radtke, a Tea Partier running for Virginia's U.S. Senate seat.
"If you give ground at the very beginning," she told HuffPost, "then it's hard to ever make that ground back up again."
Several members of the congressional caucus reportedly assured the activists that they would vote against any budget extension that continues to fund the healthcare law.
If all 30 or so Tea Party Caucus members balk, then House Speaker John Boehner won't be able to pass the bill with Republican votes alone.
That would leave Democrats the choice of joining Republican leadership against the Tea Party to pass the bill -- or joining the Tea Party to let it die.
All in all, it adds just one more element to the game of chicken our elected officials are playing with the U.S. government.
Rep. Michele Bachmann (R-Minn.) convened Monday's meeting, ostensibly to discuss the debt ceiling. The first speaker -- an unusual choice -- was budget expert Stan Collender, a public relations executive and blogger who generally espouses liberal views, and who has written extensively about how refusing to raise the debt ceiling wouldn't accomplish much of anything.
The other speakers were Stefano, Radtke, and Billie Tucker, founder of a Florida Tea Party group. Speakers stood at the front of the room facing an audience of Congress members.
"What I liked about this type of event," Stefano said, was that members of Congress were "fundamentally listening and asking questions of us as opposed to telling us."
"And then they would raise their hand, and ask a question to us," Radtke said. "It was fantastic."
Activists and members alike expressed their lack of confidence in the current Republican leadership, attendees said.
Radtke said the message from the activists was "not to capitulate. When the Republican leadership is in step, support them -- and if they're not in step, then be willing to stand on your own."
Stefano concluded: "The leadership of the Republican Party should probably come to one of these caucus meetings."
*************************
Calling all HuffPost superfans!
Sign up for membership to become a founding member and help shape HuffPost's next chapter