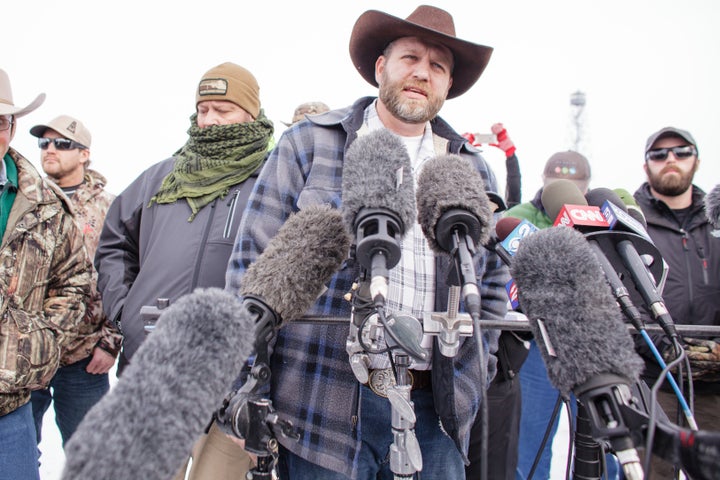 Rep. Raul Grijalva (D-Ariz.) on Tuesday introduced a resolution calling on Congress to officially condemn "the unlawful, armed occupation" of the Malheur National Wildlife Refuge in Oregon.
"This is not a romantic instance of Western self-reliance or an excusable moment of heated rhetoric," Grijalva said in a statement. "This is armed occupation of public property by people who have threatened deadly force."
Approximately 20 armed occupiers took over the government building on Saturday. They are protesting that Dwight and Steven Hammond were sentenced to five years in prison for committing arson on federally managed land to which they held grazing rights.
The men's family members have distanced themselves from the illegal occupation, and said any support for the family should be peaceful.
The leader of the occupation is Ammon Bundy, the son of Nevada rancher Cliven Bundy, who became a conservative hero when he led an anti-government standoff with federal authorities in 2014.
Speaking to the press on behalf of the group, the younger Bundy said Sunday that the group intended to resist government tyranny and was willing to stay at the wildlife refuge's headquarters indefinitely. Ryan Bundy, his brother, said they were willing "to kill and be killed."
Grijalva's resolution highlights disruptions the occupation has caused in the local community, such as school closures and federal employees being unable to report for work.
"It is imperative that this unlawful occupation does not escalate into violence," it reads. 
Some Republican presidential candidates, including Sen. Ted Cruz (R-Texas) and Sen. Marco Rubio (R-Fla.) have spoken against the illegal tactics employed in Oregon. Former Pennsylvania senator and presidential candidate Rick Santorum compared them to those used in the Occupy Wall Street movement, which Democrats generally supported. 
House Natural Resources Committee Chair Rep. Rob Bishop (R-Utah) declined Grijalva's appeal to sign on to his resolution, according to a Grijalva spokesman.
Bishop's office did not respond to a request for comment.
In 2014, Cliven Bundy refused to pay federal officials who arrived at his home to collect an estimated $1 million in grazing fees. He garnered media attention and the support of some members of Congress, including Sen. Dean Heller (R-Nev.) and Sen. Rand Paul (R-Ky.). He lost much of that support, however, when he suggested that black people might be better off as slaves rather than "under government subsidies." His grazing fees are still outstanding.
President Teddy Roosevelt declared the area the gunmen are currently holding in Oregon to be a national wildlife refuge in 1908.
Calling all HuffPost superfans!
Sign up for membership to become a founding member and help shape HuffPost's next chapter