WASHINGTON -- Rep. Raúl Labrador (R-Idaho), one of four Republicans working on a bipartisan immigration reform bill, dropped out of the group on Wednesday, citing irreconcilable differences on how the legislation would deal with health care for current undocumented immigrants.
The four Democrats and four Republicans in the group have been working for months -- some of them for years -- on comprehensive immigration reform. There have been cracks and threats to walk away before. But until Wednesday, no one did so publicly. Labrador is considered a conservative star in the group, and his departure may imperil the legislation before it is even released.
Labrador joked to reporters after a meeting of the group that he doesn't think "too many people" follow his lead, but acknowledged it wasn't good news that he quit.
"It's not a positive thing for the group, it is what it is and I think we're going to be able to work together," Labrador said.
Labrador said the group was unable to agree whether undocumented immigrants should be required to pay for their own health care as they go through a path to citizenship. He said the group hadn't reached a consensus on the topic, but he felt he had made enough compromises.
"I can't continue to negotiate," Labrador said. "Sometimes you just have to walk away. And you might end up getting a better product by walking away."
Labrador said he will vote against the bill, although he added he doesn't "have anything against" the remaining members of the group. He said he will now work on his own immigration legislation, which he said will be comprehensive, but could be broken into multiple bills.
Earlier in the day, Labrador told reporters he had no update on the immigration group, and that he thought reform "could be that bill" or "could be other bills."
"I'm as confident as I've always been," he said of the group a few hours before their meeting.
UPDATE: 7:24 p.m. -- Other members of the House immigration group said they remained confident after their meeting, despite Labrador's resignation.
"I'm really optimistic, we found a way forward," Rep. Mario Diaz-Balart (R-Fla.) told reporters after the meeting, before Labrador emerged to say he had quit. Diaz-Balart would not elaborate on the group's health care discussion.
Rep. Luis Gutierrez (D-Ill.), another member of the group, said an agreement was reached on health care for undocumented immigrants, but would not give details. He said much of the legislation has already been drafted.
"The meeting was very fruitful," Gutierrez said afterward. "We found a way forward."
If the comprehensive reform bill falls apart, the House would likely pursue a piecemeal approach, favored by leaders who include Judiciary Committee Chairman Bob Goodlatte (R-Va.), whose committee considers immigration bills. Labrador said he will work with Goodlatte.
The House group mirrors the Senate "gang of eight," which more quickly drafted bipartisan immigration legislation that will be considered on the floor beginning next week. Labrador is considered by many to be the House counterpart to the gang of eight's Sen. Marco Rubio (R-Fla.). Both are tea party-backed, Latino and new to the immigration reform efforts.
Rubio told reporters earlier in the day that he is open to a piecemeal approach as long as it includes multiple bills that address a broad swath of immigration issues, from border security to legal immigration. "This issue can be handled in separate bills, but ultimately it has to be handled comprehensively," he said.
His fellow gang of eight member, Sen. Jeff Flake (R-Ariz.), said it would be beneficial for the immigration reform effort for House members to come to a bipartisan agreement on comprehensive reform.
"It's better for us if they have a bipartisan bill that looks -- I'm not saying more like the Senate bill -- but is more comprehensive," Flake told reporters.
Before You Go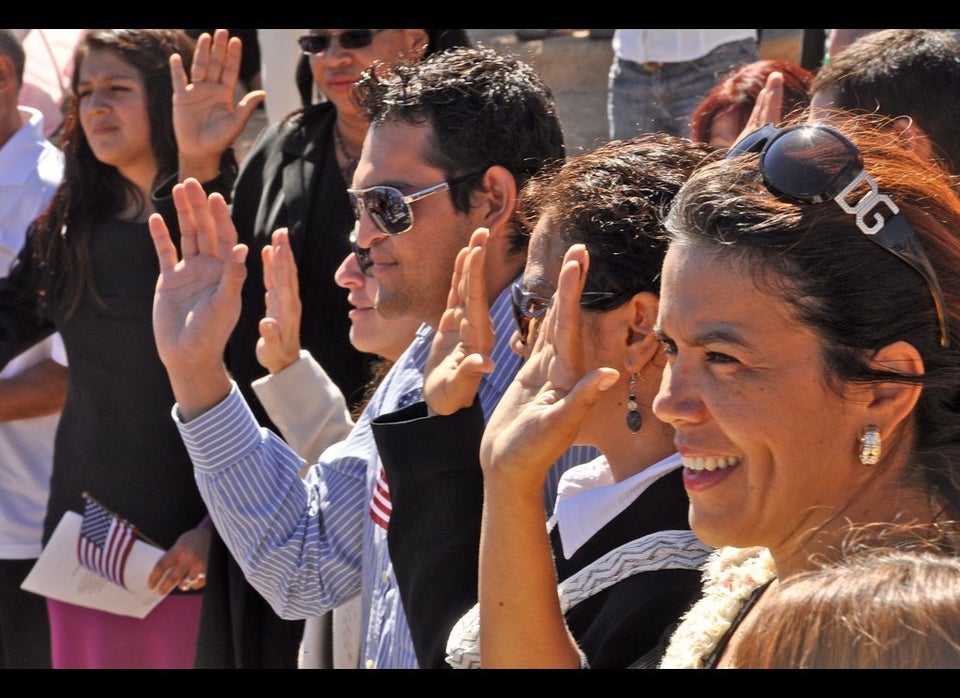 10 Major U.S. Federal Immigration Laws
Popular in the Community