WASHINGTON –- Raul Labrador has a thing for microphones.
Supporters and critics alike describe the Idaho Republican congressman as a self-confident firebrand eager to speak out, especially in private meetings with his fellow Republicans.
Labrador "practically lunged at the microphone" in one 2011 meeting with House Speaker John Boehner (R-Ohio) and the House GOP conference, according to Robert Draper's 2012 book Do Not Ask What Good We Do. In another meeting, Draper wrote, Labrador "rushed to the open microphone." At yet another, Labrador listened to Boehner speak and then "immediately went to the mike."
Labrador -- a 45-year-old Mormon father of five, tea party congressman, and Puerto-Rican-born only child of a single mother -- is a man in a hurry, friends and associates say. And he has quickly made himself heard in Washington, where the House GOP's tea party contingent -- overwhelmingly white and often branded as the know-nothing, do-nothing caucus -- is happy to have a Latino that they view ideologically as one of their own stand up to be a spokesman during a tough immigration battle.
Labrador's ascendance in just under three years has been propelled by the way he combines staunch conservatism with the desire to craft a message for winning new converts to the cause. And he has a compelling personal story. His mother, whom he described as strong-willed and self-giving, cleaned hotel rooms in the tourist section of San Juan to pay to send him to private schools, and then brought him to the mainland when he was 13.
Add it all up and the message is increasingly loud and clear: Labrador sees himself, and is positioning himself, to be a leader in the GOP of the future.
The congressman looks likely to run for governor in his home state, despite the fact that incumbent Gov. Butch Otter, a Republican, has said he intends to run. A Labrador challenge would set off one of 2014's more intense intra-party showdowns. And if he were to win, that would immediately place him on the roster of potential GOP presidential candidates -- at least in 2020, if not in 2016.
"I think he's going to run," one person close to Labrador's political operation told HuffPost.
Labrador placed himself within what he called "a new kind of conservatism" that he said is marked by a focus on fiscal issues and civil liberties, with less emphasis on social issues.
"I think it's a conservatism that's a wave of the future, where conservatives are actually going to be appealing to more independent-minded people," he said in an interview.
For now, Labrador has assumed a crucial role in the immigration debate heating up over the next few months, and he will likely be a key ingredient of any successful deal -- if one can be reached. Idaho politicos said his standing with the grassroots in his home state is so solid that he has room to maneuver on the issue. But that's within reason. If he does challenge the sitting governor, he will need the full support of Idaho's conservative base.
Labrador's rhetoric and positioning on immigration reflect the political realities facing him back in Idaho.
"It is absolutely vital for us to do something," he said, but added that Congress must "do it right." He also tempered his urgency by saying that Congress could come back to immigration in 2015 if they can't get it done this year, contrary to those who believe that the next chance wouldn't come until after the next presidential election in 2016.
That kind of mixed diagnosis is in keeping with Labrador's unique position in the immigration debate. He cannot be claimed by the bipartisan deal-or-bust crowd, or by those sworn to defeat a bill. He has been outspoken against the Senate's comprehensive immigration reform bill, but instead of railing against it, he has spent more time emphasizing the way to pass legislation out of the House. And he has differed with conservatives like Sen. Ted Cruz (R-Texas), who has accused President Obama of playing up the issue of immigration for political reasons. Labrador said in March that he believes Obama is "sincere" in wanting to reach a deal.
Labrador emphasizes that added border security and stronger interior enforcement of the immigration law should be in place before undocumented immigrants can begin the legalization process. But he would like to reach a deal to do both this year, an aide told HuffPost.
Labrador has also said he would not want to create a new path to citizenship, like the Senate bill did, but would favor granting legal status to undocumented immigrants, then allowing them to go to the back of the line in existing visa categories. The thinking behind this plan is that it would put pressure on the government to spend as much time unclogging the backlogs in those existing visa categories as it would in granting citizenship to the undocumented.
"When I think about immigration reform I think first about the enforcement and guest worker program issues, and then I think about what to do with those that are here undocumented because that's not really the main issue with immigration reform," Labrador said. "The main issue is the broken system that we have."
Labrador has sway in the House for a few reasons. He is an immigration attorney, so he knows the issue well. He is Latino. He is respected by many of the most conservative House Republicans, having voted with them and battled GOP leadership over the past few years. And he is an aggressive spokesman, as evidenced by his fiery back and forth with former Obama spokesman Bill Burton on MSNBC earlier this month.
Labrador bristled at Burton's dismissive mention of his "talking points," and promptly went after the Democrat.
"I think I know more than you do about immigration and immigration reform," Labrador said. "So let's not try to insult people."
For his vocal and combative role on the immigration issue, Labrador was tight-lipped about his intentions for the future, even when asked how he was thinking through his decision on whether or not to run for governor.
"You know, I don't talk about that," he told HuffPost. "It's going to be in the next couple months I will make a decision. It's a private conversation that I'm having with my wife and some close associates."
China Gum, an Idaho native who ran Labrador's past congressional campaigns and speaks to him regularly, was equally opaque on the question of whether he will run for governor.
"I can see it either way," she said, adding that she gets "asked about it all the time" by others in Idaho.
Labrador is known to hate being away from his wife and children, four of whom still live at home. He and Otter have danced around each other for the past seven months as the gubernatorial election begins to heat up. Otter has continued to say he plans to run; Labrador said he would decide by the middle of this year, but this month put off a decision for a few more. Some Idaho political observers speculate that Otter may be keeping his name in the running for as long as possible, and may run again, simply to keep Labrador out and to pave the way for Lt. Gov. Brad Little to become the next governor.
When asked if he would run against Otter, who is 71 but in good physical shape and would be seeking a third term, Labrador responded: "No comment."
"But thank you for the question," he added, chuckling.
Labrador has clashed with Otter for years, going back to his two terms in the state legislature. In 2008, Labrador helped replace the state Republican Party chairman, who was backed by Otter, with the more conservative Norm Samenko. More recently, Labrador used his heft as a congressman to lobby members of the state legislature against Otter's plan to implement a healthcare exchange under Obamacare.
"I wouldn't say they are enemies," said Jonathan Parker, who was the state party's executive director for three and a half years until last year. "But they definitely are in different camps."
Otter's spokesman, Jon Hanian, said in an e-mail that Otter "has never said -- and I have never heard anyone suggest -- that he is running to keep somebody else 'out.' That's a new one. Beyond that I can't comment on his campaign."
If Labrador decides to run, it will be in keeping with his track record of not shying away from a fight that he thinks is worth fighting. Reflecting on his appearance on MSNBC, he said he relished the back and forth.
"It's not the most comfortable thing, but I actually like the fight," he said.
Labrador credited his scrappiness to his experience as a trial lawyer, and to his mother, who passed away eight years ago -- she "wouldn't suffer fools gladly," he said.
"Especially on shows like that show on MSNBC where it's so one-sided, where you have four against one … I think sometimes Republicans are afraid to make their arguments," Labrador said. "I think it's my duty to go out and speak with people who disagree with me, so I can try to convince them of our ideas."
He acknowledged that the tea party lawmakers in Congress are still thought of primarily as obstructionist, an impression that is likely to gain steam if they follow through on threats to shut down the government unless Obamacare is defunded.
"I think that's highly unfair," Labrador said of the obstructionist charge. "But I'm not going to complain about it. I just need to do a better job of going out there."
Before You Go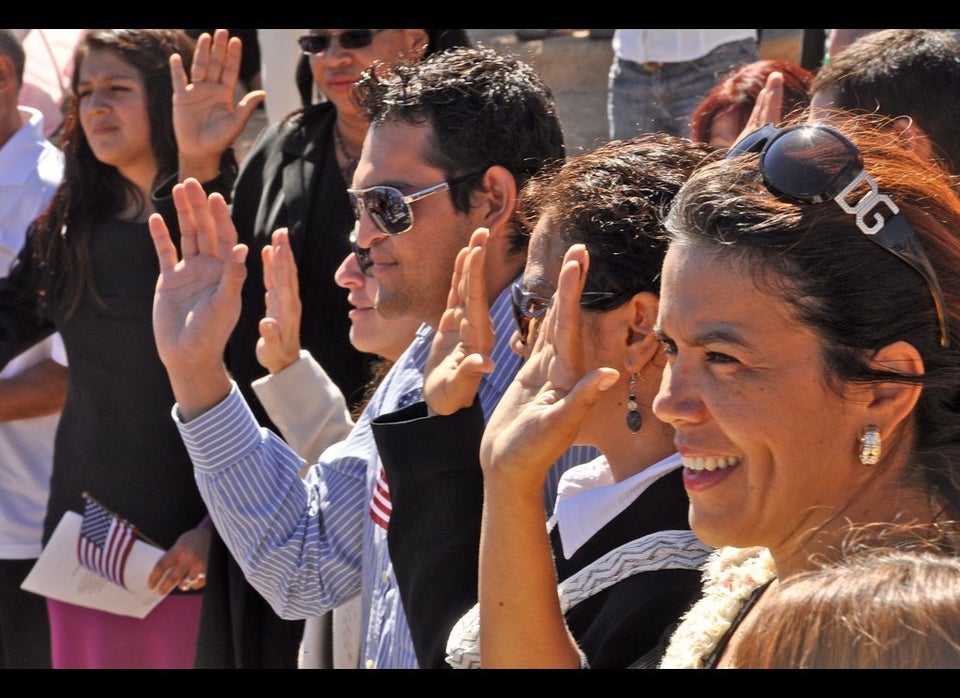 10 Major U.S. Federal Immigration Laws
Popular in the Community