Anyone who's been paying attention to Illinois politics knows absolutely nothing is getting done in Springfield.
Illinois Public Radio reporters Tony Arnold and Amanda Vinicky this week teamed up for a pair of stories that, in highly entertaining and informative fashion, describe two methods the opposing sides have used this year to antagonize each other and whip up the hostility that defines the 2015 legislative session. (Arnold's story is here. Vinicky's is here.)
Arnold, political reporter with WBEZ-FM in Chicago, focuses on Richard Goldberg, Rauner's deputy chief of staff and the administration's anointed antagonizer-in-chief. A former deputy chief of staff with U.S. Sen. Mark Kirk, Goldberg has drawn the ire of Illinois Senate Democrats with his direct manner and frequent departure from standard decorum during committee hearings led by Senate Democrats.
On the House side, Goldberg has made his presence felt through his absence. He often has declined to show up in person for committee hearings, sending sharply worded memos instead.
Vinicky, Statehouse bureau chief for WUIS-FM in Springfield, takes a look at House Speaker Michael Madigan's strategy of forcing Republicans to vote against their own legislative agenda by slicing and dicing the governor's proposals to the Democrats' advantage.
More than a dozen times, he's called a property tax freeze bill for a vote in the House so he can watch it fail spectacularly with many Republicans voting against it. The tactic has been the subject of many angry Republican outbursts on the House floor as the GOP claims Madigan is orchestrating "sham" votes so he can criticize Republicans in campaign mailers for opposing a freeze on property taxes.
On this week's "Only in Illinois" we're joined via Skype by Arnold and Vinicky, who discuss the origin of their "Proxy Wars" stories and give their takes on the state of gridlock in Springfield.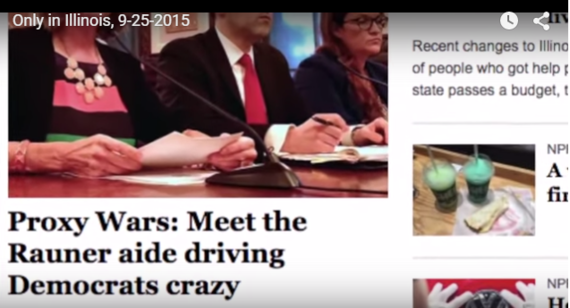 Calling all HuffPost superfans!
Sign up for membership to become a founding member and help shape HuffPost's next chapter