The Illinois General Assembly hasn't yet agreed on a balanced budget for fiscal year 2016. Mark Fitton of the Illinois News Network reports on what Gov. Bruce Rauner says will happen to programs such as Amtrak and the World Shooting Complex if lawmakers can't get a plan together:
SPRINGFIELD -- Gov. Bruce Rauner on Friday afternoon announced another round of spending reductions -- this one totaling about $420 million -- should the state not have a workable budget by July 1.

Among the actions are a freeze on state construction projects other than transportation, a shutdown beginning Sept. 1 of the World Shooting Complex in Sparta, reduction in state funding for Amtrak and halt in funding for several crime prevention programs.

The cost cuts, most of which would take effect July 1, are in addition to $400 million in emergency measures the governor announced June 2.

Reaction from around the state was mixed, with Republicans largely sympathizing with the governor's position and Democrats contending Rauner was using a budget ax rather than negotiating.

"The governor's got to do what he's got to do," said state Sen. Kyle McCarter, R-Lebanon.

"I've built my business over the last 15 years. I've had to make some tough decisions -- and I'd rather not have made them," McCarter said. "But I did because I knew there could be a future for my business. I had to make tough decisions today so there could be a tomorrow."

"This is just sad," said state Rep. Brandon Phelps, D-Harrisburg. "It's another sad day in the state of Illinois."
Among the sticking points preventing a budget compromise between Rauner and the legislative Republicans and House Speaker Michael Madigan and Senate President John Cullerton and Democratic legislators is clashing political rhetoric. Watch Reboot Illinois' Madeleine Doubek discuss the stalemate: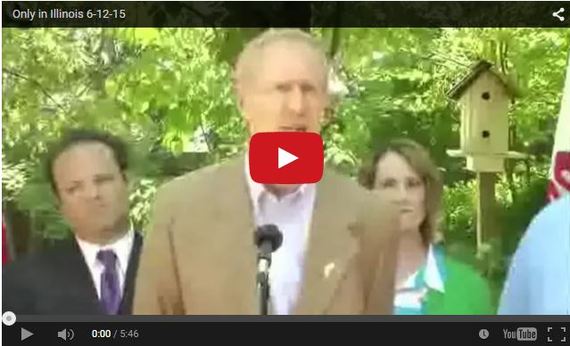 Calling all HuffPost superfans!
Sign up for membership to become a founding member and help shape HuffPost's next chapter