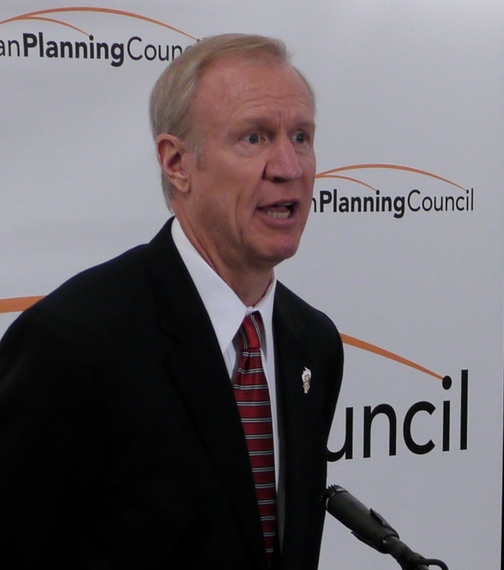 Illinois Gov. Bruce Rauner has yet to act on reverse mortgage legislation he received in late June. Photo Credit: Steven Vance, under Creative Commons Attribution 2.0
The Springfield budget wars between first-year Gov. Bruce Rauner and long-time House Speaker Michael Madigan have dominated news headlines this summer.
One story has received far less attention: a reverse mortgage bill that was sent to Rauner's desk on June 29 after unanimous passage in both houses.
For those who do not know, reverse mortgages allow homeowners 62 years or older to convert some of their home's equity into cash. While the mortgage is not due until the homeowner dies or the house is no longer used as a primary residence, mortgage holders must pay insurance premiums.
The bill seeks to stop the exploitation of seniors.
Key clauses require that potential borrowers be informed about the risks of reverse mortgages, create a mandatory three-day cooling off period, for potential lenders and ban people who facilitate this type of mortgage from accepting any of the proceeds in exchange for services.
Bob Palmer, policy director at non-profit advocacy group Housing Action Illinois, the group that created the framework for the legislation, said it could be an important step toward providing seniors with much needed protection.
Although states like Utah, Texas and Massachusetts also have reverse mortgage legislation, Illinois' law would differ from other states by restricting the distribution of loan proceeds to the borrower and their spouse or partner, he said.
"This is intended to keep anyone with a conflict of interest--whether it be a home repair contractor or another family member--from encouraging a senior to take out a reverse mortgage in order to benefit themselves," Palmer wrote in a statement. He added that Attorney General Lisa Madigan's office developed the clause in response to Chicago businessman Mark Diamond's alleged practices.
I worked with the staff of The Chicago Reporter in January on a story about Diamond, who has been accused in many lawsuits of scamming elderly black homeowners on the city's South and West Sides.
In June Judge David Atkins granted an injunction filed by Madigan's office seeking to stop Diamond from doing business while a 2009 case she brought on behalf of dozens of elderly homeowners works its way through the courts.
Diamond's lawyer Dennis Both did not return requests from comment.
Palmer said the bill's substance lend urgency to his organization's call for Rauner to sign it.
"We ask Governor Rauner to sign SB1440 into law as soon as possible, so that seniors can start receiving the consumer protection benefits that the legislation provides for at the earlier possible date," he wrote.
By Illinois law, Rauner has 60 days from the time any bill lands on his desk to decide what he will do.
Rauner spokeswoman Catherine Kelly said previously that the governor would take seriously any bill that crosses his desk.
Last week she wrote that she had "nothing further" to say about Rauner's plans.
Sen. Jacqueline Collins (D-16), who sponsored the bill in the Senate, is seeking to draw attention to the legislation by holding an evening event in the second half of August.
Full disclosure: Collins has asked me to speak at the event. I will talk about coverage I have done about reverse mortgages and will not take any policy position on the proposed law.
The upcoming weeks will show whether he will act to help protect some of our state's most vulnerable citizens, too.
Related
Popular in the Community