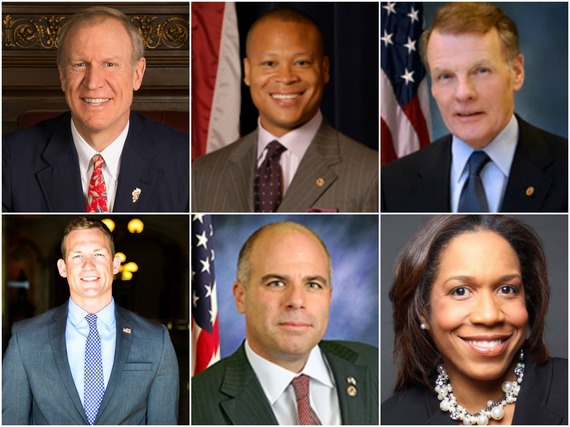 Clockwise from upper left: Bruce Rauner, Ken Dunkin, Michael Madigan, Juliana Stratton, Sam McCann, Bryce Benton
Bruce Rauner's name isn't on the 2016 primary ballot, but it will be between the lines in a couple key legislative races involving incumbents in both parties.
The districts and incumbents in these races could not be more different, but the results will be important indicators of whether the balance of power in state politics is shifting.
In August, Sen. Sam McCann, a two-term Republican from rural Plainview in Macoupin County, defied Rauner by voting with Senate Democrats on a bill to sharply limit the governor's power in contract negotiations with AFSCME Council 31, the union that represents some 35,000 state employees. He was the only Republican to vote with the Democrats to override Rauner's veto of the bill.
McCann, whose district includes part of Springfield and is home to many unionized state workers, said he merely was voting in the interest of his constituents. Rauner, whose hard-line stance on unions was a defining characteristic of his first year in office, saw it otherwise.
Rauner has endorsed McCann's Republican primary opponent, Bryce Benton of Springfield, and has been responsible for much of the more than $3 million that's been spent on Benton's behalf by Liberty Principles PAC, a Super PAC led by Republican activist Dan Proft. Rauner's Turnaround Illinois Super PAC has given $2.34 million to Liberty Principles PAC.
McCann's campaign has received nearly $600,000 in donations since Jan. 1, most from unions eager to push back against Rauner. The result of this race will be a measure of Rauner's ability to keep Republican lawmakers in line.
As Rauner tries to oust a member of his own party from the Senate, he's also defending a Democrat in the House who engaged in acts of disloyalty to Democratic leadership.
Rep. Ken Dunkin, D-Chicago, got himself into trouble with House Speaker Michael Madigan over the same bill that put McCann in Rauner's crosshairs. Twice, Dunkin refused to join fellow House Democrats in voting to override Rauner's veto of the union arbitration bill.
Dunkin also refused to vote with Democrats on a bill to nullify Rauner's cuts to the state's Child Care Assistance program. Instead, Dunkin said he worked with the administration to roll back most of the cuts. Dunkin amplified his dissatisfaction with Madigan in House floor speeches and press conferences.
Now Dunkin faces challenger Juliana Stratton, director of the Center for Public Safety and Justice at the University of Illinois at Chicago, whose financial backing has come almost exclusively from unions.
Strategically, this race is far more important to Rauner and the Republicans than the McCann race. House Democrats now have 71 seats, which is the exact number of votes required to override a gubernatorial veto.
Dunkin's rebellion against Madigan means that there is no functional Democratic super-majority in the House.
The race took on a stratospherically high profile a week before the primary when President Barack Obama endorsed Stratton. (Obama's endorsement also was an indicator of just how much Democratic party leadership values Dunkin's ouster.)
The Illinois Sunshine database reports that 83 percent of the $1.13 million donated to Stratton's campaign since Jan. 1 has come from unions. Dunkin, meanwhile, received an $800,000 donation from the libertarian non-profit Illinois Opportunity Project (which, like the Liberty Principles PAC mentioned above, is run by Dan Proft).
But that's not all. The Super PAC known as IllinoisGO, which describes its purpose as "defending Democratic incumbents from challenges they may face as a result of taking the tough votes needed to address the crisis" and is funded by Rauner supporters, also has poured money into the Dunkin-Stratton race - nearly $600,000 in support of Dunkin and almost $1 million in opposition to Stratton. Dunkin also has faced opposition from fellow Democrats in this race:
If Rauner can help keep Dunkin in office, he'll keep Madigan's power in check, assuming Democrats don't win more seats in other districts in November.
Regardless of the results, the races in the largely rural 50th Senate District and the urban 5th House District will test the power of Super PACs and big money even in races once considered minor.

Calling all HuffPost superfans!
Sign up for membership to become a founding member and help shape HuffPost's next chapter