All Raven Dozier could think about was why her baby wasn't moving.
"Is my baby OK?" she recalls asking at that terrifying moment five months ago.
The 20-year-old Georgia woman was in her third trimester in December when a police officer in boots kicked her in the stomach, leaving her on the ground, gripping her belly in agony. "The baby would normally move a lot, but after the kick he wasn't moving," said Dozier in an exclusive interview with The Huffington Post.
Dozier was nine months pregnant on the day the Dekalb County Police Department responded to a domestic disturbance involving her brother. At the time, she weighed around 180 pounds and describes herself as "huge."
"My stomach was big, my face was swollen," Dozier said. "I think the police officer should have been able to tell I was pregnant. I was clearly showing."
In the incident report filed Dec. 12, police officer Jerad Wheeler -- now under criminal investigation for kicking Dozier -- wrote that he gave "three verbal commands of 'Get back'" as she charged toward him.
But Dozier said she never charged the officer -- and wonders how she possibly could at nearly nine-months pregnant.
"I asked him, 'Why did you tase my brother?' said Dozier, who admits that her brother, Darius Usher, was acting "belligerent" during a custody dispute with the mother of his child. "I was on the left side of the officer, and he stepped back and kicked me."
In his police report, Wheeler wrote that "when Ms. Dozier was about three feet from me, I kicked her in the stomach to push her back. The kick was a front push kick to the abdomen as I was taught to do in the academy."
But Dozier's attorney, Mark Bullman, said that his client never charged at Wheeler, that she was attempting to calm her brother and that at such a late stage of pregnancy, it's more likely that she was "waddling like a penguin."
"Either the man couldn't tell the woman was pregnant -- in which case, you wonder why someone that stupid is allowed to carry a badge and a gun -- or he is lying," Bullman said. "I guess at this point we can't tell."
Wheeler wrote in the Dec. 12 police report that he didn't realize her condition. "I could not tell by the sight of her at the time that she was pregnant."
Police charged Dozier with obstruction and disorderly conduct, a move Bullman said was done to justify the use of force. Those charges have since been dropped.
Two weeks after the incident, Dozier prematurely delivered her child by cesarean section. Doctors said that leaking fluids in her uterus were threatening her son's life.
Today, Dozier's little boy, Levi, is healthy and about 4 months old. "That's all I was worried about," she said. "That's all I was thinking about."
Dozier is not sure if she trusts police after her experience. She's now suing the county as the district attorney investigates Wheeler's actions. "Why would he kick me?" she said. "The police are supposed to protect, I don't know if something happens in the future that I want them to protect me."
Requests for comment from the Dekalb police were not immediately returned.
WARNING: The photos below contain some content that may be considered unsuitable for some audiences.
Related
Before You Go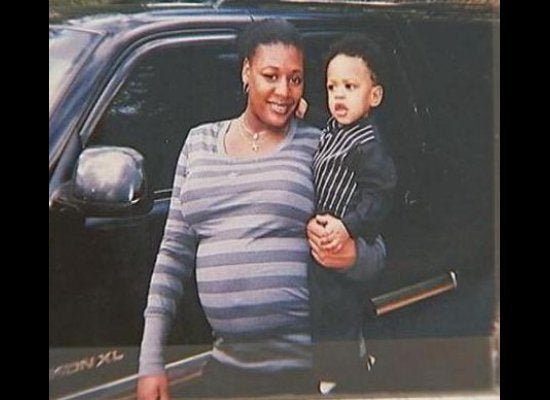 Raven Dozier
Popular in the Community