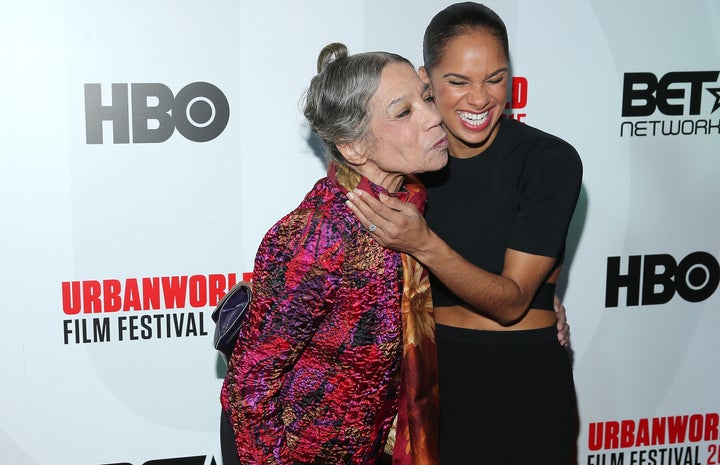 A new children's book honors the historic career of Raven Wilkinson, who is widely credited as the first African-American ballerina to dance with a major touring troupe.
Illustrations and prose show that Wilkinson, who was born in 1935, always knew she was meant to dance. She made history in 1955, when she became the first black ballerina to sign with the touring company Ballet Russe de Monte Carlo. She danced with the troupe for six years and gained prestige performing in roles such as the solo waltz in "Les Sylphides." Even after retiring from ballet, Wilkinson continued performing as a character dancer and actor until 2011.
But while touring, the New York native also experienced a type of overt racism with which she was unfamiliar. Wilkinson was in danger whenever the troupe moved through the South during the Jim Crow era. She recounted some of those moments in an interview with Pointe magazine in 2014.
"I remember one time in Montgomery, Alabama, the tour bus rolled into town, and everyone was running around with white robes and hoods on," she told the publication. "They stopped traffic, there were so many of them. There was a rapping sound on the bus door, and this man jumped on in his hood and gown. Several big strapping male company dancers got up and moved toward him. He threw a fistful of racist pamphlets all over the bus before they chased him out."
Trailblazer follows Wilkinson's career, which included stints with the Dutch National Ballet in the Netherlands and the New York City Opera, and ends with a scene of her presenting Copeland with flowers following the young dancer's debut in "Swan Lake" ― closing with the idea that Copeland will continue what Wilkinson began.
Copeland has said she looks to Wilkinson as an inspiration and as a sign that things can still be changed in the world of ballet.
"She's been through so much more than I could ever imagine, in the 1950s and experiencing racism in that time. It just felt like, I can do this," Copeland told Time in an interview published Tuesday. "It made me feel really empowered not to let the negativity of racism even to this day affect me and my career. I can be strong and persevere and allow my talent to shine beyond the color of my skin."
Popular in the Community