It's possible, on a pristine day in the Chicago area, to gaze out on a topaz-colored Lake Michigan from not a flat beach but from atop a 70-foot-high bluff.
It's then possible to venture inland several feet to a ravine carved thousands of years ago by glacier-induced streams, taking in Burr and White Oaks mingling with a driftwood sculpture, metal trestles and a stunning mural along the way.
It's all part of the 77-acre Openlands Lakeshore Preserve, which has been undergoing intense ecological restoration in the last several years and has its grand opening on Saturday with a free, three-hour party for the public. The grand opening activities, which run from 11 a.m. to 2 p.m., feature tours of the Preserve, stunt kites and demos by birds of prey.
The official opening of the Fort Sheridan-based Preserve, located about 25 miles north of Chicago, gives Chicagoans rare access to an ecosystem of bluffs and ravines, as well as to more than 150 species of birds that dwell or pass by there, Openlands President and CEO Jerry Adelmann, said.
"To experience a landscape like this," he said, while taking in the lake vista from the Preserve's bluffs last Thursday, "this is really the only place you can do it in Illinois."
The reason is that of the 30 to 35 ravines that exist in the area, most are privately owned. The three ravines -- Bartlett, Van Horne and Schenck Ravines -- in the Preserve jut inland from the roughly one mile of lakeshore that composes the Openlands area.
But these ravines came close to becoming privatized as well. Once located within the decommissioned Fort Sheridan military base, the land was owned by the U.S. government for more than a century. Openlands, a nonprofit organization that works mostly in Illinois, Wisconsin and Indiana, usually secures and temporarily holds land before turning it over to an organization that will take care of it and open it up for the public, as it did for the Lake County Forest Preserve District with a mile-long stretch of lakefront that's adjacent to the Openlands Lakeshore Preserve. (Combined with that adjacent Forest Preserve land, the public will be able to access about two miles of continuous North Shore lakefront.)
In 2004, in what Adelmann calls "a significant departure" for the organization, Openlands agreed to take permanent possession of the Preserve property from the government and to manage it for the public for perpetuity because, Adelmann said, "to have it become gated and privatized would have been tragic."
What followed was a $13 million capital campaign, unprecedented for Openlands, Adlemann said, which employs about 25 people. So far, the organization has raised more than $10 million, which includes a $4 million from the Grand Victoria Foundation and $2 million from the Hamill Family Foundation.
Those two large grants sparked the restoration of and artistic commissions for the Bartlett Ravine, the longest of the trio of ravines, which winds about three-quarters of a mile inland from the lake.
Nearby residents, like Debbie Blank, 48, of Highwood, have already been using the pedestrian-only ravine. (It had a soft opening about a year ago.)
"It's the most peaceful walk," Blank said last Thursday, as she strolled with her dog, Buster.
In a historic and artistic statement, Openlands left long black trestles, which once supplied electricity and utilities to different parts of the army base, running across the ravine. On one trestle, Openlands commissioned words of iodized aluminum inspired by literary greats in a kind of merging of culture and art.
Other artwork along the ravine's path includes a fluid sculpture of driftwood, meant to evoke rushing water and its erosive effect. Near the Preserve entrance is a 32-by-50 foot mural made of metal, glass tile and acrylic paint for school groups, several of whom will travel from various Chicago Public Schools, that depicts nature's macrocosm/microcosm effect, showing, for instance, both the vastness of the solar system and the intricate rings found within the trunk of a tree. More sculptures placed near the ground depict the microbes that live in the ravine soil, like the tardigrade, or water bear. Still more art, in the form of multicolored posts, refract the various hues found in the water, wood and grasses of the Preserve.
There's a primary reason Openlands focused so much on art, Adelmann said, and it's not for a decorative function.
"These artworks are not a sculpture park," he said. "We want these works of art to give a point of entry for people. This is really an alternative way to interpret and tell a story."
It's a story that continues to evolve as the landscape is preserved and restored. Already, many of the natural trees and plant life have been brought back and allowed to thrive, according to Bob Megquier, the chief operating officer and director of land preservation at Openlands. The organization used chainsaws, herbicide and controlled fires to battle invasive species like buckthorn and to allow more light to reach the bottom of the ravines.
"It's this really high quality, native landscape being smothered within these invasive plants and being ignored by the Army all the years it was there," he said. "It's very rare and very unique."
To manage stormwater and prevent it from eroding the soil on the bluffs, rain ponds containing plants will collect some of it. These ponds are visible to visitors who walk the upper portion of the Preserve, which has a winding trail that boasts an overlook and a curving bridge that allows viewers to look straight down into Schenck Ravine.
It's the access Chicagoans will have to the combination of ravines, bluffs and lake that Megquier deemed the most "phenomenally exciting" part of the new public space.
"This," Adelmann said, looking around him at the surrounding Preserve, "connects us to ecology and natural history in a special way."
Grand Opening activities for the Openlands Lakeshore Preserve run from 11 am. - 2 p.m. Saturday on the uplands off Patten Road at the Preserve in Fort Sheridan. To use public transportation from Chicago, take the Union Pacific North Metra line to the Fort Sheridan station. A shuttle service will be running to the preserve every 15 minutes. For more info, call 312-863-6250 or e-mail info@openlands.org.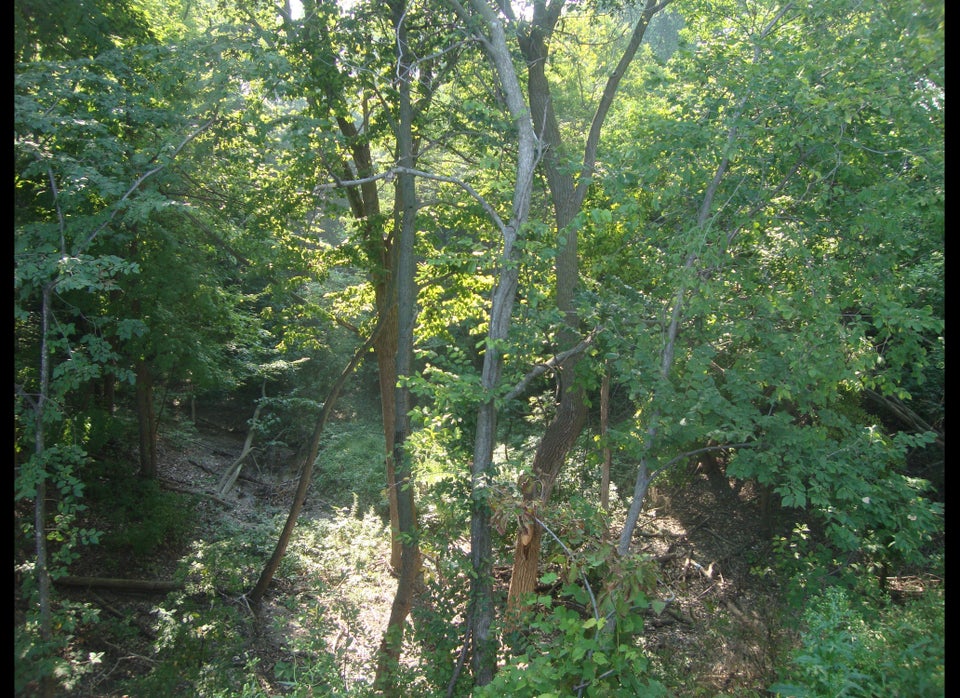 Openlands Lakeshore Preserve
Popular in the Community