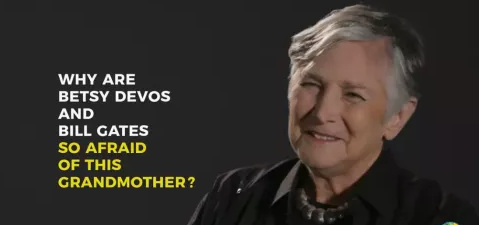 In conjunction with their 4th annual conference in Oakland, California on October 14-15, the Network for Public Education is releasing a series of eight video "voices" defending public education in the United States. The initial video, "Why are Betsy DeVos and Bill Gates so Afraid of this Grandmother?" features Diane Ravitch, author, historian, teacher, and co-founder of NPE. In a 3-minute clip, Ravitch warns that Betsy DeVos' agenda is a thinly veiled attempt to privatize schools and redefine citizens into consumers. Ravitch is especially concerned that charters, vouchers and so-called educational choice proposals will undermine American democracy.
In the video Ravitch calls DeVos "the first Secretary of Education in our history who is actively hostile to public education." In Michigan, where DeVos was able to use her family's wealth in campaigns to reshape the school system, "the charter sector is an unaccountable industry that costs the state of Michigan, that costs the taxpayers a billion dollars a year and performs worse than the public schools." The charter schools have "high attrition rates, they keep out the kids who have disabilities that need extra care, they push out the kids who are English language learners they push out the kids who are behavior problems."
Ravitch is worried that "corporate charter chains" will push out public schools leaving families with no options and seriously weakening a national democratic community. According to Ravitch's educational vision, "public school is all about... building a sense of community, having a sense of democracy at the local level, having people from different backgrounds coming together to solve problems and learn how to be citizens."
Ravitch is also critical of the "voucher system in DC which is held up now as a model," but "causes kids to actually lose ground. They enter low performing and they become even lower performing. The achievement gaps there are the largest of any city in the country."
The Ravitch video is a call to action in defense of public education. "The privatization movement, charters and vouchers is moving forward full speed ahead, defunding public schools, using test scores to say public schools aren't good enough. The question before us is how can we stop this steamroller that's destroying the public sector, that wants to privatize everything, that wants to turn us from citizens into consumers." Ravitch and the Network for Public Education advocate "organized and dedicated and passionate resistance."
Future videos in the series feature Johanna Garcia, an educational advocate from New York City; Jeanette Deutermann, a founding member of Long Island Opt Out and New York State Allies for Public Education; John Kuhn, Superintendent of the Perrin-Whitt School District in Texas; Jesse Hagopian, a Seattle-based high school teacher and editor of Rethinking Schools; Jitu Brown, National director of Journey for Justice (J4J) Alliance; Kymberley Walcott, an undergraduate student at Hunter College-CUNY; and Linda Lyon, a retired Air Force colonel, is president-elect of the Arizona School Boards Association.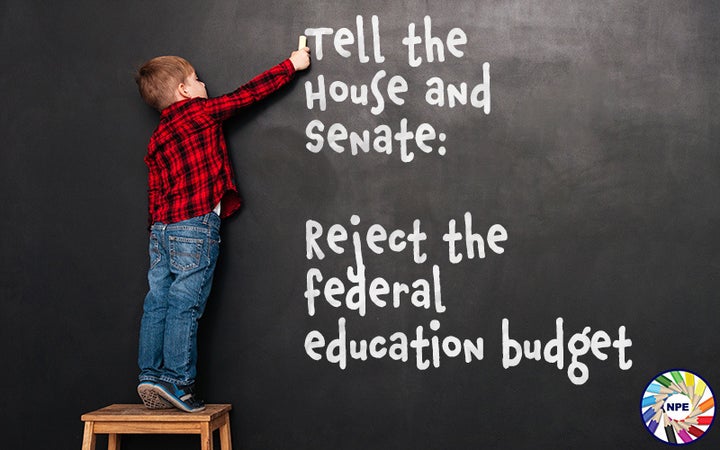 The Network for Public Education has launched a campaign to convince Congress not to cut the education budget, especially Title II, which makes possible reduced class size and supports professional development for teachers. You can send a letter to your Congressional Representatives from their website.
Calling all HuffPost superfans!
Sign up for membership to become a founding member and help shape HuffPost's next chapter