I'll Meet You There is a young adult book you cannot reading miss this year.
Book Review: I'll Meet You There by Heather Demetrios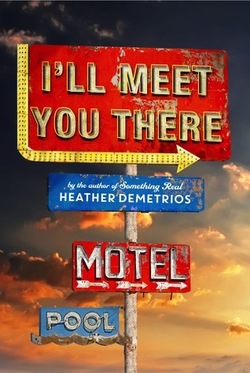 Genre: Young Adult - Contemporary
Release Date: February 3, 2015
Description: "If seventeen-year-old Skylar Evans were a typical Creek View girl, her future would involve a double-wide trailer, a baby on her hip, and the graveyard shift at Taco Bell. But after graduation, the only thing standing between straightedge Skylar and art school are three minimum-wage months of summer. Skylar can taste the freedom--that is, until her mother loses her job and everything starts coming apart. Torn between her dreams and the people she loves, Skylar realizes everything she's ever worked for is on the line.
Nineteen-year-old Josh Mitchell had a different ticket out of Creek View: the Marines. But after his leg is blown off in Afghanistan, he returns home, a shell of the cocksure boy he used to be. What brings Skylar and Josh together is working at the Paradise--a quirky motel off California's dusty Highway 99. Despite their differences, their shared isolation turns into an unexpected friendship and soon, something deeper."
Raw & Beautiful
I'll Meet You There is the type of book that gets under your skin. It makes you feel things (oh the things!) and keeps you thinking about it long after the final page has been turned.
The book focuses on themes many can relate to - leaving places you've outgrown and returning to places completely changed.
There is a lot of rawness to the story - the author really gets inside the head and heart of Josh Mitchell, a marine returned back to his home after losing his leg. All the emotions you might imagine he'll display are there and so much more.
The story delves into the ugliness of war and its effects on those who survive. The realness and authenticity of Josh's waves of despair and healing and joy and guilt mix together to create something beautiful and memorable.
You might think I'll Meet You There is a heavy, dark sort of book, but it's really not. Although serious issues are tackled, there is a lot of joy in the descriptions of the Paradise Hotel with its wonderfully random themed rooms (including Viva Mexico, Gilligan's Island and Tom Cruise) and in Skylar, a Paradise employee with dreams of college and escape.
What I loved best was that the story offers a different perspective. It's about two broken people trying to sort out their lives. No one inside the pages is perfect or blameless; they're better than that, they're real.
Get ready to have your heart pummeled a bit but ultimately filled with laughter, tears and love.
I honestly loved everything about this book. I was moved by the raw realness of the characters, entranced by the magic of the Paradise and stunned by the effortless writing. I'll Meet You There is a book to treasure and hold in your heart.
Note: This that this book contains sexual content and profanity.
Popular in the Community