Note: This post contains sex, nudity and lots of it. You've been warned!
erotic
adj. of or pertaining to passionate love; arousing or designed to arouse feelings of sexual desire; amorous; amatory.

rawerotics
n: a singular theory or science of love constructed without recourse to cultural convention.

So begins Colin Rhodes' essay in the book "Raw Erotica," featuring rare outsider and folk artworks from a dizzying variety of artists, backgrounds, perspectives and media. For the uninitiated, outsider artwork is a prickly genre, categorizing artists working outside the mainstream, disconnected to and sometimes fully unaware of the so-called art world. Some are living with developmental disabilities, others in geographical isolation; the one thing tying the many artists and visions in "Raw Erotica" together is a shared interest in the erotic.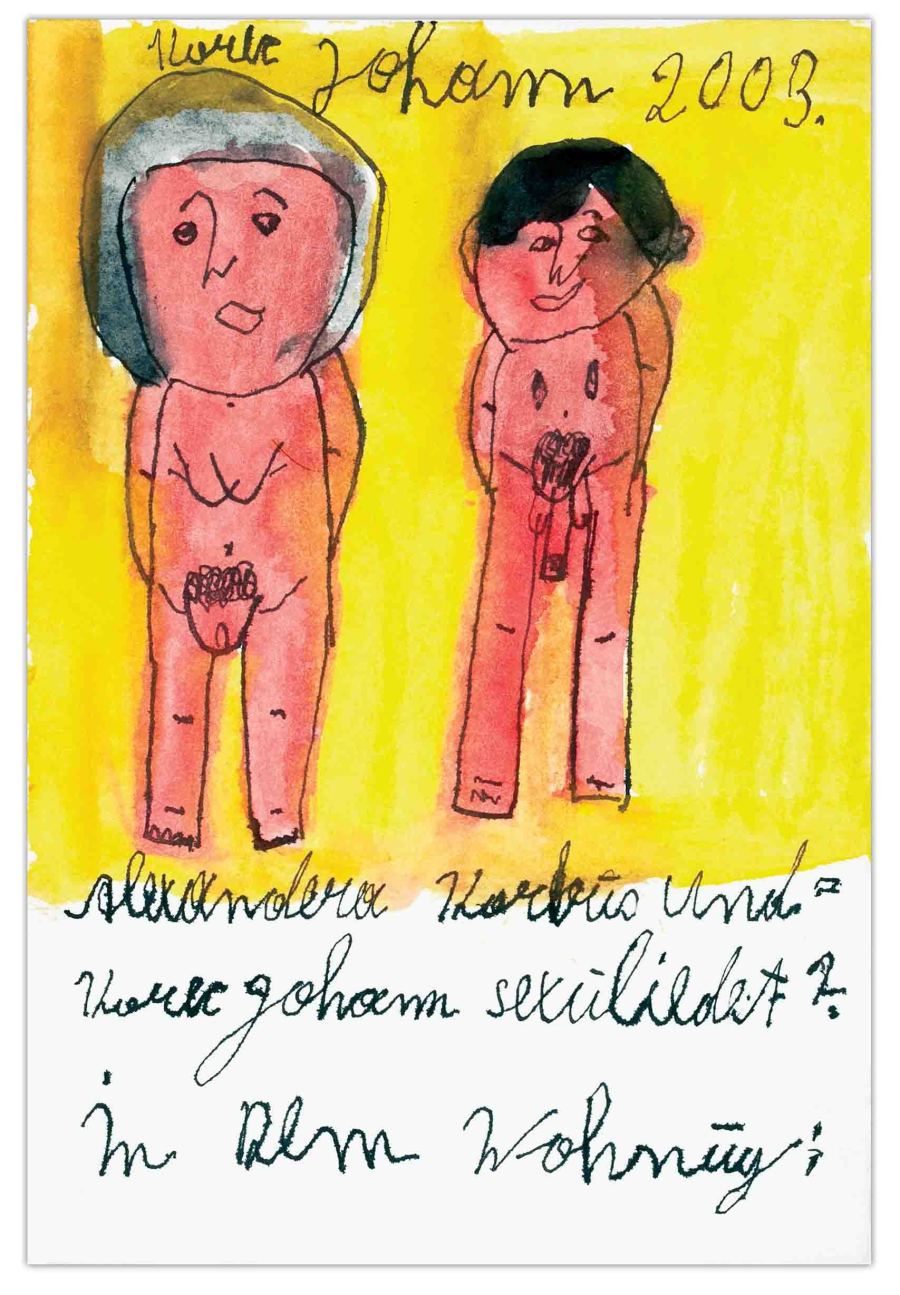 Johann Korec
Prior to reading this article you, like us, may have understood eroticism as somewhat of a lead-in to sex, akin to the slow undressing before the touching begins. This is not always the case.
Eroticism does, sometimes, lead to sex, it's true. But often the energy and desire that constitute eroticism change shape and lead elsewhere, often when the object of affection is unattainable, or the conventional rituals of attraction and seduction do not apply. This is often the case for so-called "outsider artists," those operating outside the artistic institution as well as the societal mainstream, whether due to certain disabilities, incarceration or geographical isolation.
With such artists, eroticism often doesn't reach its peak with the act of copulation, but rather with the act of creation.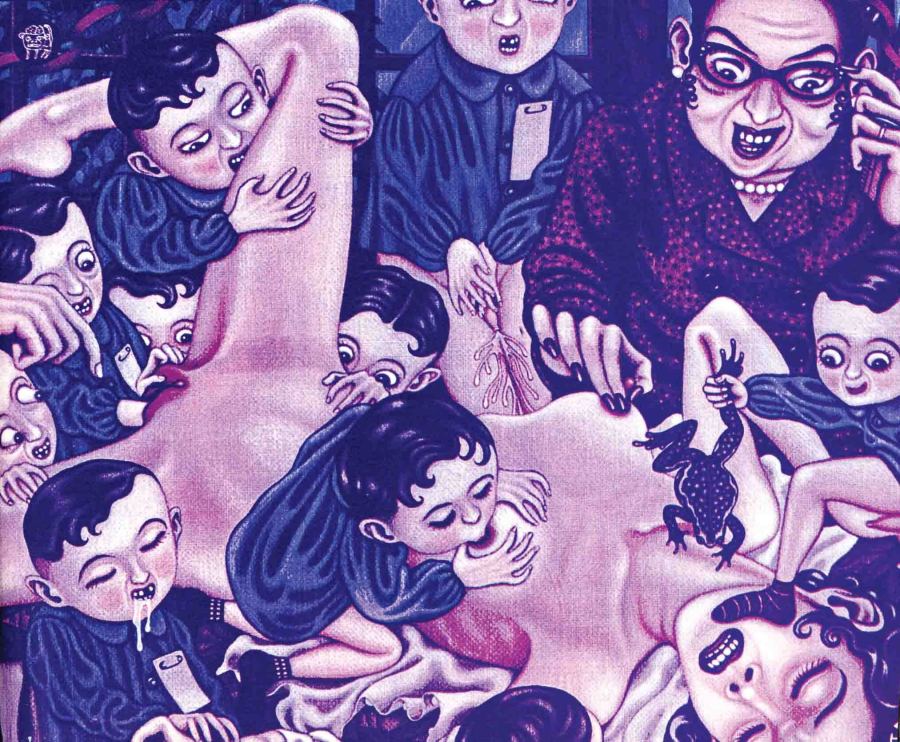 Ota Keiti
"Eroticism, unlike sexual activity, is a psychological quest independent of the natural goal: reproduction," said cultural theorist Georges Bataille.
In essence, eroticism is not limited to the realm of the physical. It exists everywhere, from the human body to an unattainable aesthetic to a transcendent plane, an almost otherworldly state. Some of us may recognize the feeling of leaving the physical body or the ideological self temporarily during the act of sex. In the world of rawerotics, such an experience may not be limited to the duration of sexual activity. Some artists grow to inhabit an entirely separate erotic territory, removed from the practices and conventions of everyday life, a separate plane of sexual energy. And they can access this space through art.
The book features a variety of highly unusual, sometimes gorgeous and often terrifying erotica -- which, Rhodes clarifies, is a different beast entirely than pornography. While in both art forms, the sexualized body takes center stage, pornography aims only to titillate or disgust. Erotica, however, is an aestheticized translation of desire itself. Instead of guiding one toward physical consummation, erotica is the aesthetic event, detached from physical human bodies. "Pornography is produced in a disinterested way, to be consumed by strangers, and without recourse to the sexual purposes to which images are put," Rhodes explains. "Erotica, on the contrary, is engaged and connected."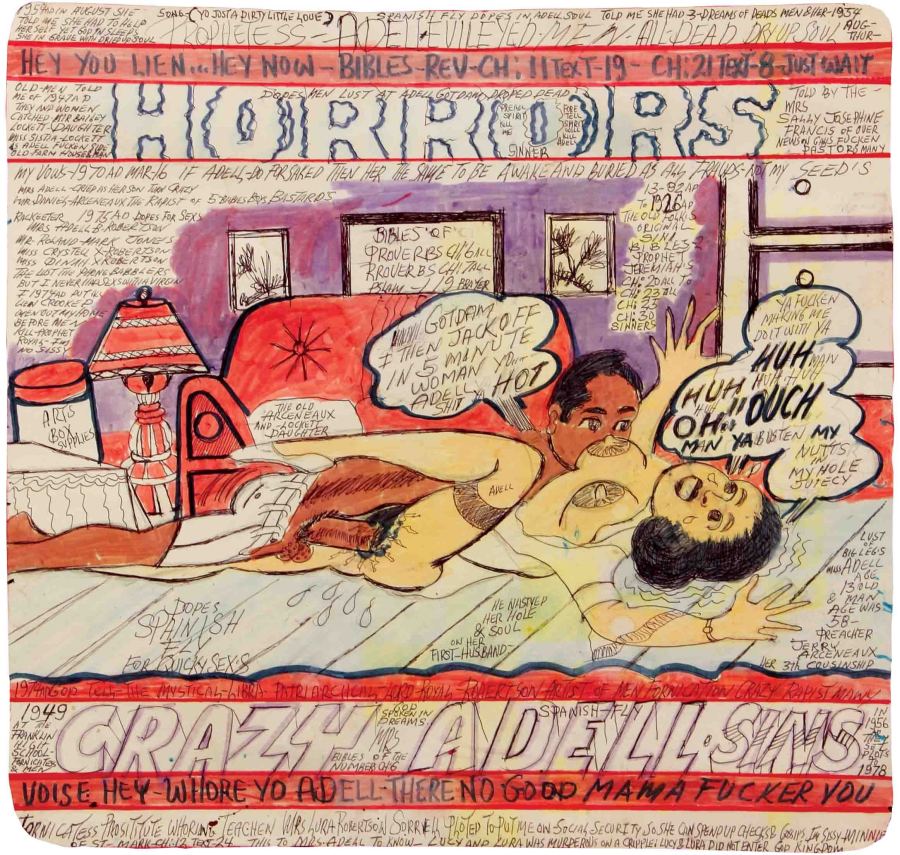 Royal Robertson
And yet, many of the works included don't revolve around the sexualized human form at all. Some fetishize objects to symbolize the body -- perhaps stemming from a lack of knowledge of the naked form -- while others sublimate the obsessive desire into obsessive creative tendencies, from lists and charts to compulsive art making. For many outsider artists, the creative process itself becomes erotic.
The 200-page publication features sexual imagery that's at times surreal, naive, misogynist, violent, fantastical and just plain otherworldly. For example, Royal Robertson's "Horrors, Crazy Adell Sins" features an aggressive sexual encounter accented with disjointed textual outbursts like "HORRORS," "HUH," "OUCH," and "OH!"
Robertson, born in 1936, was a paranoid schizophrenic, experiencing his first vision (of a space ship with God as a driver) at the age of 14. When his marriage began to deteriorate, he began to believe his wife's unfaithfulness would lead to the destruction of humankind, perpetuating his belief in a global female conspiracy. Yet despite his attempt at domination in his visual representation, Robertson fails to wield power over his sexual partner even in drawn form. As Rhodes explains: "The stuttering, intemperate invocations of biblical texts and the threatening curses suggest impotency and emasculation, rather than power."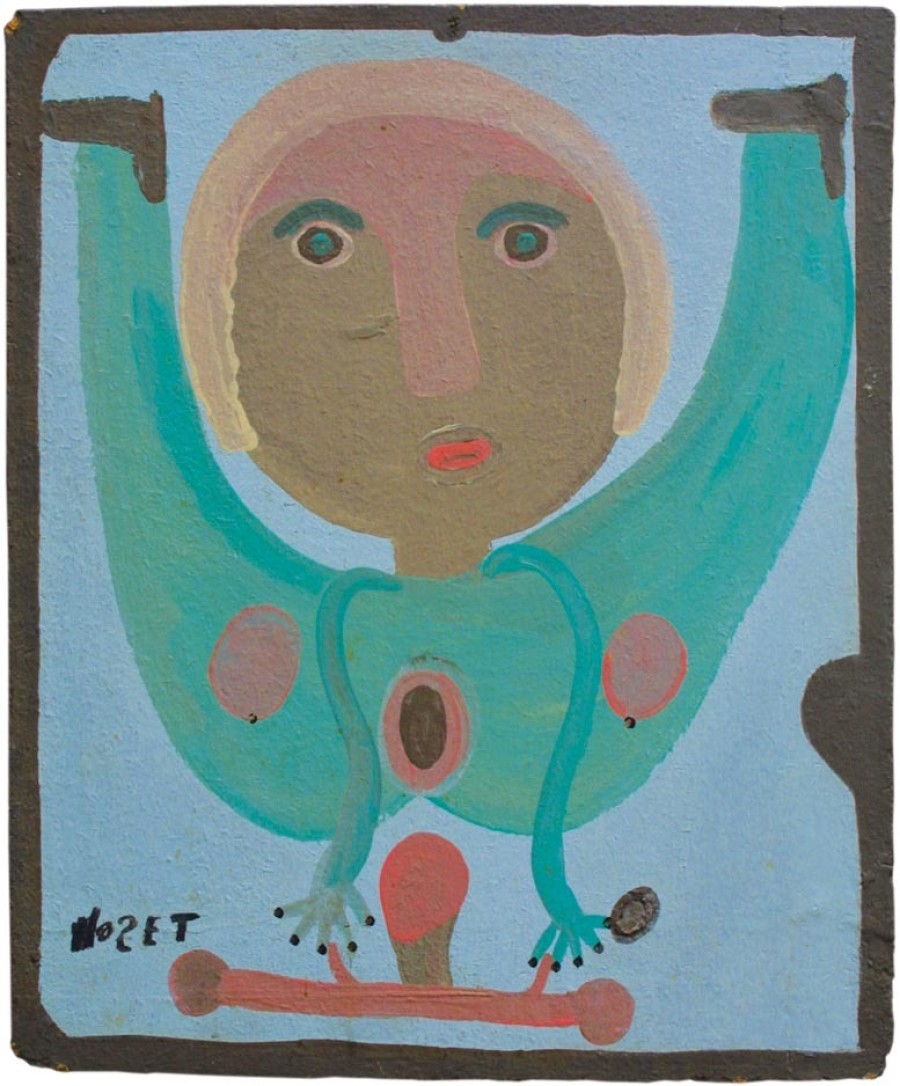 Mose Tolliver, Moose Lady, c.1980. House paint on wood. Marcia Weber Art Objects, Alabama
On the other end of the spectrum is Mose Tolliver, an Alabama-born, African American artist born in 1920. Tolliver took to painting after an accident in a furniture factory crushed both his legs, and he took to art to pass the time. He was also dyslexic, leading him to experiment with turning his paintings upside-down and in other wayward directions. Tolliver's erotically inclined artworks, "nasty paintings" as he called them, aren't very graphic at all. The abstract depictions of smiley faces, splayed legs and gaping holes appeal to a childlike sensibility of what's raunchy, somewhat removed from actual human anatomy.
With every new artist comes a newly proliferated sexual possibility. Eugene Von Bruenchenhein turns his wife into his very own pin-up girl, photographing her in a variety of fantastical burlesque outfits and bizarre poses. Roy Ferdinand, who grew up amidst rampant sex, drugs and violence in New Orleans, channels the seedy underbelly of the city in his witty and grotesque caricatures of everyone from local prostitutes to Monica Lewinsky. And there's Ody Saban, the Istanbul-born artist whose sinuous depictions of lovemaking are teeming with waves, curves and curlicues -- her feminine renderings contain not a single straight line.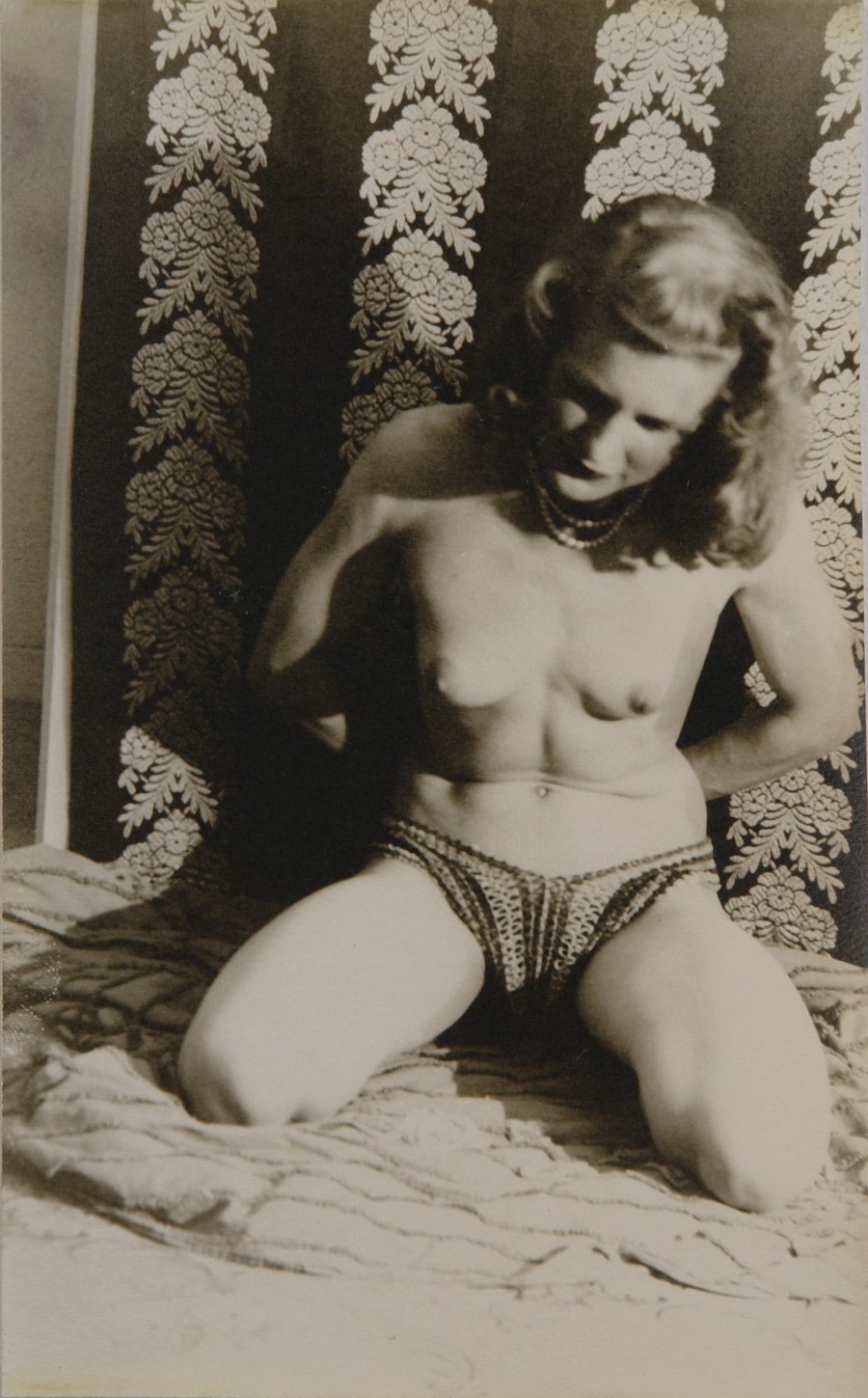 Eugene Von Bruenchenhein
As you're hopefully starting to digest, rawerotica thrives off sexual energy, but isn't always (or even often) aiming towards physical penetration. The book quotes "Memoirs of My Nervous Illness," in which German judge Daniel Paul Schreber describes the unorthodox texture of his personal desire. "When I speak of my duty to cultivate voluptuousness, I never mean any sexual desires toward other human beings (females) least of all sexual intercourse, but that I have to imagine myself as a man and a woman in one person having sex with myself, or somehow have to achieve with myself a certain sexual excitement."
This Valentine's Day, instead of honoring the many romantic artworks out there in the ether, we're going a more unorthodox route. We're paying tribute to rawerotica in all its infinite permutations, be they weird, raunchy, nasty or sweet. Because sometimes, it's not about the sex in your life -- it's about the sex in your fantasies, on your canvas, or wherever else your dirty mind desires. See more outsider erotica below and let us know your thoughts in the comments.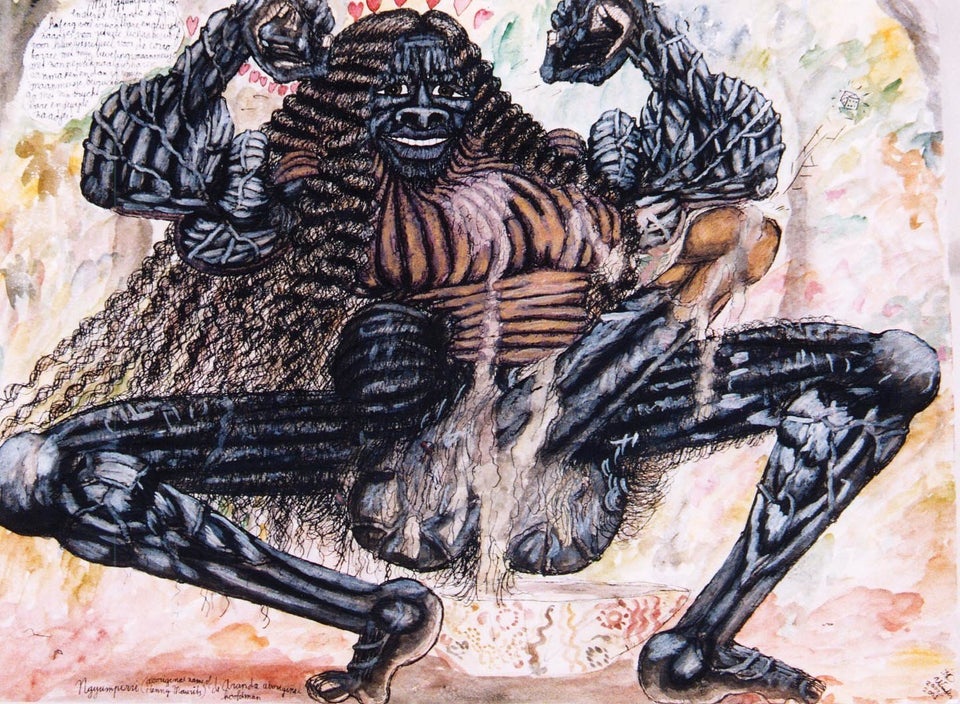 Raw Erotica
Outside the Lines" is an ongoing series addressing the prickly genre sometimes referred to as outsider art.
Related
Before You Go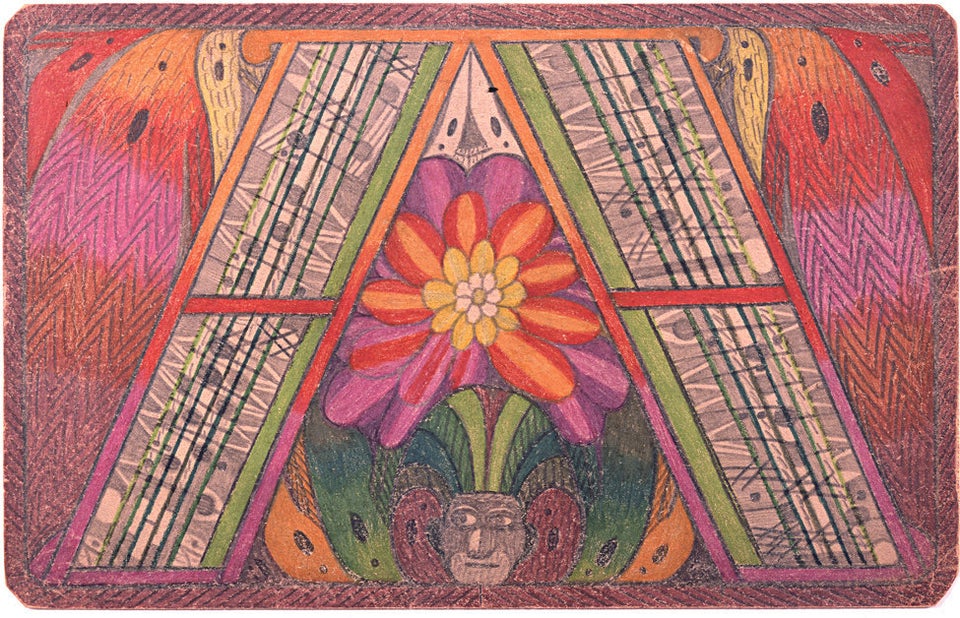 Outsider Art Fair Preview
Popular in the Community