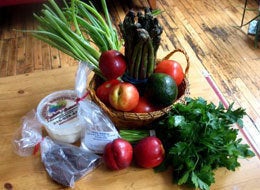 One of my favorite raw food ingredients is the kelp noodle from Sea Tangle. They taste great in salads, tossed in a fresh marinara or Thai dressing, and help us loose weight!
One serving of Kelp Noodles has only 6 calories. Yes, that's not a typo, that's six calories! One bag has 3 servings, and I'll easily eat a whole bag to myself. Kelp noodles are fat-free, wheat and gluten-free, very low in carbohydrates (just 1 gram a serving) and are made from the sea vegetable Kelp. So, it's full of iodine to work with our thyroid to help regulate our metabolism....helping us loose weight, if needed.
Sea vegetables are considered a super food because they're full of minerals and vitamins from the ocean. They're packed with nutritional goodness our bodies will thank us for! Plus, Kelp Noodles originate in Korea, where incidences of obesity and heart disease are much lower than here in the USA.
Try adding Kelp Noodles to your salad, and toss with your favorite dressing. I like mixing half shredded cabbage with half Kelp Noodles, then tossing with mint, cilantro, and an almond butter dressing for a healthy raw food treat. The cooler the Kelp Noodles are, the crunchier they feel. I like to soak them in warm water before enjoying with marinara to soften them.
For more recipe ideas, please visit me at:
Related