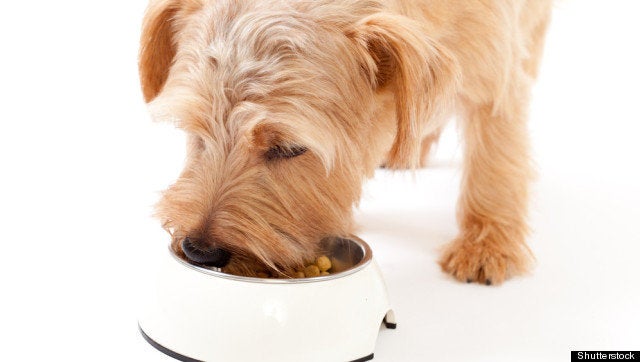 Once again I'm frustrated by the confusing terminology found on pet food labels. I frequently find pet food labels covered with meaningless words written by advertisers trying to entice you to buy their product without sharing with you their true merit. In particular, "what does the word 'raw' mean on the pet food labeled bag of "dehydrated raw food?" It just doesn't seem right that this term is being placed on a processed product. I searched the Federal Drug Administration (FDA) website and found no legal definition for "RAW" when applied to pet foods.
Since I could not find a legal definition for "raw pet food" on the FDA website, I thought I'd share with you my definition of what a "raw diet" should mean: A raw diet is a diet that includes all ingredients within it to be unprocessed, uncooked and found it its original composition. For instance, if I pick a green bean off a vine and then eat it, I consider this raw food. If I mix fresh lettuce with cucumbers and eat them together, I still consider it a raw diet. If I purchase a cut-up whole chicken from the butcher and eat the drumstick without cooking it, I consider this a raw meal. However, if I take that drumstick and place it in the oven and cook it at 350 degrees F I do not consider it a raw meal. Likewise, if I place this drumstick in a low temperature oven and dehydrate it, again I don't consider it a raw diet. I would clearly say "I placed a raw piece of chicken in my dehydrator, and after so many hours in this low temperature oven, I then ate a piece of dehydrated chicken."
Why am I splitting hairs like this in my description of what a raw diet means to me? It is because of the recent statement by the American Veterinary Medical Association (AVMA) denouncing the feeding of "raw diets" to our pets given the high risk of bacterial infections to our pets and to the people who handle these diets. I strongly agree with this statement, as long as we use my definition of what a raw diet is.
HOWEVER, given the ambiguity that exists in our pet food labeling culture, this denouncement would apply to a number of high quality commercially available diets that I would consider an acceptable diet for my "raw minded" clients to choose. For instance, Nature's Variety has a frozen diet labeled "raw," but in fact the meat is high pressure processed to dramatically reduce the bacterial content of their food. Another company, Honest Kitchen, claims to be the originator of the "original dehydrated raw food." Again, not in my mind a raw diet since it is dehydrated but confusingly labeled a raw diet by the company. This dehydration and high pressure processing of the ingredients invalidates the claim of raw food in my opinion. Though I strongly support the AVMA's stance against feeding truly raw diets, I would recommend both of these two misleading labeled diets because the meat is processed to reduce bacterial contamination.
I must point out that freezing raw meat does NOT destroy bacteria found in raw meat but will temporarily stop its growth. Once the meat is brought to a temperature in the range of 40-140 degrees F, the bacteria originally found in the meat will begin to grow. In fact, some bacteria will double in number every 20 minutes in this temperature range. So, don't think buying raw meat and freezing it, will greatly reduce your pet's chance of acquiring a food borne illness.
According to the Center for Disease Control and Prevention, over 14 million illnesses, 60,000 hospitalizations, and 1,800 human deaths are reported in the United States due to the ingestion of a food born pathogen. Unfortunately, no commercially prepared or homemade pet diet is perfectly formulated or 100 percent safe. To minimize your pet's risk for acquiring a food borne illness, read your pet food labels carefully. Don't take any unnecessary risks, like feeding completely raw meat, when it comes to your pet's health. Don't be fooled by the advertisers. If the pet food label does not tell you how the diet is prepared, call the company and ask, "Is your raw food high pressure processed or is it dehydrated to minimize food borne illnesses?" If you need help choosing the best diet for your pet, consult with your veterinarian.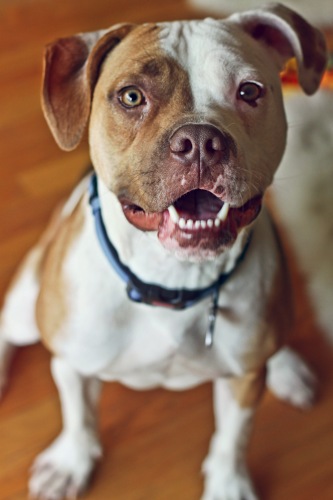 And now for the adoptable pet of the week. Auggie is a Pit Bull Terrier/American Bulldog Mix available at One Tail at a Time. Have you ever seen such a huge smile? Auggie and his giant grin are one in a million. This sweet fellow is a total love bug with everyone he meets and is a superb snuggler. Auggie previously lived in a home, so he's housebroken and has great inside manners. He's also use to being around lots of different people and would be a great companion for a summer patio dinner.
Auggie does great in small playgroups at daycare and gets along wonderfully with cats in his home. He'd thrive most as the only pooch in his home but can certainly enjoy the companionship of dogs at daycare and on walks. This sweet boy just wants to cuddle up at the end of the day and show you what love really means!
Auggie has been neutered, vaccinated, heartworm tested, and microchipped. If you'd like to learn more about this special boy, please visit www.onetail.org.
REAL LIFE. REAL NEWS. REAL VOICES.
Help us tell more of the stories that matter from voices that too often remain unheard.