Photographer Anna Ogier-Bloomer has enjoyed documenting her family, especially her mother, for almost 15 years, so when she became a parent herself in 2013, she naturally decided to capture that experience as well.
Her photo series "Letdown" shows the first two years of motherhood ― from the exhaustion and pain to the joy and peace.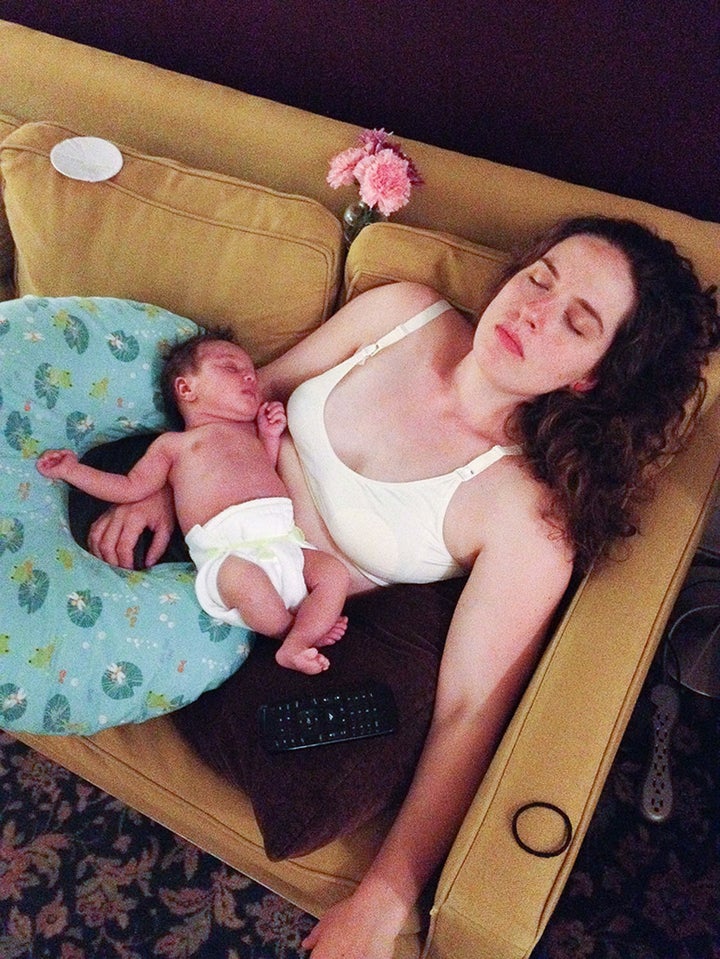 "The first two years of motherhood were a complete shock to the system ― unfathomable love for another person and completely unexpected challenges," Ogier-Bloomer told HuffPost. "A wise friend, and lactation consultant, told me that when it comes to babies, the only constant is change. She was absolutely right. Any time we thought we'd finally adjusted to a challenge, our daughter changed into a whole new person overnight, with new needs, new interests and new tendencies."
During those two years, the photographer's daughter, Violet, wouldn't sleep for more than a couple of hours at a time and constantly needed to be held. Ogier-Bloomer said she and her husband were in "survival mode." Focusing on her photography felt impossible, especially after she went back to her full-time job as an art professor when the baby was 3.5 months old.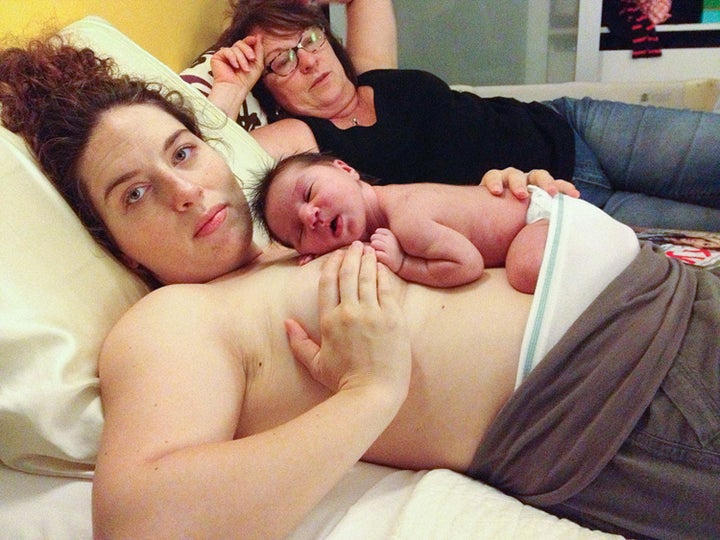 "Being a mother is the absolute hardest thing I've ever done, and I was surprised by what a physical toll it would take on me for the first two years," Ogier-Bloomer recalled.
The physical elements of motherhood inspired the photographer to create "Letdown." A big part of the project centered around breastfeeding.
"Breastfeeding is one of the greatest joys of my life, but it was very difficult at times, too," she said. "I wanted to investigate the complexity of doing the most difficult yet most meaningful work I'd ever done. The physical act of motherhood begins at conception and continues to evolve through a child's life."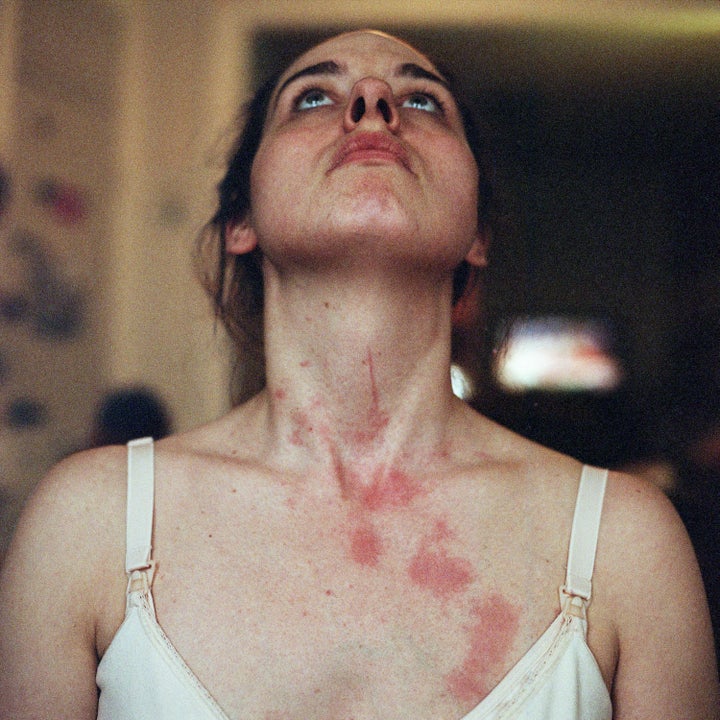 With help from her husband, sister and the camera's self-timer, Ogier-Bloomer turned these experiences and feelings into art.
The photographer focused her camera on details like the engorgement of the breast, the pain on her skin from Violet's pinching and scratching, moments of illness and the overall emotional outpouring of love.
"These things simultaneously bring excruciating physical pain and unparalleled emotional joy," she explained. "Through images of my own mother, I attach a thread from one generation to the next. I confront the complexity of these seemingly contradictory states of being, and the ways in which women feel the pull of motherhood, their children, and their physical self and appearance in a way unlike anything or anyone else."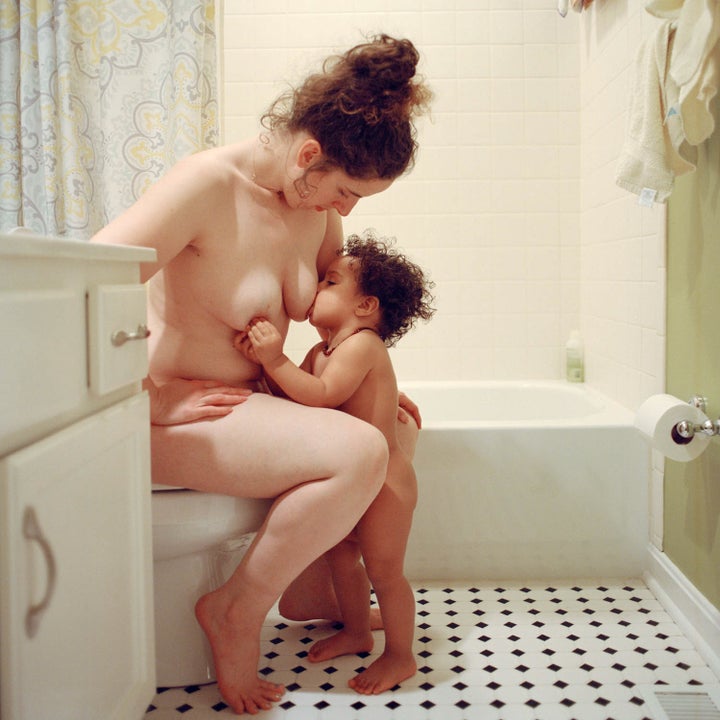 Ultimately, Ogier-Bloomer hopes fellow mothers who see her photos feel less alone and know that she's an advocate for parents. She also wants to help normalize breastfeeding.
"I want those for whom these images, this subject matter, the idea that toddlers want to nurse even while their mothers are using the toilet, are outside of their realm, to have a better understanding of what the complex and vital experience of mothering and breastfeeding is really like," the photographer said.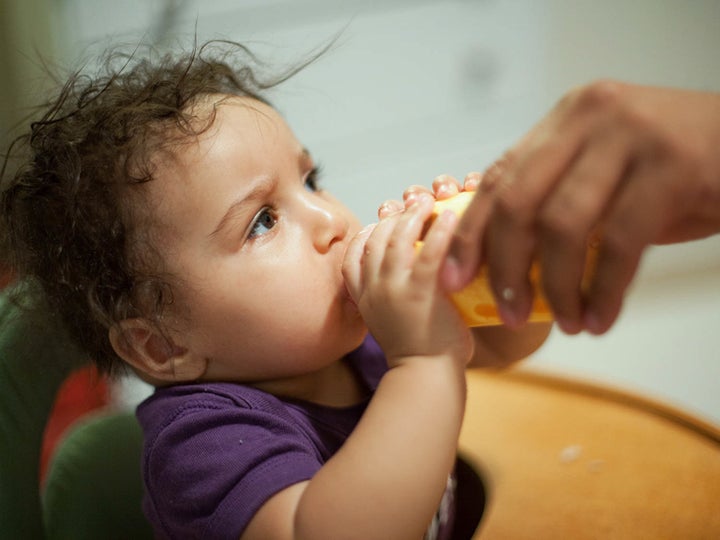 Ogier-Bloomer said that becoming a parent changed how she viewed her own mother.
"I get it now. I understand the pain she feels when one of her three children, all grown, suffers, experiences heartbreak or disappointment or becomes estranged," she explained. "I understand the desire she has to make it all go away, to come fix it for us even though she can't ― the deep pain and sadness I feel when my daughter is hurt or sad is something that doesn't disappear."
She added, "My child is a part of me. And I hope viewers see their own mother, or all mothers, in a new light."
Popular in the Community