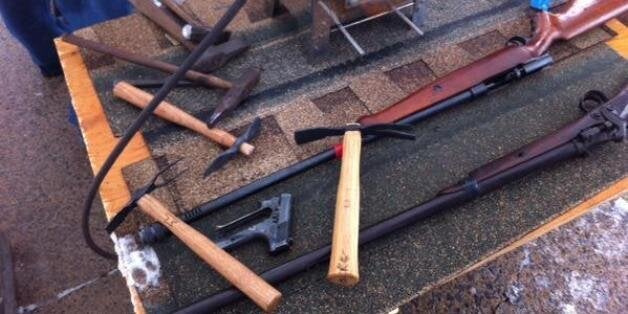 On a bright October day in 2006, Terri Roberts' son walked into an Amish schoolhouse in Nickel Mines, Pennsylvania, lined 10 young girls against the blackboard and began to shoot.

Nearly a decade after that tragedy, Roberts is still unsure of what drove her son Charles to kill five young girls that day and later turn the gun on himself. But just as surprising for Roberts is the extraordinary bond that has grown between her family and the Amish community.
They visit each other's houses, have tea and try their best to heal.
"They've become the friends we never thought we'd have," Roberts told The Huffington Post over the phone. "It's an incredible testimony of God's grace to take something that is so tragic and somehow grow from it and through it."
It was this spirit of forgiveness and renewal that drew Roberts to State College Presbyterian Church on Friday. She joined Penn State University students and local religious organizations to watch as two guns, donated by the local police force, were flattened and repurposed as garden tools.
The lead blacksmith, Mike Martin, is a youth minister who comes from a line of peace-loving Anabaptists. His organization, Raw Tools, is inspired by the Bible verse Isaiah 2:4 to literally beat "swords into plowshares."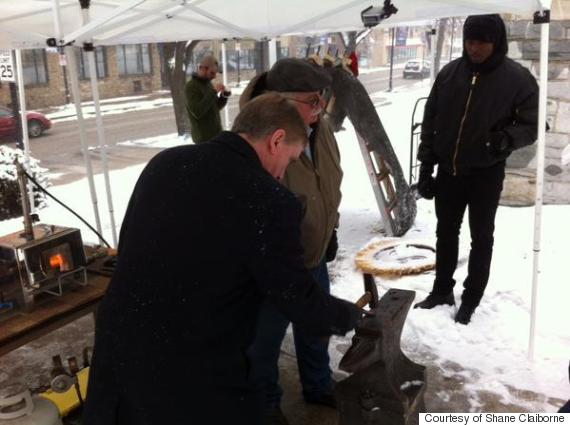 The Colorado native lives just a few miles away from the site of the Aurora theater shooting. He began repurposing guns after the attack on a school in Newtown, Connecticut, in 2012, where 27 people lost their lives to gun violence.
CNN documented 83 incidents of gun violence that happened over the course of just one day in 2014, finding that shootings left 35 people dead. On a wider scale, more than 32,000 Americans were killed by guns in 2011, CNN reported, citing the most recent data available.
Martin said that after hearing stories about officers using excessive force, it was particularly meaningful for him that the shotgun and rifle were donated by police.
"It just reinforces to me that no one really wants to use force," Martin told HuffPost. "When it happens, maybe it's more of a human instinct that has been trained in many of us. And it takes some kind of retraining to have nonviolent actions instead ... We don't want to react with force, but it's one of the only reactions we know."
Martin said that the metal from the guns can create at least 12 garden mattocks.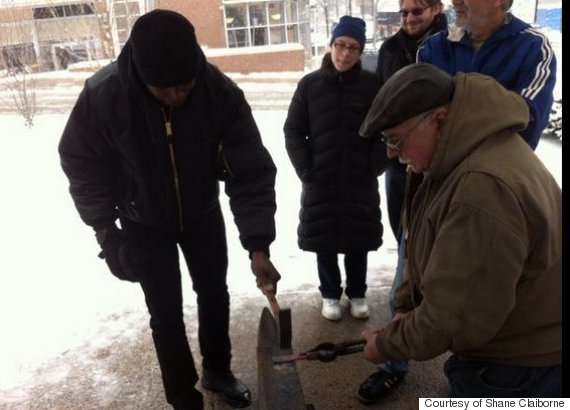 Shane Claiborne, founder of the Simple Way faith community, hopes the event will inspire people to "bring life out of death, turn weapons into tools, and rejoice in the promise of resurrection."
"No more violence toward police. No more violence from police. No more violence -- period," he wrote on his Facebook page.
CORRECTION: A previous version of this story stated incorrectly that a 2012 shooting was in Newtown, Massachusetts. It was in Newtown, Connecticut.
Related
Popular in the Community