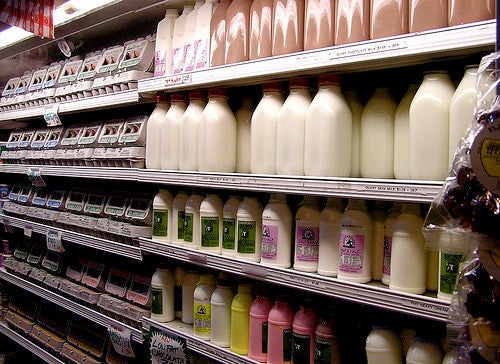 This page will continue to be updated as the story develops.
Rawesome foods, a private market in Venice California, has been raided a second time by federal agents. Initial reports from NaturalNews.com reveal that the owner, James Stewart, has been arrested and is being held on $123,000 bail.
Evan Kleiman, KCRW's "Good Food" producer, confirms that Stewart has been booked for conspiracy to commit a crime, and that he is not allowed to post a bond to bail himself out of jail.
Sharon Ann Palmer and Eugenie Victoria Bloch of Healthy Family Farms, LCC, were also arrested along with Stewart, reports South Pasadena Patch. The farm and its owner, Palmer, are charged with producing milk without a license or permit since 2007. Healthy Family Farms is a regular vendor at community farmers markets, notes South Pasadena Patch.
The thirteen count complaint against the group stems from a yearlong sting operation, according to KTLA. KTLA notes that undercover investigators would make purchases of raw milk, cheese, yogurt, and kefir at Rawesome, even though the market allegedly did not have the proper permits to be selling unpasteurized dairy products.
During the raid, Stefani Perales (@lovingthenow) tweeted, "Raid is still going on :( They are dumping good Raw Food to waste!"
Footage of the raid aftermath (starts at 39 seconds):
In July 2010, Rawesome and another nearby health food market were raided by federal agents. Rawesome's supply of raw milk and cheese were confiscated, reports the LA Times.
Stephen Colbert spoofed the raid on "The Colbert Report" soon after:
Selling raw milk and raw milk products is legal in California, but a permit is needed, according to RealMilk.com. The milk must also meet a certain standard before being offered to the public, and a warning label is required.
HuffPost blogger Ashley Koff interviewed Rawesome volunteer Lela Buttery soon after the 2010 Rawsome raid on the benefits of raw vs. pasteurized milk. Check it out to learn more about the issue.
Related
Popular in the Community