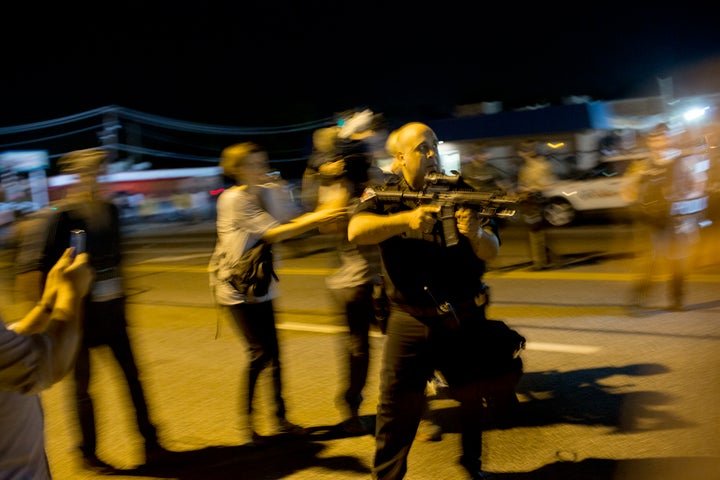 WASHINGTON ― A former Missouri police officer committed multiple criminal offenses and acts of "reckless disregard and moral turpitude" when he pointed a semi-automatic rifle at Ferguson protesters and said, "I will fucking kill you," a state commission ruled last month.
Albers' misconduct was undeniable: A video of him raising his gun on Aug. 19, 2014, and threatening to "kill" individuals filming his actions went viral, and he was forced to resign from the St. Ann Police Department that month. When a livestreamer known as Rebelutionary Z asked for his name, Albers had replied, "Go fuck yourself."
Now, Missouri's Administrative Hearing Commission has ruled that Albers' wrongdoing was sufficiently egregious that he can be disciplined by state authorities.
The state Department of Public Safety has cause to discipline Albers for "committing the criminal offenses of assault and harassment" and for "committing an act while on duty involving reckless disregard and moral turpitude," the commission ruled last month. The Huffington Post obtained a copy of the decision this week after it was cleared for public release.
The Administrative Hearing Commission has the power to find that a police officer can be penalized for crimes even if criminal charges have not been filed.
Since the commission's role is to determine whether there is cause for discipline, not to dole it out, Albers' case shifts back to the Department of Public Safety.
The public safety director has the authority to "probate, suspend, or permanently revoke" a peace officer's license. The department will schedule a disciplinary hearing within 30 days once it receives formal notification of the finalized decision, a spokesman said.
That decision is deeply critical of Albers' actions. The Administrative Hearing Commission found that he "committed assault" when he pointed his weapon at members of the crowd and placed them "in apprehension of immediate physical injury." 
It ruled that Albers "committed the criminal offense of harassment" by threatening to kill a protester while using offensive language and pointing a weapon. Albers also acted with "reckless disregard for public safety," the commission held.
"Given his prior experience as a police officer, we conclude that a reasonable person in Albers' shoes would recognize an 'unreasonable risk' and a 'high degree of probability' that the safety of the public would or could be jeopardized if a weapon were pointed at persons in a crowd while threatening them," the commission ruled.
Thomas Eric Willis, the lead firearms instructor in St. Ann, had testified that an officer should only raise a weapon at a person when that person represents a direct threat and that officers should not scan a crowd with their weapon raised.
The commission also stated, "Peace officers must be held to a high standard. The public trust and the criminal justice system require that peace officers do not violate the laws that guide them."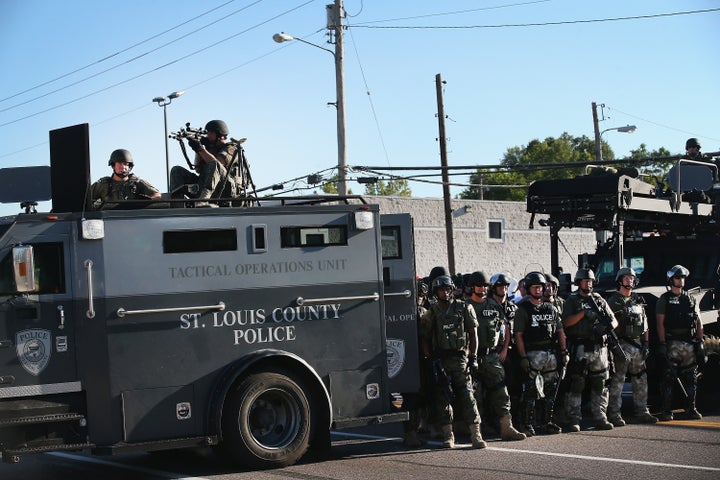 At the December hearing, Albers' attorney Brandy B. Barth argued that the former officer had shown "great restraint." She pointed out that photos of the Ferguson protests showed other officers directing their weapons at individuals or crowds posing no threat. The heavily criticized "overwatch" tactic ― that is, using the scope of one's weapon to scan a crowd ― was employed even during peaceful daytime demonstrations.
The commission ruled, however, that it was "not a defense" that other police officers may have done likewise.
Barth did not respond to The Huffington Post's request for comment.
Despite the widespread violations of protesters' constitutional rights in Ferguson two years ago, Albers will likely be one of the only officers disciplined for misconduct.
Mariah Stewart contributed reporting. 
Calling all HuffPost superfans!
Sign up for membership to become a founding member and help shape HuffPost's next chapter
BEFORE YOU GO