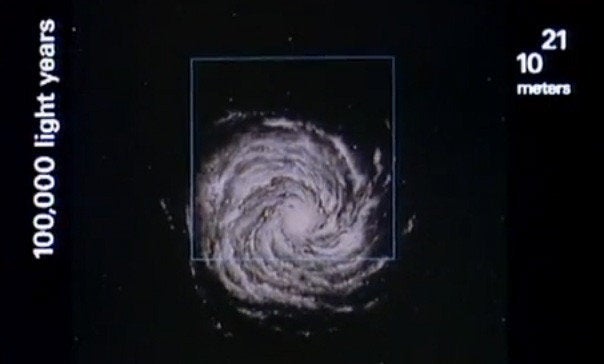 Legendary designers Ray and Charles Eames designed and defined American modernism. After finding harmony together, they managed to find a balance between many other dualities: imagination and efficiency, style and function, art and science, and here, cosmic and microcosmic. (Even Ice Cube knows they rock.)
Their video short 'Powers of 10' (1977) was based on Kees Boeke's 1957 book 'Cosmic View.' It begins with a view of a couple lounging on the Chicago grass, taking a post-picnic nap. The scene is comfortable, a lazy sunny day, science books sprawled around the scene. And then we enter dreamy, unknown territory. The video switches to bird's eye view and tells us we are 1 meter away looking at a 1 meter by 1 meter space. This distance grows 10x bigger every 10 seconds. We get further and further away until we leave the park, the planet, and the solar system, left looking at a vast empty arena of cosmic dust.
We then reverse our sights and return back to the picnic site, only to dive into what the video describes as "the richness of our own neighborhood." We enter the napper's hand and explore its atomic interplay until we arrive at a single proton at the edge of human understanding.
In the latest issue of Cabinet Magazine, Mark Dorrian investigates the enduring draw the video holds on our collective mind. He writes that the vast distance between the macro views of space and the micro view of the body "endows the film with a strange circularity, almost as if the poles of the vertical line along which we have passed were bent to meet one another."
At the core, the cosmic and the microcosmic don't look all that different, do they?
And maybe that is where art picks up where science leaves off. Take a look at this visual treat, and flip through the slideshow for some new views of a familiar neighborhood ... the earth!
PHOTO GALLERY
Powers Of 10
Calling all HuffPost superfans!
Sign up for membership to become a founding member and help shape HuffPost's next chapter
BEFORE YOU GO