Yesterday we lost a true giant, a green pioneer, dear friend, and mentor to so many: Ray Anderson.
I first met Ray in 1995, when he gave a speech at a greening of Habitat for Humanity event Global Green organized in Atlanta. Bill Browning, a good friend and colleague who was helping with the meeting, told me, "You have to meet Ray Anderson. He's doing some amazing things."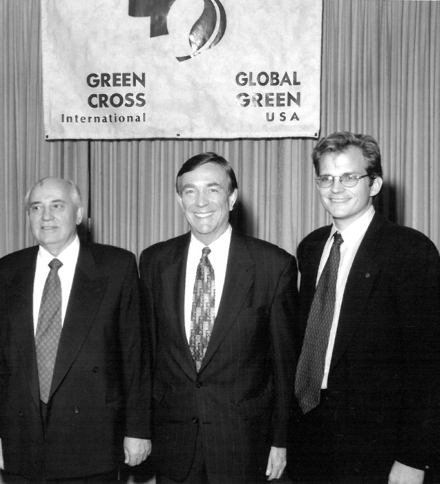 Bill was right. With the help of President Mikhail Gorbachev In 1996, Global Green USA honored Ray -- we bestowed our inaugural corporate environmental leadership award upon him. Problem is, Ray was a tough act to follow. Who could live up to a man who was both brutally honest about what we were doing to future generations and the planet, while also putting his money where his mouth was in changing the course of his business (and humanity)?
Ray was a radical industrialist. To him, it was plain and simple: there was no other way to create a product and hold out any hope for a future for our children. So he set his sights high -- aiming to run a zero-footprint business, if not a restorative enterprise -- and set the best possible example for other businesses, big and small, to follow his lead. That is his legacy: hope for the future. Ray believed in humanity, despite our plundering of the Earth.
Ray was a powerful speaker. See the clip from his inspiring talk at the TED conference in 2009. "We have a choice to make during our brief visit to this beautiful blue and green living planet. To hurt it or to help it," he said. "For you, it's your call." Ray started every talk by getting the audience to hug. I loved that, and as with many things with Ray, took it as inspiration that a corporate CEO was getting everyone to hug. And his Southern way: he was saying we need to connect and love one another if we are going to turn things around.
As Ray said, "For theft of our children's future to be a crime, there must be a clear demonstrable alternative to the take-make-waste industrial system that so dominates our civilization, and is the major culprit, stealing our children's future, by digging up the earth and converting it to products that quickly become waste in a landfill or an incinerator. In short, digging up the earth and converting it to pollution."
I hope we heed his words. Thank you Ray, for taking responsibility for your corner of the world, and inspiring so many others to do the same.
Related
Popular in the Community