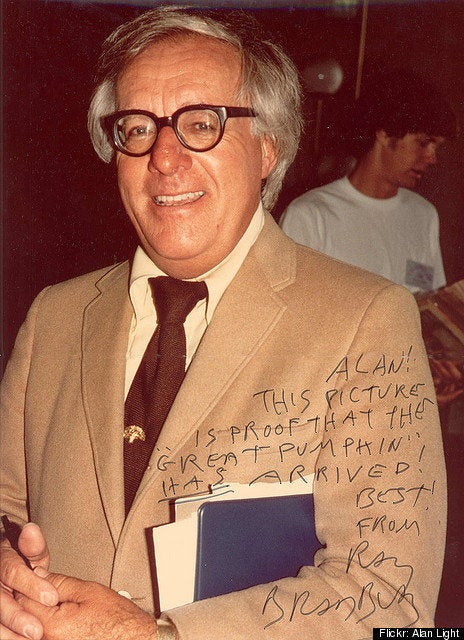 Who: Acclaimed science fiction author and Los Angeles treasure, Ray Bradbury
What: It's Ray's Birthday Week! Celebrate his 90th (yesterday) with a week-long celebration of his work, including readings, plays, and films. Check out the official Facebook page.
Monday, August 23 (7pm)
Writers Guild of America - Fairfax District
Reading: The Better Part of Wisdom
Free. Send an email to diversity@wga.org with "Wisdom" in the subject line
Tuesday, August 24 (7pm)
Writers Guild Theater - Beverly Hills
Discussion: Ray Bradbury and Hugh Hefner
Screening: Farenheit 451
Free. RSVP to Simone at (323) 782-4589 or siancu@playboy.com with "Farenheit 451" in the subject line
Wednesday, August 25 (7pm)
Fiesta Hall at Plummer Park - West Hollywood
Play: Farenheit 451, adapted and performed by children
Free. RSVP at (323) 219-2741
Thursday, August 26 (7pm)
Richard J. Riordan Central Library
Screening: The Wonderful Ice Cream Suit
Eats: Ice cream truck Coolhaus will be in the house!
Discussion: Actor Joe Mantegna
Free. RSVP to rbw451@aol.com with "Ice Cream" in the subject line
Saturday, August 28 (1pm)
The Paley Center for Media - Beverly Hills
Screening: "The Banshee," "Any Friend of Nicholas Nickleby is a Friend of Mine," and "The Electric Grandmother," among others
Free. RSVP at (310) 786-1036
Why: His books have been required reading in schools and universities for years, and we'll never forget that first spooky chill we felt after reading his haunting, melancholy warnings to humanity.
REAL LIFE. REAL NEWS. REAL VOICES.
Help us tell more of the stories that matter from voices that too often remain unheard.