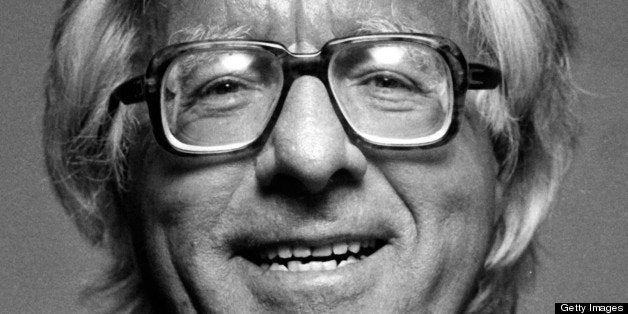 When a great American author recommends a bookstore to you, you would be well-advised to listen. When he does it with enthusiasm and passion, which was the only way Ray Bradbury ever did anything, you would be well-advised not just to listen, but to take note -- in indelible ink on acid free paper, on any recording device you have handy, and by any method of mnemonics you practice.

"Steve, you and Amanda must come to my book signing next Wednesday. But not just for me, it's at one of the best bookstores ever, Mystery & Imagination in Glendale, great name, huh? It's from Poe!"


We did as Ray commanded and showed up to stand in a very long line of Bradbury lovers in a bookstore on Brand Blvd. that seemed both cramped, because it is a narrow space, and extensive, because it seems to go on to the rear forever. It is also airy as the ceiling is two stories above your head (and there is a loft in the back!). All this gives it a unique atmosphere, almost other-dimension-like, the fifth maybe, or the sixteenth, or Alice's Wonderland, or Oz, or Middle Earth, or Riverworld, or a space like the Tardis, bigger on the inside than on the outside.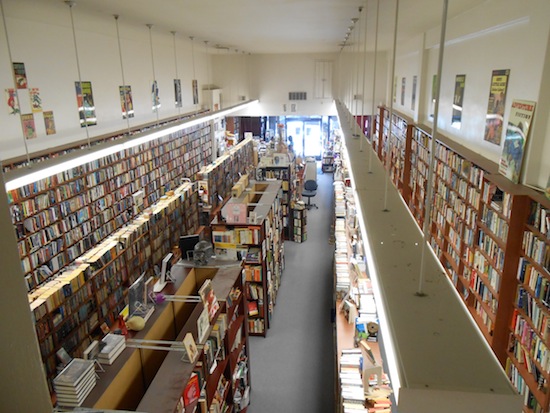 This was in 2002. Since then visits to Mystery & Imagination have been for my wife Amanda and me a consistent crossing from the mundane world of external grating noise, senseless blather, and mean speaking, to a unique universe of internal voices, thoughts, adventures, revelations, reflections, and various forms of sanity.
It all has to do with love.
Mystery & Imagination Bookshop was founded in 1976 by Malcolm Bell, and was then located among the now lost and lamented bookstore row on Hollywood Boulevard. Malcolm had been a book scout hunting down great copies of books for individuals and bookstores throughout the country. It was a passion for him, like a finder of lost children, and he developed an understanding of books and their histories that is quite possibly second to none. One of his customers at the Hollywood shop was a young book lover named Christine, who found in Malcolm a true literary companion, sharing with her an understanding not only of the book as artifact -- edition, binding, rarity, condition -- but the book as art -- the writing, the prose, the stringing together of words not only in a coherent manner, but often in a beautiful, poetic, flowing, stunning, arresting, and compelling manner. They went out book scouting together, book buddies on the hunt. One day there was a touch, possibly of hands, I imagine it was simple, accidental, no more than a grazing -- and then there was magic.
Christine and Malcolm have been married now for over thirty years.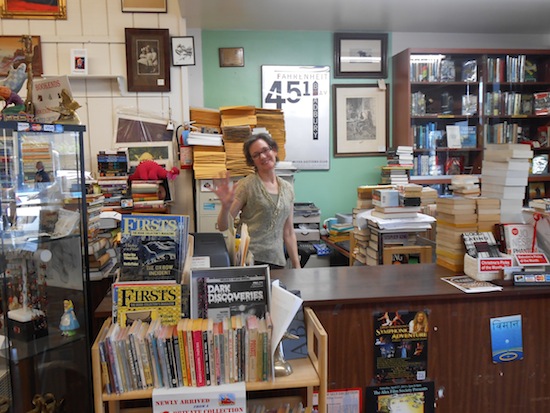 Christine Bell
In 1981 Mystery & Imagination moved from Hollywood to a store in Glendale and expanded to include science fiction. Next door Malcolm opened Bookfellows, because he wanted an antiquarian and collectors bookshop as well. And there they stood side by side until the opportunity arrived in 1999 to grab a store on Brand, the Boulevard of Glendale. The stores melded together to become Bookfellows/Mystery & Imagination (although most people refer to it as just Mystery & Imagination). And there you will find it today.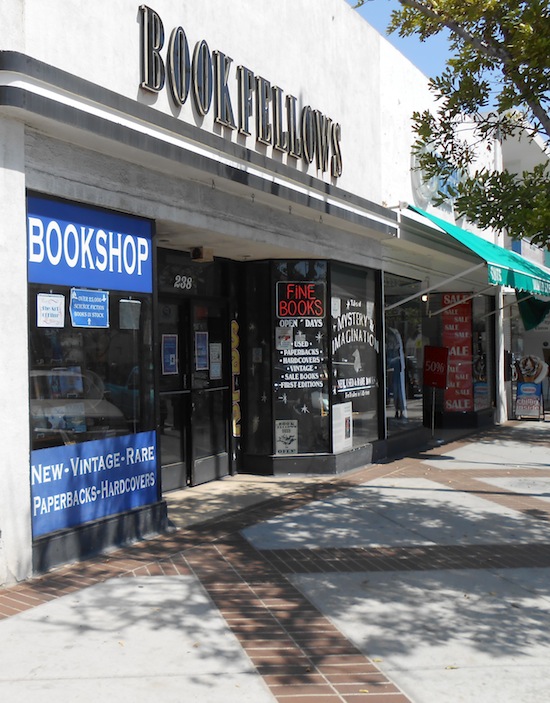 Together they have created a unique bookshop that gathers, preserves, catalogs and sells books of all genres -- except how-to and self-improvement books, none of which shall cross the threshold of this sacred place. They sell new, used, rare, and collectible; hardbacks and paperbacks; contemporary and vintage; and, of course, first editions -- collectors are mad for first editions. But don't confuse it with other bookshops that deal in, as Christine says, "General, junk, bargain books that they just shovel in like they are just merchandise." Every book Malcolm and Christine allows on their shelves are considered by them works of art worthy of love. They are books that have been loved in the past and are taking only temporary respite here until they are taken home by thrilled, loving hands sometime in the future.
Although they carry non-fiction on various subjects, their speciality is fiction. Christine is dismayed and shocked that the reading of fiction has diminished of late (as a fiction writer, so am I. See my last blog on Huff Post) and considers it her mission, even if in a small way, to try to reverse the trend.
I have watched people grow reading fiction. When you read a novel or short stories you are not the same anymore because you have ingested a piece of a writer's soul and mixed it with your own and made it your own thing. If everyone read fiction there would be no war. Because if they read fiction they understand another human being that they cannot understand otherwise. And if they have an understanding of another human being then they are not going to want to kill them. -- Christine Bell
One or the great appeals of Mystery & Imagination is that it is -- as Hemingway might have said -- a clean, well-lighted place. It is also the best organized bookshop I have ever been in, so easy to negotiate it has the familiarity of home from your first visit. Along the north wall, after some glass cases holding certain rarities, and one case holding dear the memory of Ray Bradbury, there are shelves and shelves of literary fiction. Here you can find authors of the last one hundred years or so, some famous, some nearly forgotten, some downright obscure, which means they have the potential to be great finds. It is a browser's delight and a seeker's Nirvana. Along these shelves are small, unobtrusive, helpful little hand written signs saying things like: P.G. Wodehouse has his own section in the center island or Adventure fiction may be found in the center island. Look there for Dumas, Fraser, Sabatini, Orczy, and Buchan, etc.
These little signs do not lead you astray. This island (really an archipelago) may not be tropical and may not be topical but it is a topography of passions: Classic literature; Conan Doyle and his creation, Sherlock; the master of mirth, P.G. Wodehouse; the comic turns of James Thurber and Thorne Smith, the creator of Topper, and, of course, Mark Twain. There are the masters of horror from the past, Poe and Lovecraft, and their contemporary children, Stephen King and Dean Koontz.
Along the south wall you'll find a long track of shelves with mystery novels that melds seamlessly into shelves containing the masters of science fiction.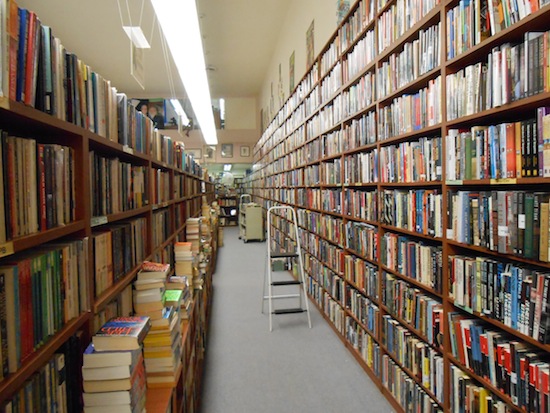 Upstair in the loft -- where author events and writing classes take place -- are children's books; books on the West and California; biographies both recent and classic; the Civil War; Shakespeare; plays and playwrights, and even antique sheet music.
Mystery & Imagination is a shop of books. But it also feels like a gallery of art. The art under this roof being well-executed written words. It is also a business, incarnated in this shop but also extending out via the internet to customers worldwide who have come to rely on Malcolm and Christine's deep expertise. And it is absolutely the best kind of business. One, as I said, which is all about love.
I get just as excited to find a two dollar paperback that is so difficult to find that I know is going to please someone, as I am in finding a rare first edition. And it is important that I preserve it and be able to offer it to someone who needs it. And we do need this art form, which is writing. We need books. Without them is like being without music. -- Christine Bell
If you are a reader, a book collector, an individual who considers books to be companions, you should, indeed you need, to go to Mystery & Imagination and explore. Of course you could choose not to listen to me on this -- but dare you choose not to listen to Ray Bradbury?
All photos © 2013 by Steven Paul Leiva
Related
Popular in the Community