WASHINGTON ― New Hampshire Democratic Party chair Ray Buckley is ending his bid to chair the Democratic National Committee and throwing his support behind Rep. Keith Ellison (D-Minn.).
"From the moment I stepped into this race, I made it clear that the top two priorities of the next DNC Chair must be to strengthen state parties and reform the DNC," Buckley said in a statement on Saturday. "Many candidates have spoken about these issues, but Keith's commitment to the states and a transparent and accountable DNC has stood out. He knows elections are not won and lost in the beltway, but on the ground across the country."
"And here's the thing, we both have a track record of winning elections," the veteran New Hampshire Democrat added.
Ellison also praised Buckley's record of building up the Democratic Party in New Hampshire in a statement announcing the news.
"There is no better example of a strong state party than the New Hampshire Democratic Party, and we have Ray Buckley to thank for that," Ellison said. "Throughout this race I've heard loud and clear from DNC Members that this is a moment to use all our talents to rebuild the party from the grassroots up. That is why I am proud to have Ray's support.
The DNC's 447 voting members will vote on the next chair and other top offices at a meeting in Atlanta next Saturday.
Buckley's decision is a boon to Ellison as the contentious race to chair the party winds down and it previews the deal making that will likely dominate the final stretch. On Tuesday, Ellison's chief rival in the race, former Labor Secretary Tom Perez made his own show of strength, claiming to enjoy the support of 180 voting members. (A candidate needs a 224-vote majority to clinch the chairmanship in the first round of voting.)
Zach McNamara, a spokesman for Buckley's campaign, confirmed that the New Hampshire Democratic Party chair would be encouraging the DNC members who support him to get behind Ellison. 
"Ray is of course going to strongly encourage his supporters to back Keith next Saturday in Atlanta, and we're confident Keith will have the support to win," McNamara said in an email message.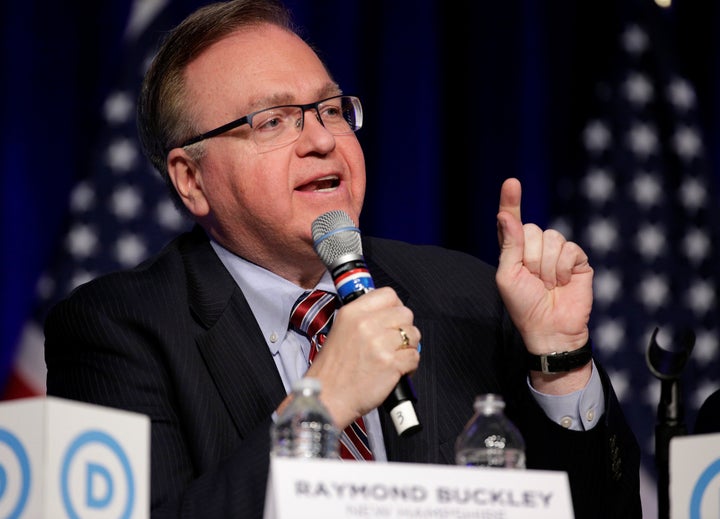 The Granite State party chair's endorsement will also have benefits for Buckley, however, whose candidacy failed to gain traction in a race dominated by Ellison and Perez, who both enjoy major national backing.
Ellison and Buckley were discussing a deal in which Buckley would assume some operational responsibilities at the DNC, NBC News reported on Tuesday. Their final agreement would have Buckley head the rejuvenation of the Democratic parties of the 50 states and seven territories, including the District of Columbia.
"Once we're successful, Keith has asked Ray to lead the DNC's effort for a new and innovative 57-state strategy to strengthen our state parties, which will obviously be a prime focus of the new DNC," McNamara said.
Buckley will likely take up that task in his capacity as president of the Association of State Democratic Chairs, which he has led since 2009. He is running for re-election as head of the governing body again this year. Elections will take place in Atlanta on Saturday shortly after the DNC office voting.
Buckley, a proud operations wonk with deep knowledge of the nuts and bolts of running a party, is also a vice chair of the DNC in his capacity as ASDC president. He is the first openly gay man to hold either position.
Under Buckley's leadership, the New Hampshire Democratic Party has expanded its power significantly. Democrats have won 11 out of 13 of the last statewide races, and the party's four members of Congress are now all Democratic women.
Buckley's departure narrows the field of DNC chair candidates to nine. In addition to Buckley, Ellison and Perez, South Bend, Indiana, Mayor Pete Buttigieg; Idaho Democratic Party executive director Sally Boynton Brown; South Carolina Democratic Party chair Jaime Harrison; media strategist Jehmu Greene; Robert Vinson Brannum, Veterans Committee chair of the NAACP's Washington D.C. branch; Milwaukee attorney Peter Peckarsky and Ohio activist Sam Ronan are all vying for the top post. 
When a party controls the White House, the president typically selects the DNC chair. But following a defeat, it is often the object of internecine party struggle, as candidates clamor to shape party direction and strategy.
With Democrats at a historic nadir in their political power, having lost both houses of Congress, the presidency and an enormous number of state legislature seats and governorships, this year's race to chair the DNC has become especially competitive.
The contest has turned into something of a proxy battle between the party's more progressive, populist wing and its more business-friendly establishment. Supporters of Sen. Bernie Sanders (I-Vt.) have largely gotten behind Ellison, who endorsed the Vermont senator in the 2016 presidential primary. Perez, who backed former Secretary of State Hillary Clinton, has gotten more traction among Clintonites.
Some voting members responded to news of Buckley's endorsement with suspicion, suggesting that Ellison appeared to have exchanged clout within the organization for the New Hampshire chair's blessing. (Ellison and Buckley's campaigns both deny this assertion, reiterating that Buckley's new responsibilities would be limited to an initiative rejuvenating state parties.)
Isabel Framer, a voting DNC member from Ohio who endorsed Perez on Saturday, sent an email Thursday to her fellow DNC members, criticizing Tuesday's NBC News report on talks between Buckley and Ellison.
"This isn't the 'new DNC,'" wrote Framer, who runs an organization near Akron that helps non-native English speakers with judicial interpretation.
On Saturday, Framer said she had not heard about the Buckley and Ellison campaigns' denials that Ellison had given Buckley a DNC post for his support. But she again shared her worries.
"To me, it sounded like he was being hired for a position," she said. "If there's gonna be a new DNC, then make sure it's a new DNC. It's not right to say, 'You guys are doing this,' and then turn around and do what you're accusing the DNC of doing."
David O'Brien, a political consultant and voting DNC member from Massachusetts, was indignant. He wondered whether Buckley would in fact be heading a state-level initiative for the DNC without additional compensation of some kind.
"I don't like the way it looks and I don't like the way it smells," O'Brien said of Ellison's deal to secure Buckley's endorsement. 
After last Saturday's DNC regional forum in Baltimore, O'Brien was deciding between Perez and Ellison, but his suspicion that Ellison has a deal with Buckley had soured him on the Minnesota congressman, he said Saturday. He is now choosing between Perez and Buttigieg.
This article has been updated with more details, including comment from McNamara and DNC members.
BEFORE YOU GO
PHOTO GALLERY
Democratic National Committee Chair Candidates