Ray Caesar is weird - but if you're familiar with his work, you probably already know that. One might think using a word like "weird" to describe a heralded and successful digital artist like Caesar is a bit vague and maybe even a little rude - but it's actually a compliment. According to the Free Dictionary, 'weird' as an adjective has these three meanings:
1. Of, relating to, or suggestive of the preternatural or supernatural.
2. Of a strikingly odd or unusual character; strange.
3. Archaic Of or relating to fate or the Fates.
On close inspection, Caesar's work is really a motley melange of all three.
Beginning this Saturday at Corey Helford Gallery in Culver City, Caesar will embark on his first ever West Coast solo show. Entitled "A Dangerous Inclination," the exhibition will feature close to 30 pieces by the artist. (FYI - the reception is 7-10pm and if you wanna go, get there early - it'll be a mob). At first glance, the artist's work seems reminiscent of French painters like Watteau and Fragonard -- he mimics their vivacious use of light and color and of course, their intricate detail -- but it stops there. He's also somewhat characteristic of American painter John Currin, in the sense that he focuses on the female form, sometimes with exaggeration, yet he does not embrace the same sexual proclivities that Currin does - instead he tends to lean more toward a look of innocence - with the hint of evil just lurking around the bend.
Caesar has discussed openly he suffers from Dissociative Identity Disorder and that "Witnessing things like child abuse, surgical reconstruction, mental illness, and animal research all had a deep effect on him." Caesar's digital paintings are created using Maya - a 3D modeling software - to create virtual environments as well as subjects. Models are constructed with an invisible skeleton that allows him to pose each figure in a 3D environment, and his process incorporates elements of drawing, painting, collage, and sculpture to achieve an ethereal effect.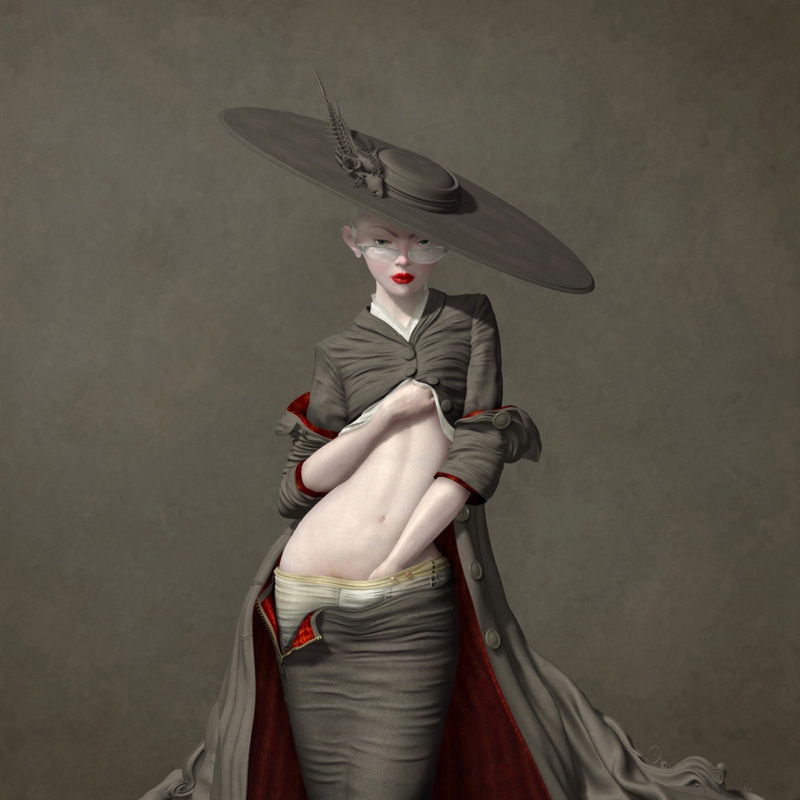 ("Self Examination" courtesy of Gallery House Ray Caesar)
Haunting, traumatic, engrossing and yes - it's time for that word again - weird - are great words to describe Caesar's work; but "A Dangerous Inclination" is also a testament of triumph - a personal landscape laid bare for all to see, by one man overcoming the most difficult of obstacles -- himself.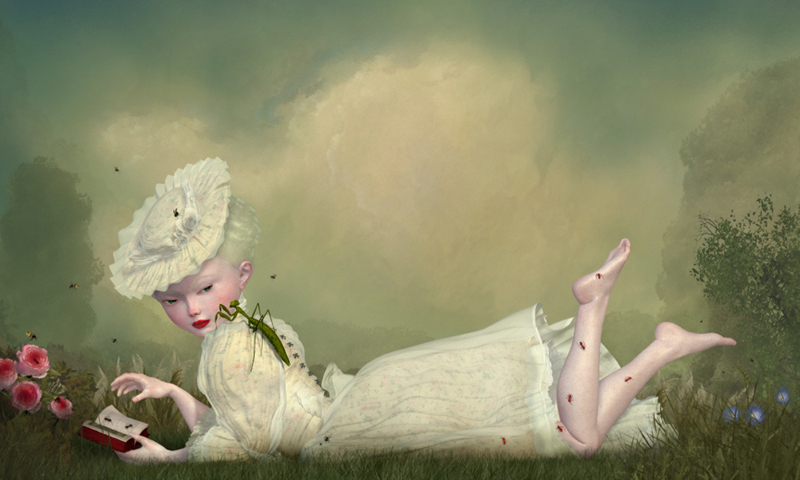 ("Words" courtesy of Gallery House Ray Caesar)
Ray Caesar, "A Dangerous Inclination"
Corey Helford Gallery
8522 Washington Boulevard, Culver City CA 90232
www.coreyhelford.com

Calling all HuffPost superfans!
Sign up for membership to become a founding member and help shape HuffPost's next chapter