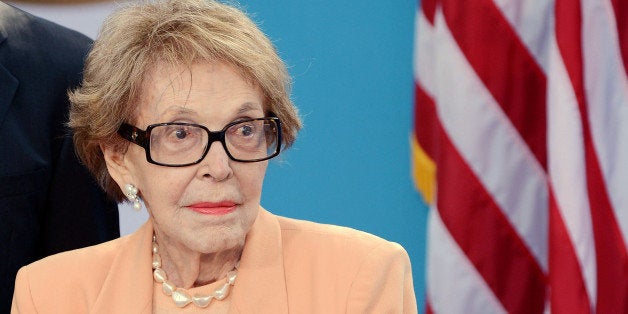 The past few days, with the passing of Nancy Reagan, I was contacted by the local and national media to share some reflections on the extraordinary lives of Ronald and Nancy Reagan. The media obviously knew that I served in leadership positions with the U.S. Conference of Mayor's when Ronald Reagan was President. Some even knew I met Ronald Reagan in Massachusetts long before he was President of the United States. We also met and spoke socially and politically over the years.
Usually, we spoke about two of our favorite topics, Pope John Paul II, and major league baseball, but we also spoke about movies. I loved asking him questions about the lead up to the collapse of communism, in which he played a pivotal role, and he was deeply interested in how the Pope was doing.
He always wanted to know what the Pope thought about the historic role that they both played in the collapse of communism in Eastern Europe and years later, the fall of the Berlin Wall. Along with my several conversations with Solidarity Labor Leader Lech Walesa, General Wojciech Jaruzelski, leader of the communist party in Poland, Reagan's trusted friend, C.I.A. Director Bill Casey, and Mikhail Gorbachev, President of the U.S.S.R. I probably got to know as much confidential, behind the scenes information as anybody. But I think that people around Walesa and even Reagan knew my union background and also knew that where I came from, we do a lot of listening and not much talking.

But during those historic and challenging years, I also had the opportunity to speak with Nancy Reagan on a few occasions. A few days before Reagan's reelection in 1984, I was invited to greet the President at Logan Airport in Boston. Also, the Reagan Committee wanted to authorize the use of Boston City Hall Plaza for a massive political rally.
Both events were hugely successful and well covered by the media, but the leaders of the Democratic Party were not happy with the new Democratic Mayor of Boston. But following that, both the Reagan and Bush Republican White House staff were always open to Legislative initiatives that would directly benefit the people of Boston, including the construction of a new Boston City Hospital, The Ted Williams Tunnel and the largest development and jobs project in America, The Big Dig. I was also invited every year to the big St. Patrick's Day party at the White House.
Also, around this same time, the deadly scourge of crack cocaine was destroying thousands of young American lives, especially in poor inner-city neighborhoods. Nobody knew how to deal with it. Deadly drugs just poured into our cities. But in Boston, we brought together concerned neighborhood activists, clergy, business leaders, the media, and celebrity athletes who worked with kids in the neighborhoods to fight illegal drugs. It was during this period that I really got to work closely with the Just Say No movement headed up by Nancy Reagan. She wanted to understand the successful Boston Against Drugs (BAD) initiative. Leaders like Boston Herald Publisher Pat Purcell, Georgette Watson of nationally acclaimed Drop a Dime, public housing advocate Mildred Haley, black ministers John Borders and Don Muhammad, and several prominent business leaders were all part of this initiative.
Years later-- when it was speculated that President Reagan was experiencing health problems--was when I first heard about embryonic stem cell research to help find cures for various medical diseases. I have always opposed embryonic stem cell research because I believed it involved the taking of life for medical research.
This was an issue that I heard top Vatican scientists and doctors debating when I was U.S. Ambassador to the Holy See. I took a strong position in opposition to embryonic research, yet I remained in favor of adult stem cell research. I was present with my good friend and stem cell scientist Christian Drapeau at the historic stem cell conference organized by the Vatican in 2011 to promote adult stem cell research. Adult stem cells can be used in many ways today, including releasing your body's own stem cells with the support of specially selected, natural plant-based ingredients, as clinically documented by Stemtech International. During the years following the Vatican event, I became a strong believer in this technology of adult stem cell nutrition and understood its power today versus the future hope and promise of stem cell medicine. As we move into a critical national election in the United States, it is my hope that the great potential of adult stem cell research will become a national issue. The lives, health, and future of my 9-year-old grandson, Braeden, and so many other innocent and deserving children and adults like Ronald Reagan deserve our support.
All that is needed is courage and political will. I wish President Reagan and Nancy were around today, I'm convinced that her determination and love would have insisted that medical research should be a priority in America today. Thousands of good caring parents deserve our political and medical support to find solutions to incurable sicknesses and diseases.


Ray Flynn is the former Mayor of Boston, U.S. Ambassador to the Vatican, senior consultant to Stemtech International, Inc., and on the Board of Trustees at the Pope John Paul II Medical Research Institute in Iowa.
REAL LIFE. REAL NEWS. REAL VOICES.
Help us tell more of the stories that matter from voices that too often remain unheard.