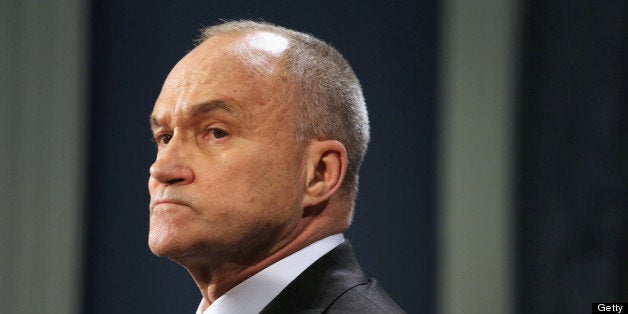 On Friday, Chuck Schumer, the New York Democrat who's been in the Senate for 15 years and Congress for 32, recommended the appointment of Ray Kelly, the longest-serving police commissioner in New York City history, to take over the US Department of Homeland Security after the just-resigned Janet Napolitano leaves. Pretty much immediately a chorus went up praising the idea of NYC's top cop taking the reins of the country's most dystopian-sounding agency. "Kelly should have been Obama's pick the first time around—a confidence-inspiring law-enforcement leader with federal experience," wrote John Avlon in The Daily Beast, a sentiment that's been more or less echoed by a host of prominent officials. "He's so professional and so dogged," Juan Zarate, who was a top national security advisor in the George W. Bush administration, told me. "In some ways he's the perfect choice."
In other ways, he sounds like a nightmare.
REAL LIFE. REAL NEWS. REAL VOICES.
Help us tell more of the stories that matter from voices that too often remain unheard.