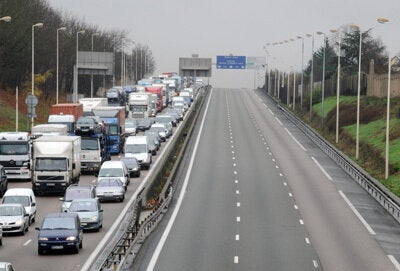 From his perch atop the Department of Transportation, LaHood will be a key player in the new administration's public works projects designed to stimulate the struggling economy.
Here are some of LaHood's lowlights:
According to the LCV, in 2007 alone he voted against the environment on liquid coal, oil shale, clean air, electric transmission corridors and global warming.
Any energy policy that addresses our petroleum needs must look at increasing our domestic supply. Several areas in the country offer opportunities worth exploring to increase domestic petroleum production, including the Arctic National Wildlife Refuge (ANWR), other areas in Alaska, the Rocky Mountain region, and along the continental shelf. The technology exists where we can safely extract oil and natural gas from these areas and not adversely affect the local and regional environment. Increasing efficiencies and technological advancement allow us to capture more resources from a smaller footprint.
Right, you're thinking, but he won't be making energy policy. The fact that he was approaching the problem of fueling our vehicles in the wrong way entirely is not encouraging.
Though LaHood is often described as a moderate Republican, that's something of a misnomer, Tessier says. She now works in a public affairs firm but used to be Michel's press secretary.

"Ray considers himself a real conservative," she says. "I think people who are conservative with temperate personalities are sometimes branded as moderates, but that has more to do with their personality."
1. Obama doesn't intend the DOT secretary to do the heavy lifting on his transportation policies2. Obama doesn't really care about transportation3. It isn't true
To be fair, Progress Illinois takes a good look at the potential upside:
So what can we glean about LaHood's record on this issue?

The moderate Republican has broken with his party over Amtrak funding, voting yes last summer to expand passenger rail service. In 2005, he told the Peoria Journal-Star that "we've got a good Amtrak system in Illinois and I don't think we want to destroy it by talking about privatization."

In 2006, he received a 66 percent rating from the American Road and Transportation Builders Association, a major transportation construction lobby. He also voted in favor of the Saving Energy Through Public Transportation Act of 2008, a bill to promote increased public transportation use that garnered string bi-partisan support. Other than that, we know very little.
But, between our addiction to fossil fuels, our crumbling infrastructure, the likely collapse of big auto, the popularity of T. Boone Pickens, and OPEC's stranglehold on our means of fueling our vehicles, the role of Transportation Secretary is likely more important than ever.
What leadership has Ray LaHood shown on this issue other than voting with most congressional Democrats on some issues for the past few years?
How is Rep. LaHood uniquely qualified to lead the DOT in such a critical time?
What do you think: Does Obama really think Ray LaHood is the best person to run the Department of Transportation or are there other motives at play?
Popular in the Community