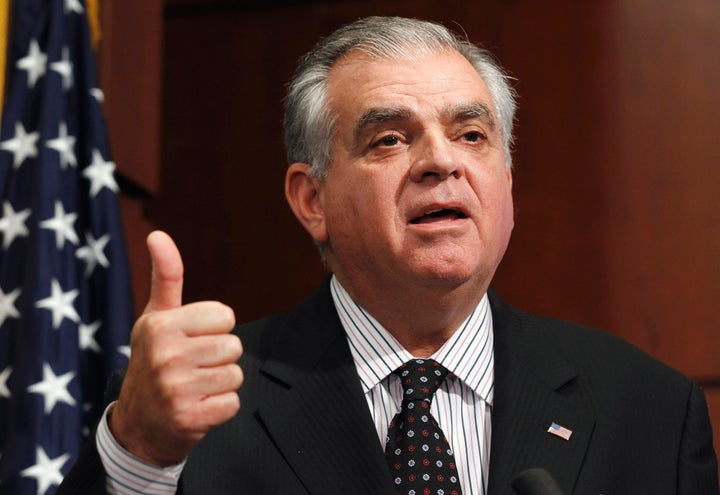 WASHINGTON -- U.S. Transportation Secretary Ray LaHood signaled on Tuesday that his department would be looking into measures to encourage automobile drivers to observe better safety standards when it came to bicyclists cohabiting the roadways.
In an interview with The Huffington Post, the Illinois Republican praised various cities for restructuring transportation policy around cleaner forms of transit, singling out the construction of bike lanes to encourage biking as particularly effective. But with additional bikers on the road come additional risks. And as head of the Department of Transportation, LaHood noted his "concern" over the "way that bikers are treated when they are on streets."
"I'm concerned that people that are driving cars have a level of respect for bikers, and that's the reason that we have these bike lanes," said LaHood. "Bikers have as much right to the streets as anybody driving a car and I am concerned about [their safety]."
Told that his heartfelt defense of bikers came off like the musings of a run-of-the-mill hipster, LaHood professed genuine confusion.
"I don't even know what that term means," he said.
LaHood's encouragement of more urban biking has been echoed -- and in some cases, preceded by -- even more vocal championing from local lawmakers. In Chicago, incoming mayor and former White House Chief of Staff Rahm Emanuel has pledged to create a "world-class bike network" and has hired Gabe Klein, former head of Washington D.C.'s Department of Transportation, to fill that role in the Windy City. In New York, the Bloomberg administration has pushed back against public angst over the construction of bike lanes in the city's busy streets by noting that the past four years have seen a 50% increase in people who commute to work via bikes.
"The New York of the future should accommodate all of these options," Deputy Mayor Howard Wolfson wrote on The Huffington Post.
As for whether or not safety has decreased as biking has increased, the data is not entirely as alarming as LaHood suggested. According to a 2009 National Highway Traffic Safety Administration (NHTSA) study, there were 630 "pedalcyclists" killed due to traffic accidents. That number was well below the 718 killed in 2008, and even further below the 786 killed in 2005. However, the study noted that: "The majority of pedalcyclist fatalities in 2009 occurred in urban areas (70%). In respect to vehicle crash location in relation to an intersection, most pedalcyclist fatalities in 2009 occurred at non-intersections. Compared to 2008 these numbers increased by 5 percent."


Support HuffPost
The Stakes Have Never Been Higher
Popular in the Community