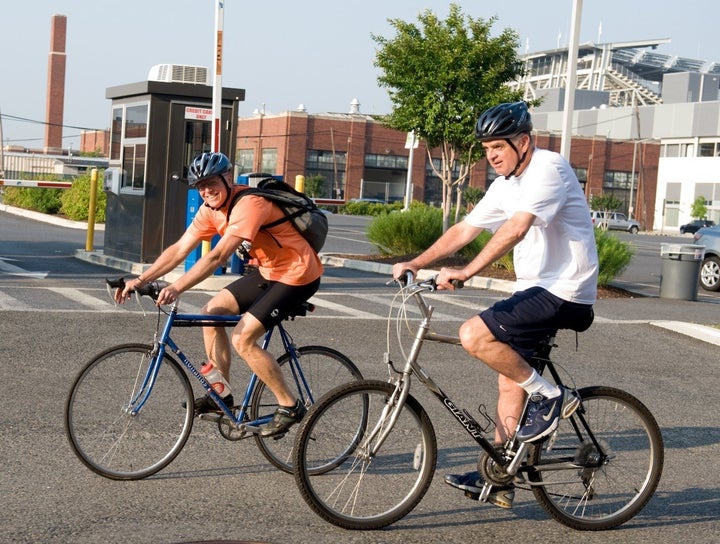 WASHINGTON -- Continuing his very public campaign to encourage urban biking as an alternative to automotive transportation, U.S. Transportation Secretary Ray LaHood biked to work on Monday morning.
Donning a helmet and sporting trendy Nike sneakers, LaHood pedaled the roughly 1.5 miles from the Washington Monument to the Department of Transportation's headquarters in southeast Washington D.C. There, he treated his colleagues and fellow bicyclists to a breakfast of bagels and coffee.
The Huffington Post was among the press outlets invited along for LaHood's well-publicized downtown ride by DOT staff, but fell victim to the snooze button, missing the 7 a.m. departure time.
LaHood's promotion of urban bike riding and bike lane construction have become increasingly recognizable elements of his transportation agenda. The Secretary delivered a much-discussed speech, from atop a desk in the Senate Dirksen building, to the National Bike Summit during its closing ceremony. He's taken to his blog to announce a "sea change" in departmental focus, away from "favoring motorized transportation at the expense of nonmotorized." He's also tried to raise awareness over biker safety. "Bikers have as much right to the streets as anybody driving a car and I am concerned about [their safety]," he told The Huffington Post in a recent interview.
This might seem like finely tailored transportation policy with no discernable political impact. But the department is at least attempting to incorporate a pro-biking platform in its broader campaign to ease pain at the gas pump.
"At a time of record high gas prices, the ride will highlight DOT's commitment to providing Americans with convenient, affordable, and healthy transportation options," read a statement the department released prior to Monday's bike ride.
"Last year, DOT formulated key recommendations for state DOTs and communities to integrate the needs of bicyclists and pedestrians in federally-funded road projects. Through the TIGER program, DOT funded major projects across the country that allow Americans to safely and conveniently get where they need to go on a bike or on foot. In May 2010, DOT gave its employees a new bicycle commuting benefit that allows bicyclists to receive reimbursement for qualified commuting costs similar to that provided to employees who take public transportation to and from work."

Popular in the Community