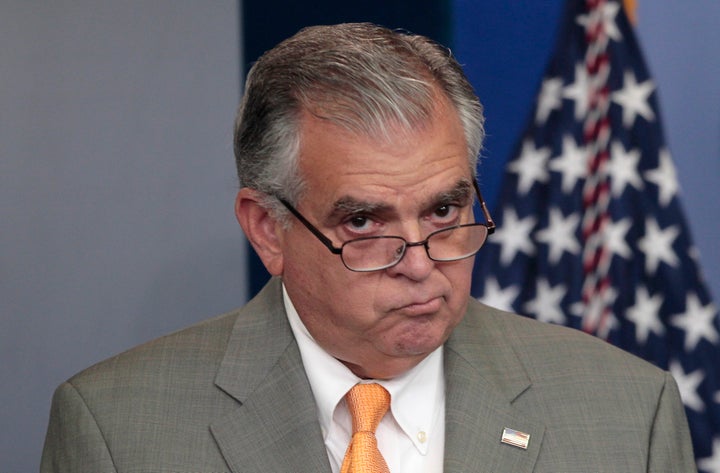 WASHINGTON -- A day after lawmakers hightailed it out of Washington for a monthlong recess, Transportation Secretary Ray LaHood on Wednesday called on Congress to come back immediately and take care of its unfinished business: reauthorizing funding for the Federal Aviation Administration.
"End your vacation for a couple days, get off the beach, get out of your mobile homes or whatever you are traveling in, get back to Washington," LaHood said during a guest appearance at the daily White House press briefing. "Come back and pass a bill."
The FAA has been partially shut down for 12 days now as lawmakers struggle to overcome a political dispute over unions. The shutdown doesn't impact safety issues, LaHood emphasized, but it continues to leave 4,000 FAA workers furloughed without pay and another 70,000 construction workers without work.
In addition, the debacle is costing the government about $30 million in lost tax revenue each day since the shutdown makes it technically illegal for the FAA to collect federal taxes on airline tickets. The government has lost about $360 million so far and, in a sad commentary on the state of the ordeal, some airlines are actually raising ticket prices to benefit from the government's loss.
LaHood, a former Republican congressman from Illinois known for his straight talk, slammed Congress for not reauthorizing funds for the agency before leaving town and said it has gotten to the point where FAA employees are paying their own way to travel and ensure their jobs get done.
"They are using their personal credit cards," LaHood said. "Now how many of us could do that for very long?"
A day ago, LaHood was pressing the Senate to just swallow the bill passed by House Republicans, even though it contains provisions relating to unions that Democrats don't support, in order to ensure FAA funding is reauthorized as soon as possible. But LaHood changed his stance on Wednesday and said Congress should pass a "clean" extension of funds, meaning the GOP policy riders wouldn't be attached.
"Yesterday it was different," LaHood said of his new call for a clean bill. "Congress was still in [session]."
The House and Senate recessed on Tuesday and are not scheduled to be back in session until Sept. 7. But both chambers are technically in a "pro forma" session, which means they could quickly come back into session to take action on an issue and then leave again. The purpose of staying in a "pro forma" session fulfills the obligation under the Constitution that neither chamber can adjourn for more than three days without the consent of the other.
In brief remarks from the White House, President Barack Obama noted that the money lost to airlines amid the shutdown isn't likely to come back to the government.
"Even though the airlines are collecting it, they're keeping it," he said, adding that if the standoff continues throughout the entire August recess, the government stands to lose as much as $1 billion.
White House Press Secretary Jay Carney hedged when asked if Obama is prepared to take action himself to ensure the FAA gets back up and running.
"We will look at measures the president may be able to take," Carney said. "[But] Congress is absolutely within its capacity to very quickly fix the problem it created."
Top House and Senate Democrats held a press conference earlier Wednesday to pile more pressure onto Republicans to pass a clean FAA bill now and haggle over the political dispute later. Their anger on the issue was apparent; they used terms like "hostage-taking," "gun to our head" and "government of extortion" to describe the GOP strategy for forcing their bill through.
"Well, here we are. Another made-up crisis by the Republicans," said Sen. Barbara Boxer (D-Calif.). "Why do I say that? Twenty times we've passed a clean extension of FAA. They made up this crisis because they want to get their way."
Senate Commerce, Science and Transportation Committee Chairman Jay Rockefeller (D-W.Va.) called it "shamefully easy" to pass a clean extension of FAA funds. He said the issue at the heart of the political dispute — the GOP pushing for language that would allow Delta Airlines to prevent its employees from unionizing — has nothing to do with the FAA.
"Most of the big airlines are unionized. One isn't. Delta," said Rockefeller, who is the author of the Senate's FAA reauthorization bill. "Delta wants to have this law changed so that it works to their advantage."
"My agenda is very clear," he added. "My view toward the organization of workers, that's between a company and a union. It's not anything to do with the federal government. It's so easy to solve: a clean bill of extension that allows us to get back on track."
Michael Steel, a spokesman for Speaker John Boehner (R-Ohio), responded by calling out Senate Majority Leader Harry Reid (D-Nev.) for changing his tune since Tuesday, when he said he would accept the House-passed FAA bill. Reid said on Wednesday that he instead wants to pass a clean bill.
"The only reason 80,000 jobs are at stake is that Senate Democratic Leaders chose to play politics rather than keep their word and pass the House bill," Steel said. "That's indefensible, and they should end this crisis immediately."
Boehner later signaled that he is not about to budge on the issue.
"All it will take to end this crisis is for the Senate to pass the House-approved FAA extension," Boehner said in a statement. "I respect the fact that Senators have certain objections, but they have had two weeks to respond to the House bill and done nothing, leaving tens of thousands of workers in limbo. The House has done its job, and now it's time for Senators to do theirs."
Obama noted that he has "made calls to key leaders" and is urging them to pass a clean FAA bill immediately. Without giving details on the state of negotiations, he added that it is his "expectation ... that this gets resolved before the end of the week."
Popular in the Community