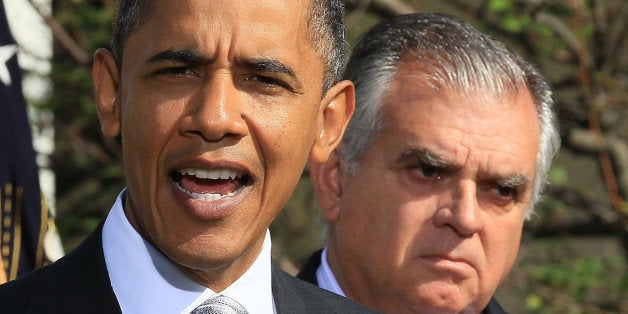 WASHINGTON -- President Barack Obama's former top transportation adviser urged him on Wednesday to drop his reluctance and fully embrace a gas-tax increase to help fund the nation's transportation priorities.
Former Transportation Secretary Ray LaHood came out in favor of a gas tax, indexed to inflation, during an event where his new role as co-chairman of the nonprofit group Building America's Future was announced.
"My recommendation is Congress should raise the gas tax 10 cents a gallon and index it," LaHood said, sitting next to fellow co-chairman, former Pennsylvania Gov. Ed Rendell. "I think what the Congress ought to do is look at what the states are doing. Just about every state or city that has had a referendum to raise the sales tax one penny or whatever, they almost always pass. So if people are afraid that the electorate is going to heap some kind of retribution on them if they raise the tax, they need to look at cities and states that have done it, where it has passed."
"We don't have the money now to do all the things we need to do to get back to being number one [in global transportation rankings], to put friends and neighbors back to work, and to get our infrastructure fixed up," LaHood added.
Since leaving the administration, LaHood has been more vocal in support of a gas tax. Wednesday's event appeared to be the first time in which he directly encouraged Obama to reconsider the idea.
"We need leadership all over the country," he said, when asked if Obama should embrace a gas tax. "We need leadership in every quarter of this city. We need leadership from this administration. But I would say this: For four-and-a-half years, the president put forward a big, bold budget for transportation, $550 billion paid for. And I testified before a couple of committees on this. And the idea that the president doesn't have a vision is just not accurate. He has a vision and he had a pay-for. And nothing happened ... now some people didn't like the pay-for. But if Congress doesn't like what the president is proposing, come up with something else."
A request for reaction to LaHood's comment from the Department of Transportation was not returned.
There is, in fact, support for a gas tax in Congress. But despite backing from the U.S. Chamber of Commerce, that support is largely confined to Democratic circles and passing the tax would be an uphill climb.
In December, Rep. Earl Blumenauer (D-Ore.), a member of the House Budget Committee, introduced legislation that would boost the federal tax of 18.3 cents per gallon of gas to 33.3 cents a gallon by 2016, then index the tax to inflation.
Blumenauer, a well-known supporter of sustainable transportation modes, added that his measure aims to restore the Highway Trust Fund. The fund relies on excise taxes, such as levies on fuel purchases, to pay for certain road and infrastructure projects, and the Congressional Budget Office estimates the fund could be insolvent by fiscal year 2015.
The gas tax was last increased in 1993, and over the years, its revenues have declined partly due to a generation of young people driving less, consumers showing weaker purchasing power, and the overall improvement of fuel efficiency. At Wednesday's briefing, Rendell acknowledged that raising the gas tax would be only a temporary solution as Americans shift their transportation habits.
"The gas tax as a pure thing is going to diminish -- CAFE standards for one, more people using hybrids, more people using mass transit," said Rendell. "I think over the course of time, we will see some form of vehicle miles-traveled tax replace it."
Next week, members of the House Transportation and Infrastructure Committee will hold a hearing on the reauthorization of an expansive surface transportation law that includes provisions authorizing funding for highway projects. That law expires in September 2014.
Rep. Bill Shuster (R-Pa.), the committee chairman, has not indicated whether he would support Blumenauer's bill. But the likelihood of Republicans signing off on any tax increase, especially during an election year, is very remote. Shuster's counterpart in the Senate, Environment and Public Works Committee Chairwoman Barbara Boxer (D-Calif.), has proposed replacing the per-gallon fee with a percentage tax on petroleum products.
UPDATE: The Obama administration responded to LaHood later Wednesday afternoon, stating that a gas tax increase was not among its policy proposals. Department of Transportation spokesperson Casey Hernandez said:
The Administration has not proposed and has no plans to propose an increase in the gas tax. The President has offered several ideas of his own for how to make critical investments in infrastructure, including his recent proposal to make those investments while simplifying the corporate tax code. Finding a solution to investing in infrastructure has to be a dialogue, not a monologue, and we look forward to working with members of Congress on how to fund vital transportation projects.
Calling all HuffPost superfans!
Sign up for membership to become a founding member and help shape HuffPost's next chapter
BEFORE YOU GO
PHOTO GALLERY
Barack Obama's Style