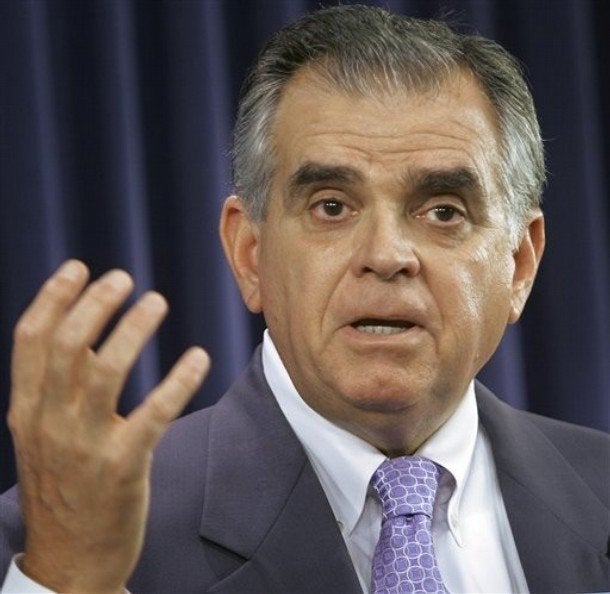 Among the members of Barack Obama's cabinet, Ray LaHood, the Secretary of Transportation, is perhaps the least glorified. A former member of Congress, he lacks the star power of former Senator and current Secretary of State Hillary Clinton. Having somewhat limited experience on the issue he now covers, his expertise is not heralded such as that of Energy Secretary Stephen Chu. And transportation doesn't bring the spotlight of banking, defense or even labor.
And yet, talking to colleagues and administration officials, one gets the sense that LaHood is just as integral to the White House's success as the aforementioned figures. With the economic growth and post-partisanship representing two key focuses of the president, LaHood has been thrust into significant terrain. As the one cabinet Republican with ties to the House GOP, he has been tasked with wooing the opposition. And with transportation demanding stimulus cash and the nation's infrastructure in severe disrepair, LaHood finds himself at the head of the spear of the economic recovery effort. It is a welcomed but tremendous amount of pressure.
"My biggest concern is that we don't get it right," LaHood said in a recent interview with the Huffington Post. "As a member of Congress for the last 14 years, I know that infrastructure needs in the country were pretty much ignored... There are some huge, huge infrastructure needs in the country, mainly because infrastructure was not a priority for the last eight years. Our job is to change that. Our portion of the recovery plan is very helpful because it will put an enormous number of people to work in good paying jobs."
It is a peculiar role for a Transportation Secretary but one that suits LaHood well. Plucked from the ranks of the GOP after retiring from Congress in '08, he is overseeing a department known for bipartisan collaboration. And while his occasionally blunt approach to political discourse has caused a bit of angina among staff, it has had a soothing affect on the industry's hardened souls. Speaking at the American Public Transportation Association conference in Washington D.C. in early March, LaHood punctuated his speech with a number of grin-inducing declarations.
Asked by a California attendee whether the government would speed up the state's environmental review process to make job creation easier, he replied: "Probably not." Earlier he took two minutes to answer as question about stimulus money being set aside for research purposes, only to stop abruptly. "The correct answer to your question," he declared, "is no." And when too many men were asking questions, he asked in a loud but cheerful voice: "Where the woman at? We need to have a couple women up here asking questions. Where they at?"
The crowd approved. LaHood - owing to his work in Congress and early actions in the administration - has had no difficulty winning over respect from some of transportation's heavy hitters. But he's had less luck with his former colleagues. During the height of the stimulus debate, when the White House searched frantically for bipartisan support, it was LaHood who was dispatched as the ambassador to the House GOP, accompanying the president to caucus discussions and making phone calls to his former colleagues. When not one was persuaded, he took it as a personal indictment.
"I think it had everything to do with the way that the bill was written and not with the policy," he recalled. "I think there were a number of Republicans who liked the policy, particularly the transportation policy part of it. But I think the fact that...the bill was written by a very small handful of people and there were not many Republicans included in the process, that irritated people... I also think that the leadership of Congress, the Democratic leadership of Congress was told by the president that he wanted a bill by President's Day, and they delivered on that."
Born in Peoria, Illinois, LaHood came to Congress from the district that elected Abraham Lincoln. He does not cast himself as a standard-bearer for the Civil War icon, leaving the emulation largely to his current boss. But his appreciation is obvious. LaHood's current office, which overlooks the Washington Nationals' recently-built stadium, contains several small busts of the 16th president.
In Congress, LaHood was known never to skip an opportunity to praise Lincoln, authoring laws that advanced his legacy. But his greatest claim to parliamentary fame came when he was tasked with presiding over Bill Clinton's impeachment hearings. One of the few Republicans trusted by both parties to handle the inevitable circus, he was commended for keeping the proceedings civil. It was a testament to his capacity to smooth partisan rifts. And when the hearings ended, it was LaHood who helped spearhead bipartisan retreats to bring the parties back together. Such efforts gave off the impression that he was a moderate Democrat in Republican cloth. And, indeed, LaHood received poor ratings on conservative report cards and often flirted with challenging his own party's leadership.
"The fact is that Ray was not a lover of the Contract with America," said John Feehery, a former top aide to House Speaker Dennis Hastert. "He didn't particularly love Newt [Gingrich] and certainly did not love [Tom] Delay. The fact that he thought about running for Whip as a protest against Delay's power, said a lot about where he stood."
But, as Feehery notes, there was mutual respect for LaHood among Republicans and Democrats as well as a recognition that he had carved out a niche for himself: the reconciliation artist. Indeed, it's how he ended up serving in the Obama administration. Already close to then-Rep. Rahm Emanuel, LaHood brought the Democratic Congressional Campaign Committee chairman in touch with embittered Republicans in the House after the contentious '06 elections. "They would go to the Monocle on Capitol Hill," recalled a former aide. "It would be him, Rahm and 15 other Republicans. Rahm had just eviscerated the GOP but Ray was looking for ways to get them to work together."
This, says LaHood, explains why he, and not other Republicans (see: Gregg, Judd), has moved seamlessly into the White House. "I worked with Rahm," he says, "and I made no bones about it."
It is the party to which he still belongs that is a sensitive subject. While taking umbrage with those who called Obama a socialist - as well as the notion that this recession somehow belongs to the current president - LaHood declined to discuss the future of the GOP. "As much as I know you would like me to comment on this, my job now is a part of the Obama team," he said.
It is not, aides say, an absence of displeasure with the GOP. But rather a recognition that weightier topics are at hand. The Department of Transportation was granted $48 billion dollars in stimulus funds, a small but substantial portion of the $787 billion package. But it is at the forefront of job creation. For every $1 invested in public transportation there is $6 generated in economic returns, according to American Public Transportation Association (APTA) statistics. For each $1 billion invested in federally aided public transportation 30,000 jobs are supported.

"In terms of the recovery and the transportation sector, you are talking about getting people back to work that were in the hardest hit sector of the economy, construction," said Dean Baker, co-director of the Center for Economic and Policy Research. "Of the roughly seven million jobs lost, over a million were construction jobs."
Considering the statistics, transportation wonks and economic observers were critical of the Obama administration for devoting too little in government funds. In particular, the $8 billion spent on high-speed rail - a sum that the president had to personally lobby for on Capitol Hill - seemed like a token contribution. And yet, for LaHood, it is just the opposite: these are historic investments that push the Department to its operational capacity.
"For what the president wanted to accomplish in a short period of time, and the time constraints... we had to get the money out the door in 120 days," he said. "We are going to do that. We have to have projects completed in 18 months. So the pressure is going to be on. Given the time constraints, I think the money is much more than adequate."
As it stands now, LaHood is not merely hoping that the money won't just get people back to work; he wants to revamp the very essence of transportation in the United States. His vision includes more reliance on public transit and rail, a "very vibrant airline industry," livable communities where people don't rely on cars but still use them. The stimulus cash will go only so far. Authorizations for more money are needed. And on this front, LaHood insists that Obama will succeed where Bush and others have failed.
"I think I'm working for a transformational administration, somebody that doesn't just want to do things the old way. They want to change the way DOT has done business and that fits perfect with me," he said. "This is, really, one of the most creative, innovative administrations I've ever seen. More than Clinton. Certainly more than Bush. And I've been around public service for 30 years."