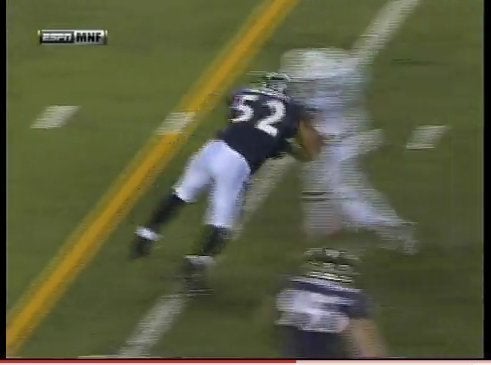 The Baltimore Ravens secured a narrow victory against the New York Jets Monday night, and the win was capped off with a devastating Ray Lewis hit in the game's final minute. Trailing by one point, the Jets faced a crucial 2nd-and-10 with 52 seconds remaining, and quarterback Mark Sanchez tried to find tight end Dustin Keller for a quick completion.
Just as the Jet attempted to haul in the pass, however, Lewis unleashed a mammoth hit on Keller, ensuring that the pass would not be completed. The crowd audibly reacted to the huge thrashing as the legendary Lewis celebrated the legal hit in style.
Two plays later, Keller would catch a pass short of the first-down marker, dooming the Jets' comeback hopes.
Scroll down for video of the massive hit.
Popular in the Community