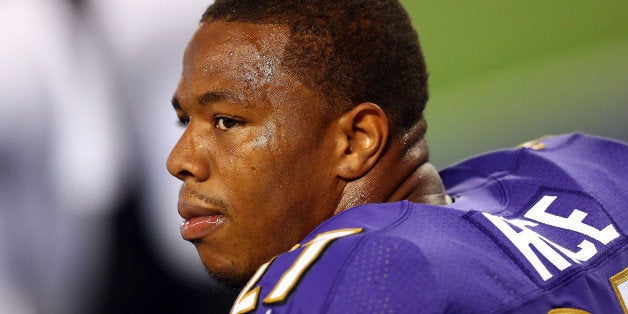 The NFL has not heard the last of Ray Rice.
While the NFL is under intense scrutiny for its handling of domestic violence cases, the disgraced free agent running back is set to appeal his indefinite suspension on Monday, reported Mike Florio of ProFootballTalk on Sunday. Citing multiple unnamed league sources, Florio reported that the appeal is imminent and will be handled by the NFL Players' Association and an outside lawyer retained by Rice. ESPN's Adam Schefter subsequently reported that Rice would be appealing his indefinite suspension, also citing an unnamed source.
Following an offseason domestic violence arrest for an incident that occurred at a casino in Atlantic City, N.J., in February, Rice was initially suspended two games by the NFL in July. That punishment was upgraded to an indefinite ban on Monday, just hours after TMZ released explicit video of Rice punching his then-fiancee and now wife in an elevator at the casino. In the hours after the release of that video, the Baltimore Ravens also terminated Rice's contract.
"This video shows a starkly different sequence of events from what you and your representatives stated when we met on June 16," NFL Comissioner Roger Goodell wrote in a letter received by the NFLPA on Friday, reported ESPN, "and is important new information that warrants reconsideration of the discipline imposed on you in July.
"Based on this new information, I have concluded that the discipline imposed upon you in July was insufficient under all the circumstances and have determined instead to impose an indefinite suspension."
Calling Goodell's assertions in that letter into question, ESPN's "Outside The Lines" reported on Thursday that Rice was clear in his conversations with the NFL that he punched his wife. Citing four unnamed sources, ESPN reported that there was nothing unclear about Rice's account of what happened in the elevator with his then-fiancee and now wife.
"Ray didn't lie to the commissioner," an unnamed source with knowledge of Rice's meeting with Goodell told ESPN. "He told the full truth to Goodell -- he made it clear he had hit her, and he told Goodell he was sorry and that it wouldn't happen again."