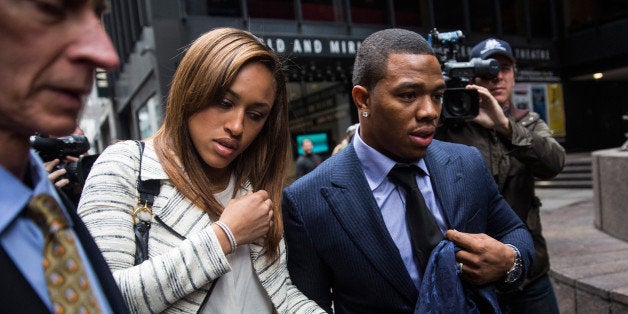 Former Baltimore Ravens running back Ray Rice's charges have been dismissed and he will avoid doing any jail time stemming from the incident last February in which he struck and knocked unconscious his now-wife, Janay Rice.
After completing his pre-trial intervention program, an Atlantic City Judge Michael Donio on Thursday signed Rice's dismissal order for the aggravated assault felony charges, a statement from Donio's office said.
It added that the judge this morning received a dismissal order and recommendation from the prosecutor to sign the order after Rice completed all terms and conditions of the program.
After a second surveillance video of the violent altercation at a Atlantic City casino was published by TMZ in September, Rice, who was initially suspended for just two games, was released by the Baltimore Ravens and suspended indefinitely by the NFL. Rice won an appeal of that suspension in November, however, he remains unsigned by any team in the league.
Responding to the charges dismissal the National Domestic Violence Hotline emphasized that it is common result for first-time offenders, as Rice is.
More critical of the decision, however, was the National Coalition Against Domestic Violence. The group called the dismissal disappointing and pushed back against Rice being provided the opportunity to do a intervention program, saying it is used in "victimless crimes," not where violence is present.
The NCADV also said of the program is "hardly proof of personal change."
More from their statement:
The Criminal justice system has essentially sanctioned and reinforced the reality that society and systems still do not understand the prevalence and crime of domestic violence. The message sent by these actions is that perpetrators of domestic violence will not be held accountable for their crimes.

Related
Popular in the Community