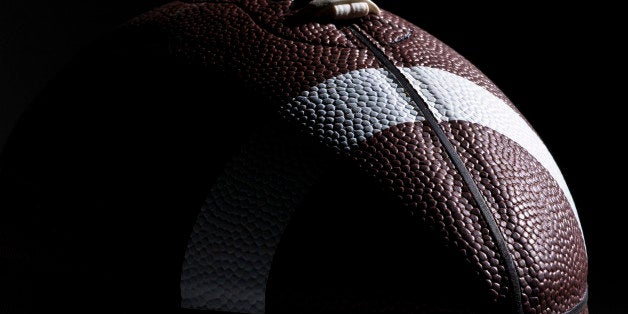 Why? No new crime or incident had taken place, so what was the rationale?
It's brutal. You get to see him punch his fiancé Janay Palmer out of one shoe, knocking her out cold. It's hard to tell where the harder hit came from: his fist, her head hitting the side of the elevator at full speed, or slamming the floor.
Then there's the insensitive dragging her partly out the door of the elevator, leaving her face down in a heap while her other shoe fell off.
It's a terrifying series of images. But what was even more scary occurred afterwards.
We expected a lot. After all, there's a new commissioner, a new personal conduct policy, all designed to getting tough on people who give the NFL a bad image. Players received hefty fines and suspensions for things like discharging a weapon in a nightclub (into the player's own foot), and sexually assaulting a gal in a restroom. Performance enhancers received six-game suspensions after a first offense, and a season suspension for repeat violators. One player was suspended five games for stomping on another player during a game.
But nothing that severe happened. Instead, Rice was given a two-game suspension. He wasn't even banned from training camp and the preseason games. He did have to forfeit his check from those two games, which was a lot of money, if you are one of us.
It is disappointing that I will not be with my teammates for the first two games of the season, but that's my fault. As I said earlier, I failed in many ways. But, Janay and I have learned from this. We have become better as a couple and as parents. I am better because of everything we have experienced since that night.
It's not a big deal. It's just part of the process. We said from the beginning that the circumstances would determine the consequences. There are consequences when you make a mistake like that. I stand behind Ray. He's a heck of a guy. He's done everything right since. He makes a mistake. He's going to have to pay a consequence.
An ESPN poll showed at least a third of all respondents thought the punishment was appropriate or too harsh, with the remainder finding it too lenient.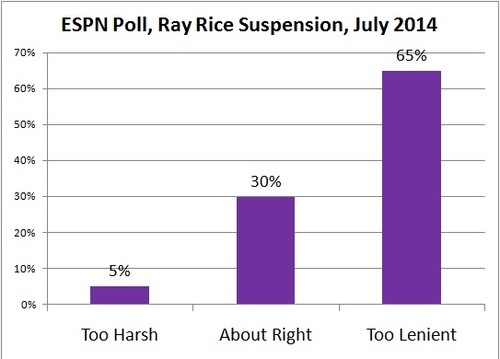 But that was before the TMZ video from the Atlantic City hotel from that February incident was released. Now Rice is cut from the team and suspended for a year from the NFL. Nothing changed, except we all saw the video.
I'm sure Rice could claim that this is unfair, as his punishment had already been handed down. He might even appeal. But he'll never have public opinion on his side. Fellow players and fans were demanding a tougher stand, now that we've seen the actual brutality of the attack.
This says a lot about the NFL, and us. Sure there was an outcry, but some weren't convinced that Rice had really done anything wrong. We had to see a video to realize what domestic violence really looks like. And it doesn't look like a playful slap from a 1950s comedy.
There are many women who aren't fortunate enough to have a video around to capture the abuse. Many are too afraid to press charges, or feel they can't support themselves if they do. Even Congress held up renewing the Violence Against Women Act (VAWA) just two years ago over petty politics, sending a scary signal.
Fortunately, Rice's new punishment might show that we're going to get serious about domestic violence in this country, and not just in the NFL.

John A. Tures is a professor of political science at LaGrange College in LaGrange, Ga. He can be reached at jtures@lagrange.edu.
Related
Popular in the Community