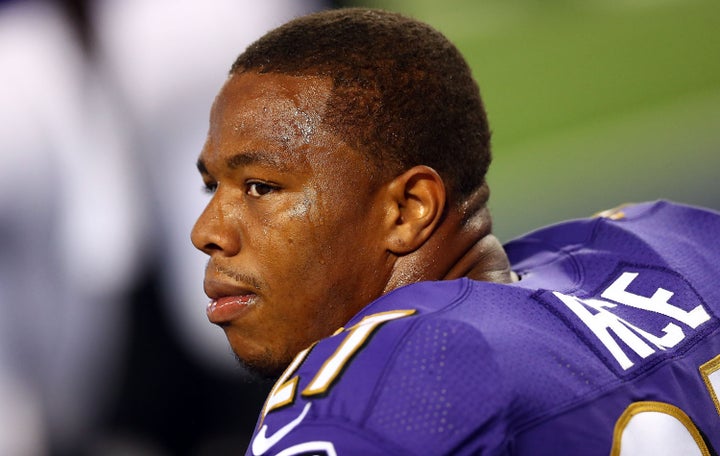 Last week, ESPN's Adam Schefter published a story based on an interview with an anti-domestic violence organization called A Call To Men. The organization had worked closely with Rice since a video leaked last year of the former Baltimore Ravens running back knocking out his now-wife in an Atlantic City elevator, and its founders had come to the conclusion that Rice deserved another shot on a NFL team.
"He is saying everything that you would want him to say and doing everything that you would want him to do. So why wouldn't he deserve another chance?" Ted Bunch, one of the co-founders, asked.
Schefter's report did not push back against A Call To Men's claims and instead provided a platform to discuss their rationale. The endorsement ran as front page news on ESPN.com and was consequently aggregated by sites including SportingNews.com, NJ.com, Bleacher Report and The Christian Science Monitor. There was no loud public outcry, no overarching Twitter outrage, not much of anything.
Yet a couple days later, the organization's two founders, Bunch and Tony Porter, quietly published a "mea culpa" of sorts, publicly apologizing on the organization's Facebook page. "We apologize to survivors, our partners, our board, our staff and ALL women," the founders wrote. "We take full responsibility for our statements and actions."
The decision to apologize might have felt like it came out of nowhere -- after all, they had not received much flak online -- but it didn't. You just didn't hear the uproar because it was largely limited to a small but passionate base of anti-domestic violence advocates, which, unlike Americans on the whole, are not divided when it comes to Ray Rice and second chances.
Americans views on Rice, who has been eligible to sign with a new team since November, are complex. Overall, Americans are split on whether he deserves a chance to play again in the league, according to a new HuffPost/YouGov poll. Thirty-seven percent told YouGov that Rice does deserve a chance, and 36 percent said he doesn't.
But break the survey down by gender, and a clearer divide appears. While women are not ready to give Rice another chance, men are -- 46 percent of men, in fact, compared to the 32 percent who are not. (Twenty-three percent are not sure.)
Tally the views of only self-professed football fans and a similar level of acceptance emerges: 49 percent say give Rice another chance, and only 31 percent say don't. Football fans and men view Rice as a man who has done his time.
Those are not the views of the anti-abuse community, though that does not mean those within it feel Rice will never be deserving of a second chance. It's just that right now, only 10 months removed from TMZ publishing footage of Rice knocking his then-fiancée Janay Palmer unconscious in an Atlantic City elevator, it's not realistic to believe he has truly changed.
"We believe in second chances for the most part," Kim Gandy, president and CEO of National Network to End Domestic Violence, told The Huffington Post. "That said, the idea that someone who has committed really serious abuse a year later be thought of a potential spokesperson really doesn't make any sense."
"I believe people can get healthy and understand what healthy relationships are like and no longer be perpetrators," Ruth M. Glenn, executive director of National Coalition Against Domestic Violence, similarly told HuffPost over the phone before A Call To Men's apology. "But I also do not believe that that happens within months time."
"Sometimes it takes years for a batterer to change their behavior. And from what we witnessed in that particular incident, I'm just not convinced that what we have is a healthy person," Glenn added.
Glenn said that pattern batterers -- a group of abusers within which Rice appears to fit -- need to have an assessment and evaluation to determine the type and length of treatment they need, followed by constant revisitations. That's a process that can take as many as three years.
Neither Gandy nor Glenn felt Rice should be automatically turned away for life. But, they did believe the same timelines that apply to normal abusers should apply to Rice.
Said Gandy: "It might tell you something about how our society views violence against women compared to how it views gambling."
The punishment for the former, in too many people's view, can be completed in months. But be found guilty of the latter, and the punishment can last a lifetime.
The HuffPost/YouGov poll consisted of 1,000 completed interviews conducted July 28-31 among U.S. adults, using a sample selected from YouGov's opt-in online panel to match the demographics and other characteristics of the adult U.S. population.
The Huffington Post has teamed up with YouGov to conduct daily opinion polls. You can learn more about this project and take part in YouGov's nationally representative opinion polling. Data from all HuffPost/YouGov polls can be found here. More details on the polls' methodology are available here.
Most surveys report a margin of error that represents some, but not all, potential survey errors. YouGov's reports include a model-based margin of error, which rests on a specific set of statistical assumptions about the selected sample, rather than the standard methodology for random probability sampling. If these assumptions are wrong, the model-based margin of error may also be inaccurate. Click here for a more detailed explanation of the model-based margin of error.
Related
Popular in the Community