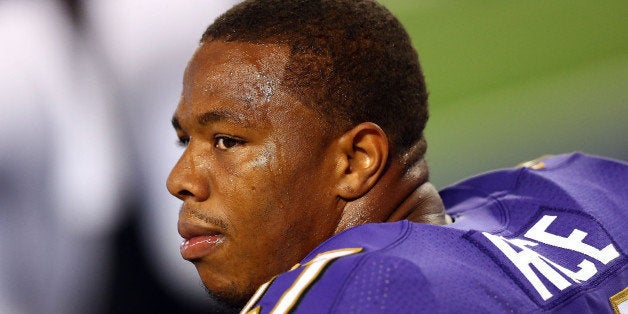 Most Americans approve of the indefinite suspension the NFL finally handed to former Baltimore Ravens running back Ray Rice after video surfaced of Rice punching his then-fiancee in March, a new HuffPost/YouGov poll shows.
According to the new poll, 60 percent of Americans (including 64 percent of NFL fans) approve of the league's indefinite suspension of Rice, which was announced Monday after celebrity news website TMZ posted video of Rice assaulting his fiancee, Janay Palmer. Only 21 percent of Americans overall, and 28 percent of NFL fans, said they disapprove of the suspension.
Sixty-six percent of Americans, and 73 percent of NFL fans, said they approve of the Ravens cutting Rice from the team.
But that doesn't mean Americans are ready to pat the NFL on the back for its actions in Rice's case -- initially, the league suspended him for only two games when video was already available showing the incident's aftermath, including Rice dragging an unconscious Palmer from the elevator after the punch that knocked her out.
In the new survey, only 29 percent of Americans said they approve of the way the NFL has handled the case, while 45 percent said they disapprove. Among NFL fans, 33 percent said they approved and 55 percent said they disapproved of the way the NFL has handled the situation.
Asked what punishment they believed was most appropriate for the NFL to levy after Rice's assault on his fiancee, most Americans said they would support either a lifetime ban (32 percent) or a full-season suspension (33 percent). Seven percent said they would support a half-season ban, 8 percent said they would support a suspension for a few games, and 3 percent said they thought Rice should receive a fine or no punishment from the league. NFL fans supported similarly strong punishments.
A previous HuffPost/YouGov poll had similar findings, showing that 23 percent of respondents said players caught assaulting a wife or girlfriend should receive a lifetime ban from the NFL, and 31 percent said they should be suspended for a full season.
The NFL toughened its domestic violence policy after fallout over the initial short suspension handed down to Rice, but even now the default suspension of 6 games falls short of what fans in the HuffPost/YouGov surveys said they expect.
The HuffPost/YouGov poll was conducted Sept. 9-10 among 1,000 U.S. adults using a sample selected from YouGov's opt-in online panel to match the demographics and other characteristics of the adult U.S. population. Factors considered include age, race, gender, education, employment, income, marital status, number of children, voter registration, time and location of Internet access, interest in politics, religion and church attendance.
The Huffington Post has teamed up with YouGov to conduct daily opinion polls. You can learn more about this project and take part in YouGov's nationally representative opinion polling. Data from all HuffPost/YouGov polls can be found here.