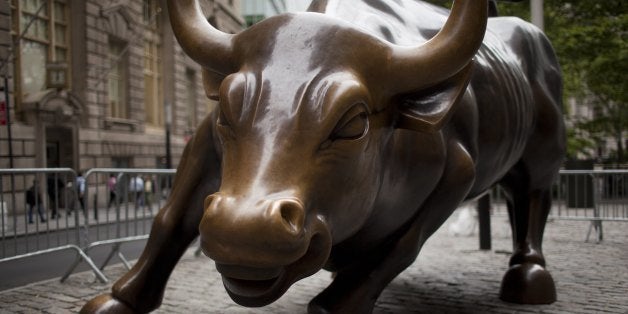 We always pretty much knew that our banking regulators were captured by the industry they regulate, and now we apparently have proof.
"The Ray Rice video for the financial sector has arrived," famous author and finance-explainer Michael Lewis declared on Friday morning. He was referring to a new report from ProPublica and This American Life about Carmen Segarra, a former New York Federal Reserve bank examiner who claims she was fired in 2012, after seven months on the job, for examining Goldman Sachs a little too aggressively.
It seems a safe bet, though, that this story won't have quite the same impact as the video of Ray Rice punching his wife unconscious in an elevator. And it may strike some as terrifically tone-deaf to compare the inner workings of banking to the horror of domestic violence. Still, Lewis's overall point holds: Here is the material proof of something we knew was happening all along.
Based on nearly 48 hours of secretly taped conversations among Fed officials and Goldman Sachs, the reports make a strong case that bank regulators are terrified of offending the banks they're regulating, exposing what Lewis calls their "breathtaking wussiness." This suggests that, despite the worst financial crisis since at least the Great Depression and financial reform that was supposed to put Wall Street on a shorter leash, regulators still bow to banks as much as they always have. That makes a future crisis seem even more likely, with banks still able to persuade regulators that they're not taking crazy risks.
The New York Fed, in a written response to ProPublica and This American Life, denied Segarra's accusations:
"The New York Fed categorically rejects the allegations being made about the integrity of its supervision of financial institutions," it wrote. It added that it would not comment further because it is still in court fighting a wrongful-termination suit by Segarra.
Goldman Sachs, in its own written response, fired a volley directly at Segarra, claiming she was mistaken about some key facts and cattily observing that she had applied for a job at Goldman three times before going to work for the New York Fed. Segarra told ProPublica she had actually applied at Goldman four times, but that she had also applied for jobs at a lot of other banks. Goldman Sachs spokesman David Wells did not immediately respond to a request for further comment.
The Huffington Post is still listening to the recordings and will update this story with more juicy details as we find them.
Still it's doubtful that the Segarra tapes will have anything near the impact of the Rice footage. The Rice video was not only far more visceral and easier to understand, but it touched a still-raw nerve in our national consciousness. Our feelings about Wall Street are a little cooler, the public image of banks has mostly been rehabilitated, and our concerns about bank regulation are minimal.
See you at the next crisis.

Update: Having listened to the recordings, or at least the ones curated by ProPublica and This American Life, we can confirm that they do indeed show New York Fed bank examiners being feckless and mush-mouthed and afraid when dealing with Goldman Sachs, at the very least.
There is no clear bombshell here -- just further evidence that not enough has changed in the cozy relationship between banks and regulators, and that the Fed should be far more transparent about that relationship.

Popular in the Community