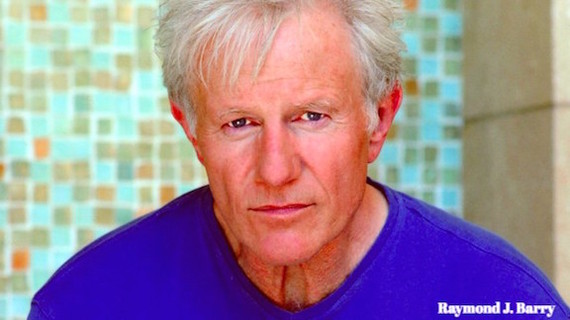 There's nothing better than being enthralled by a good story, especially if the storyteller does it well, right?
On most days at our local Hollywood YMCA when he's not on location filming, actor/playwright/artist Raymond J. Barry, can be heard playing the raconteur, spinning tales from his truly remarkable, rollercoaster life.
What stories, you ask? Well, for a start, Barry's a native New Yorker, and his tough-love father did time in the big house and never encouraged his son's acting or artistic ambitions. However, his mother B. Constance Barry did encourage her son and made her own acting debut at 61, after which she occasionally and humorously appeared as David Letterman's "mother" on his late night show. Dave's mom -- I know, right?!
Pushed hard and often by his father, who had suffered during the Depression, to always have a "bankroll" or a steady job, Barry attended an Ivy League school, Brown University. While Barry initially had a football scholarship, he ended up getting a degree in Philosophy. Then he attended Yale Drama School.
That turned into a fortuitous move. Now he's been acting in Hollywood for almost 40 years appearing in some modern classics including: Born on the Fourth of July, Dead Man Walking, Walk Hard: the Dewey Cox Story, Training Day, The Ref, The Chamber, and Falling Down. He's also appeared in a slew of hit TV shows including: Justified, Cold Case, Law and Order, Lost, CSI, Alias, and The X Files.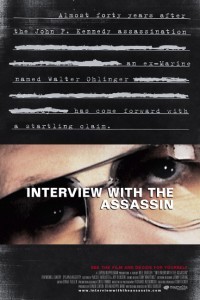 For his outstanding performance in Interview with the Assassin, a pseudo-documentary film about JFK's real killer, he received the Best Actor award at the New York International Independent Film Festival. Barry's performance was incredibly human, possibly real and therefore scary.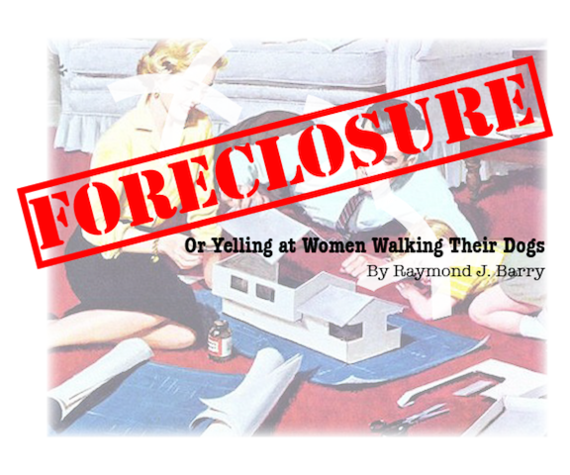 With a lean physique that he keeps in shape pounding the boxing bag daily at the YMCA, Barry is now a father of four, but his new tale is about Foreclosure -- Or Yelling at Women Walking their Dogs, a new play he wrote that's opening at the very hip Greenway Court Theatre (May 6-28) in Hollywood.
Co-starring Barry as unemployed bricklayer Hubert, Judy Jean Berns as his homemaker wife Mildred, Joseph Culp as his unemployed eccentric son Herman, and directed by David Robinson, Foreclosure asks questions about the meaning of work, the value of art and the survival of family in a time of economic crisis.
Barry, who has now performed in over eighty stage productions in New York, began his stage career with such legendary companies as the Living Theater, and Joseph Chaikin's Open Theater where he toured around the world, and took part in such productions as The Serpent, Terminal, Mutation Show, Masques, Endgame, and Nightwalk.
He has earned both Dramalogue and L.A. Critics awards for his play Once in Doubt, and also a Dramalogue for his lead performance in Sam Shepard's Buried Child.
His motivation for Foreclosure comes from his own family life growing up in New York, explaining:
The inspiration for this story came from my expanding awareness as a teenage boy of the difference between my father, who talked a great deal about the importance of money and having a job, and my mother, who was a published writer, a painter and an actress later in her life. My mother was happier than my father, who worked as a bricklayer but seemed depressed by his life and marriage. On the other hand, creativity brought great spiritual rewards to my mother. I noticed this difference as a boy and digested it to the point of conclusion that my mother's way was better. When manhood arrived, I chose her path instead of his. This play defines the difference between creative values and survival values.
Hollywood is often referred to as the boulevard of broken dreams, a cutthroat place where many artists and performers of all stripes have come for decades to hopefully realize their dreams. Many fail. Those that do succeed act as a beacon to others, like Barry's multi-layered career on stage, and in television and film. And his new play shines a powerful light not only on creative aspirations but also on economic issues today.
Barry, who has proudly seen close to a dozen of his own plays presented on stages across the country, adds:
As far as this play making a statement about me pursuing my artistic dreams, I do personify the son, Herman. I became successful in New York City theater. But money and visibility became available in the world of Los Angeles film and television. There was definitely a struggle to achieve that success, which has left its mark in a positive way. I'm also proud that I continue to fight the battle of creative survival that I'm still engaging.
Raymond J. Barry invites us all to see how the battle between creative and survival values plays out in his Foreclosure -- Or Yelling at Women Walking their Dogs.
Calling all HuffPost superfans!
Sign up for membership to become a founding member and help shape HuffPost's next chapter