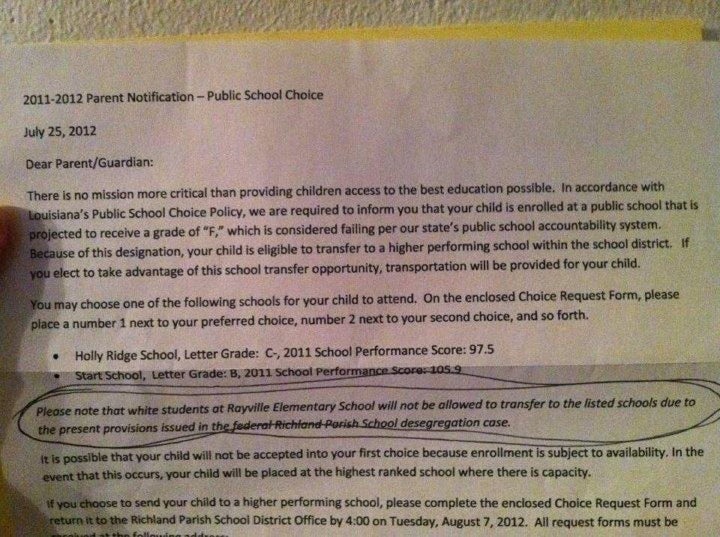 Rayville Elementary School in Louisiana received a failing grade this year, based on the state's School Performance Scores. Under the state's Public School Choice policy, eligible students in schools flagged as failing and in need of certain levels of improvement can transfer to an "academically acceptable school."
But an interesting and controversial issue has arisen that may actually challenge equal opportunity intended by the law. In a letter to parents dated July 25, Rayville Elementary school officials inform families of the school's "F" grade and list two other institutions -- with letter grades C- and B -- that the parents can choose to transfer their children to. But there'reds a disclaimer:
Please note that white students at Rayville Elementary School will not be allowed to transfer to the listed schools due to the present provisions issued in the federal Richland Parish School desegregation case.
One Redditor notes that the situation doesn't appear to be hateful or malicious in intent, but merely "the application of conflicting laws," adding that "this shouldn't be too difficult to sort out."
Epinette told WNYC that the Justice Department visited the district in the spring and will send an official report with suggestions on how to "be able to get out from under these de-seg orders," but the process could take months.
Due to the court order, students may be offered a choice in the school in which their race would be in the minority. White students may be offered Rayville Elementary School. Black students may be offered Holly Ridge Elementary School or Start Elementary School.
At the time, Rayville, where the white students were permitted to go, was estimated to have an SPS at least 20 points below those for Holly Ridge and Start.
The program is the cornerstone of Republican Gov. Bobby Jindal's bold effort to reform public education in the state. Critics are concerned about funding and fairness -- vouchers would cover the full cost of tuition at more than 120 private schools, including small, Bible-based church schools. Jindal says the program will spur school competition and expand parental choice.
Several of those religious schools that will be receiving public funds to take in new students from public schools also teach curricula that question the age of the universe, defying scientific evidence and theory and promote religious doctrine that "challenges the lessons central to public school science classrooms," according to the Associated Press.
Louisiana's School Performance Scores are based on varying combinations of testing results, attendance, dropout and graduation rates as well as growth and performance data.
Based on the SPS, each school receives a "growth target," which represents how much progress each school must make annually to reach state goals. The SPS also serves as a determinant of whether a school meets federal Adequate Yearly Progress requirements under the No Child Left Behind law. A poor SPS and failure to meet AYP could mean state intervention that range from giving students the option to transfer out to school closures and staff turnover or transfer to the state's Recovery School District.
Editor's note: A link and quotes reflecting the opinion of a member of an Internet forum have been removed from this story because other content on that forum wasn't appropriate for audiences seeking education news. This story has been updated with other reactions, including the president of the Richland Parish School Board.
See the letter to Rayville Elementary parents below: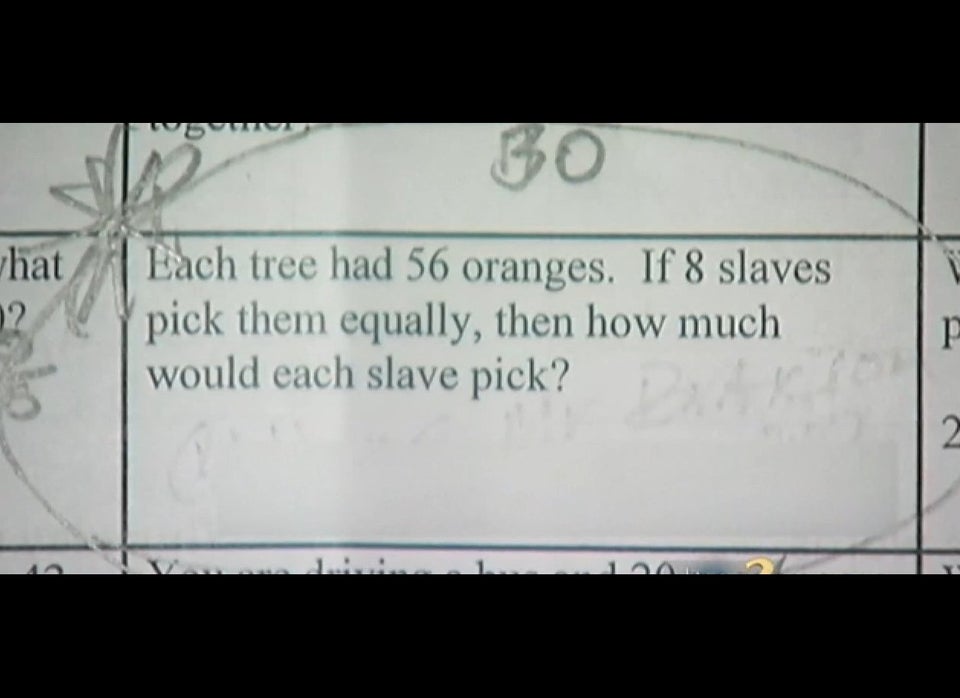 Controversial school-related documents from around the country
Related
Popular in the Community