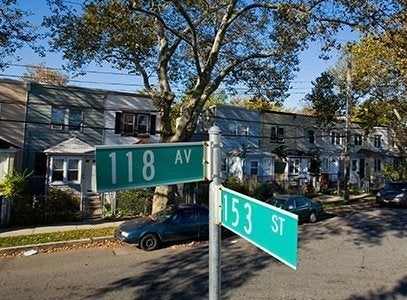 I lived on the outskirts of the Broadway-Flushing neighborhood in Queens for 13 years between 1993 and 2007. In contrast to the congested, noisy and crowded downtown Flushing corridor, Broadway-Flushing, clustered on the blocks north and south of Northern Boulevard between Murray Street and Utopia Parkway, features quiet, tree-lined streets and single-family homes in classic styles: English Tudors, colonials, ranches, Cape Cods. When real-estate developers Rickert-Finley Realty built Broadway-Flushing in the first decade of the 20th Century, restrictive covenants were placed on the properties that banned front yard fences, front-yard garages, and flat roofs. The neighborhood was named for the Long Island Rail Road stop that serves it, located at Northern Boulevard between 162nd and 165th Streets (before 1921, this section of Northern Boulevard was called Broadway). Gradually, some of these restrictions have been eased to reflect the realities of modern life, but with a few exceptions, Broadway-Flushing looks largely the way it was when the homes were first constructed.
Trouble in paradise, though, has come along in the early 21st Century as McMansions have sprung up, and the hedges, lawns and classic architecture that were the hallmarks of the Rickert-Finley Broadway-Flushing have been replaced by ugly fencing and in the worst cases, paved front yards, the better to park station wagons and sport utility vehicles. The situation in the Kissena Park area south of Northern Boulevard east of 162nd Street is even worse, as there have been entire blocks in which single family homes have been razed in favor of ugly brick boxes studded with Fedders air conditioning boxes, fire escapes already rusting soon after completion, and of course the universal concrete front yards.
Neighborhood associations and watchdog organizations such as the Historic Districts Council have been angling for the Landmarks Preservation Commission to officially landmark Broadway-Flushing to prevent teardowns and restrict homeowners' permission to drastically alter the exteriors of their homes to preserve a unified neighborhood profile. Naturally, some of the area's homeowners have pushed back, citing their rights to do with their properties as they please. Thus far, the LPC has not afforded Broadway-Flushing landmark designation. The situation in Kissena Park is more dire, as more and more century-old homes fall to the wreckers every year. A concomitant situation also sees Kissena Park getting less and less green, because when homes are torn down, the mature trees in front of the properties are cut down too, and lawns are replaced by concrete. In a now-infamous column that ran in the New York Daily News in November 2007, real-estate doyenne Barbara Corcoran actually recommended that Queens homeowners pave over their front lawns since their homes would be more valuable with parking spaces in front of them.
I was saddened to learn recently that one of my favorite houses in my old neighborhood doesn't have much longer to go.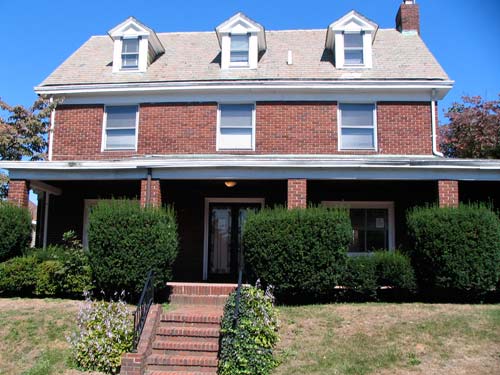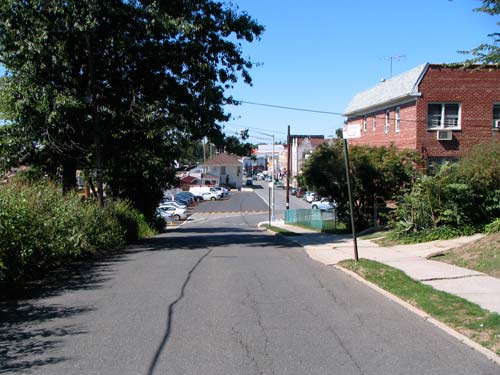 Located on Depot Road and 166th Street, this porched house is perched on a hill overlooking the Broadway Long Island Rail Road station. On clear days, especially in winter, it's possible to see the towers of Manhattan, especially in winter.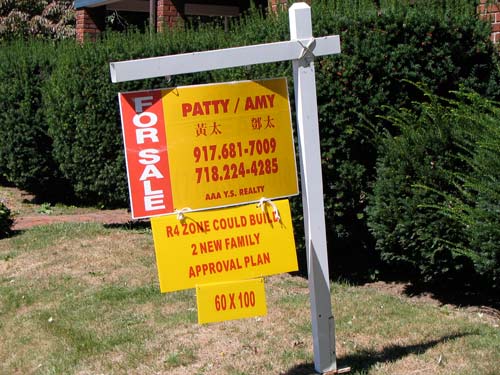 The building is now for sale, and is likely being sold with the assumption it will be torn down to allow two new family homes to be built there. They will likely be much smaller and have none of the elan that the present porched house possesses. It's a good bet the lawn and hedges will be going, as well.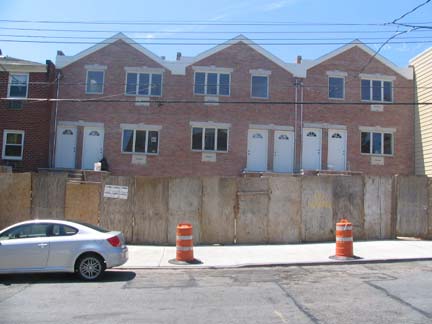 It's not a stretch to suppose that cookie cutter buildings like this will replace our porched residence. Modern-day developers regard lawns as a waste of space for middle-class "affordable" housing, and even huge McMansions seem to be built with space for parking as a number one concern. On nearby Sanford Avenue, a one-family was recently razed along with the four trees that surround it. The trees likely provided some shield against the summer heat. The brick box that replaced it has numerous windows directly facing the sun; those numerous Fedders air conditioners will be getting a workout. Hardly in line with the green trend that's been emphasized elsewhere of late.
Do I condemn the increasing number of multifamily units replacing single family houses? If Mayor Bloomberg's prediction about 9 million New Yorkers in 2030 comes true, multi-family units will be an increasing necessity. But do modern developers and architects need to build junk? Walk the streets of Astoria, Ridgewood and Sunnyside, and scan the blocks featuring row upon row of yellow-brick buildings built by Gustave Mathews, with bricks from the old Balthazar Kreischer kilns in Staten Island. Check out the boxy apartment buildings anywhere in the five boroughs that have been kept up by conscientious landlords. That's multi-family housing at its best, and housing from which modern-day developers of middle-class housing should take their cues.
Related
Popular in the Community